A group of six young men, aged between 20 and 26 years, accused of engaging in gay
sex and recording pornographic videos, have been further remanded until May 10 for their own safety.
KAMPALA, UGANDA | NOW THEN DIGITAL — Six youths from Jinja, aged between 20 and 26, who were arrested last month after a 17-second video of them having gay sex was shared on social media, have been further remanded in custody until May 10 for their own safety.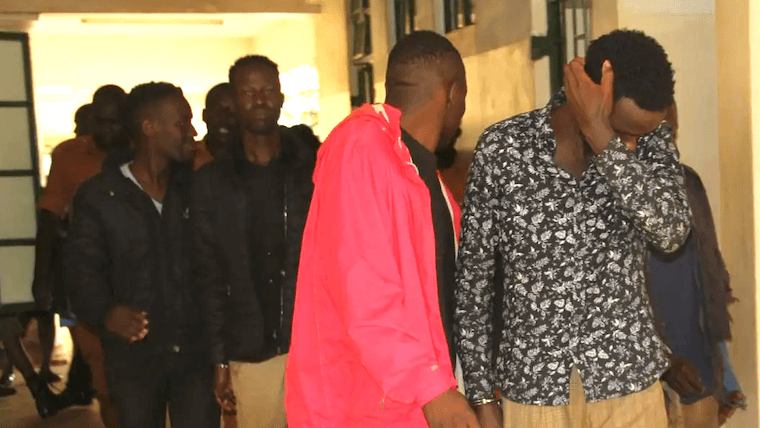 They were charged with indecency and procuring gross indecency and are being held in Kirinya prison. Despite presenting 12 sureties, including biological relatives, at their re-arraignment, their bail application was denied by Jinja Grade One Magistrate, Mr Yafesi Ochieng.
Safety concerns
The court cited safety concerns as its reason for denying bail, with Mr Ochieng stating that the court must protect the accused individuals, and that releasing them into a biased society cannot guarantee their safety.
According to the prosecution, the suspects are part of a sexual network grooming young boys into acts of sodomy and recruiting male adults into gay practices. It is also alleged that the suspects were recording pornographic and sex videos and streaming live sessions, which they submitted to donors for funding.
Evidence found at the time of arrest
When the suspects were arrested, they were allegedly found with 192 sachets of lubricants, shirts and tags with LGBTQ logos, and a metallic banner of peace and comfort with the LGBTQ flag.
The prosecution believes that the suspects' case is also of public interest.
Other accused individuals
In a separate case, the Deputy Headteacher of PMM Girls' School in Jinja City, Ms Lydia Mukodha, and her alleged lesbian partner, Ms Martha Naigaga, were charged with indecency and procuring gross indecency on April 4.
They too were remanded in custody and are due back in court on April 20.
Jinja district court has further remanded six youths who appeared in a 17-second viral video showing them engaging in homosexual activity. The accused, aged between 20 and 26 years, were charged with indecency and procuring gross indecency, and have been in custody at Kirinya Prison since their arrest on March 17.
Editor's Note: We would appreciate it if you could reach out to press@nowthendigital.com if you find any outdated or inaccurate content.
You're reading nowthendigital.com — which breaks the news about Uganda, Kenya, Nigeria, South Africa and the rest of the world, day after day. Be sure to check out our homepage for all the latest news, and follow NOW THEN DIGITAL on YouTube, Google, Web Stories, Google News, Medium, LinkedIn, Twitter, Reddit, Pinterest, Linktr, Buy Me a Coffee, and Flipboard to stay in the loop.