Anna Maria von Stockhausen, born in 1737 in Würzburg, Germany, belonged to a noble family and married Friedrich Wilhelm von Stockhausen, a military officer.
CUPERTINO, CALIFORNIA | NOW THEN DIGITAL — In the 18th century, Europe witnessed a wave of witch-hunts, with thousands of lives, mostly women, tragically lost. One such victim was Anna Maria von Stockhausen, a German noblewoman.
Arrested in 1775, she faced a sentence of beheading for alleged Satanism.
However, her execution never transpired, and she spent her remaining years in prison until her death in 1781. Even in death, she wasn't spared from cruelty and was buried with chains around her, a superstition of the time to prevent her from returning.
Anna Maria's story was largely forgotten until 1972 when construction workers accidentally uncovered her grave near her former prison. Public curiosity and investigations by historians and journalists uncovered her unjust treatment. Her tale reached wider audiences through various media, making her a symbol of those persecuted due to unfounded witchcraft accusations.
Anna Maria's Background
Born in 1737 in Würzburg, Germany, Anna Maria hailed from a noble family and led a privileged life. She married Friedrich Wilhelm von Stockhausen in 1756, a military officer, and had four children. She was known for her devout Catholicism and charitable endeavors, aiding the poor and sick.
False Accusations and Arrest
In 1775, Anna Maria's life took a dark turn when she was accused of practicing Satanism by a local priest, Johann Baptist Rauh. He alleged witnessing her perform rituals with candles, incense, and animal blood in her castle.
Additionally, he accused her of an affair with a French officer, Charles de Broglie, purportedly a high-ranking Illuminati member plotting against the Catholic Church and monarchy.
Rauh reported his claims, leading to the arrest of Anna Maria and her husband on February 17, 1775. They faced torture and interrogation in Munich. Despite pleas of innocence, they were both found guilty and sentenced to beheading. The execution was scheduled for April 11, 1775.
Unexpected Reprieve
Remarkably, on the scheduled day, the executioner refused to carry out the sentence, asserting that he couldn't kill an innocent person and claiming a divine sign supporting Anna Maria's innocence.
Life in Captivity
Anna Maria's life was saved, but not her freedom or dignity. She was transferred to a different prison in Kemptem, Bavaria, where she remained until her death in 1781, the cause of which remains unknown, possibly natural causes or illness.
Posthumous Treatment
After her passing, Anna Maria was buried in an unmarked grave with chains to prevent her from returning from the dead, reflecting the widespread superstition regarding witches.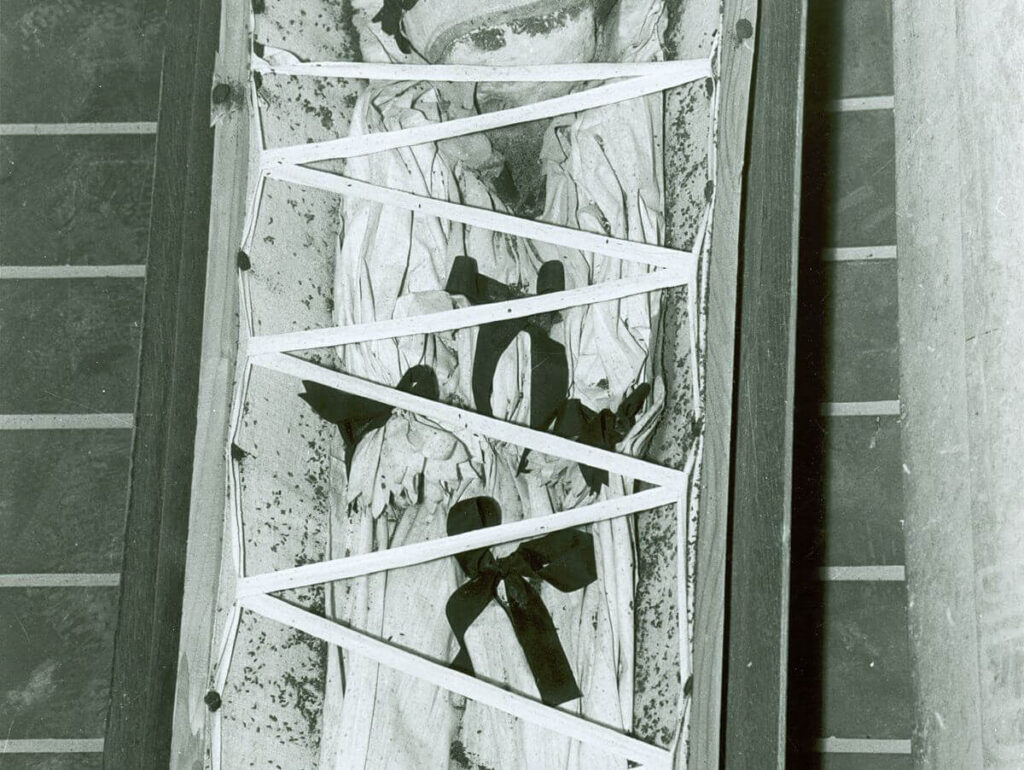 Rediscovery and Symbol of Injustice
In 1972, construction workers accidentally unearthed Anna Maria's grave near the prison where she had died.
This discovery reignited public interest in her story. Investigations by historians and journalists revealed her false accusations and the fabrication of testimony against her.
Legacy and Commemoration
Anna Maria's story gained wider attention through books, documentaries, and films, making her a symbol of the injustice suffered by those accused of witchcraft and the tyranny of superstition and ignorance.
Remembering the Past
Today, Anna Maria von Stockhausen's remains are exhibited in a Kempten museum, serving as a poignant reminder of past horrors and injustices. A plaque near her former prison commemorates her tragic tale, cautioning against blindly following superstitions and allowing fear and prejudice to guide actions.
"Here lies Anna Maria von Stockhausen (1737-1781), accused of witchcraft and Satanism by priest Johann Baptist Rauh (1728-1803). Sentenced to death by beheading on April 11th 1775 but spared by the executioner who refused to kill an innocent woman. Imprisoned here until her death on February 6th 1781. Buried with chains around her body to prevent her from rising from the dead."
Editor's Note: If you come across any inaccurate or outdated content, kindly reach out to us at press@nowthendigital.com for immediate assistance.