Yellow Card, an African fintech pioneer, is teaming up with global crypto leader MoonPay to make cryptocurrencies more accessible in Nigeria. T
NAIROBI, KENYA | NOW THEN DIGITAL — Yellow Card, a pioneering African fintech firm, has teamed up with global cryptocurrency leader MoonPay to boost cryptocurrency access in Nigeria.
This partnership aims to simplify crypto purchases for Nigerians by utilizing local bank transfers.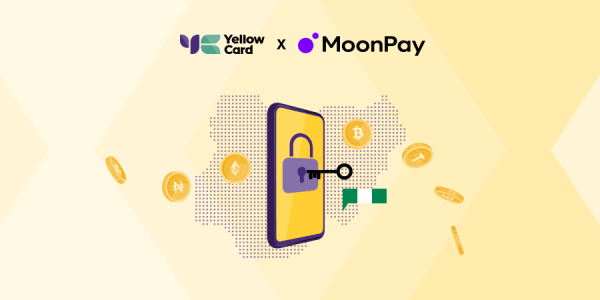 Nigeria has become a crypto powerhouse in Africa, as more people seek digital assets to hedge against inflation and economic uncertainty. Recent challenges faced by crypto companies in Nigeria have highlighted the need for a stable way to access cryptocurrencies.
Yellow Card, the largest and fastest-growing cryptocurrency company in Africa, with a strong presence in Nigeria, is partnering with MoonPay to enhance cryptocurrency accessibility in the region.
"At the core of our company's mission is the belief that everyone should have access to the power and potential of cryptocurrencies. By joining forces with MoonPay, we aim to eliminate the barriers that prevent Nigerians from participating in the crypto economy. Together, we can help make crypto trading easy, intuitive, and available to all," said Uzoma James, West Africa Regional Manager at Yellow Card.
MoonPay, a leading cryptocurrency player, simplifies onboarding for newcomers to the crypto world. This collaboration will extend MoonPay's reach in the Nigerian market, addressing local needs.
Ivan Soto-Wright, Co-Founder and CEO at MoonPay, highlighted the significance of supporting local bank transfers: "Supporting local bank transfers unlocks immense opportunities for crypto users, and we're eager to introduce this experience to Yellow Card's fast-growing ecosystem. Offering a simple, inclusive transaction method for users across Africa is an exciting step forward in our vision to onboard the world to Web3,".
Yellow Card and MoonPay's integration will enable Nigerians to engage in peer-to-peer crypto transactions with ease, removing traditional obstacles. This integration will transform cryptocurrency accessibility in Nigeria, making it more user-friendly.
Both companies are committed to fostering financial inclusion and innovation, marking a significant step toward these goals in the Nigerian market.
As Nigeria leads the crypto movement in Africa, collaborations like this are crucial to ensuring that digital asset benefits reach everyone.
Editor's Note: Please contact press@nowthendigital.com if you find any of the content to be inaccurate or outdated.