Shamim Nabuuma Kaliisa, from Uganda, has been honoured at the 2023 FORBES WOMAN AFRICA Awards along with Grammy-winning Nomcebo Zikode.
KAMPALA, UGANDA | NOW THEN DIGITAL — Following a full day of productive engagement with more than 50 of Africa's women leaders, the winners of the illustrious 2023 FORBES WOMAN AFRICA Awards were announced – with South African singer-songwriter Nomcebo Zikode among those awarded. 
Forbes Women Africa Awards honor Nomcebo Zikode, entrepreneur Shamim Nabuuma Kaliisa and other formidable women.

An entrepreneur and cancer survivor, Shamim Nabuuma Kaliisa, has drawn on her own life experience to start Chil Artificial Intelligence Lab which offers mobile cancer screening to rural villages, and AI e-oncology services to detect cervical and breast cancer. 

This innovative woman took home this year's FORBES WOMAN AFRICA Youth Icon Award.
This glamorous ceremony concluded the 8th FORBES WOMAN AFRICA Leading Women Summit, in celebration of International Women's Day on 8 March 2023, which welcomed some of the continent's most influential women to SunBet Arena, Time Square in Pretoria, South Africa.
"These awards recognise the stellar work of women on the continent, and for each category, the judging panel and the editorial team adopted a set of well-entrenched criteria to shortlist deserving nominees. We'd like to extend our sincere congratulations to all the 2023 FORBES WOMAN AFRICA Award winners and thank them for their contributions to closing the gender gaps through their outstanding work and achievements," commented Renuka Methil, Managing Editor, FORBES AFRICA and FORBES WOMAN AFRICA.

"They have all truly embodied this year's theme, Women 3.0: The Icons and Ideas Shaping Africa across the public sector, business, finance, entertainment, society and more."
2023 FORBES WOMAN AFRICA Award Winners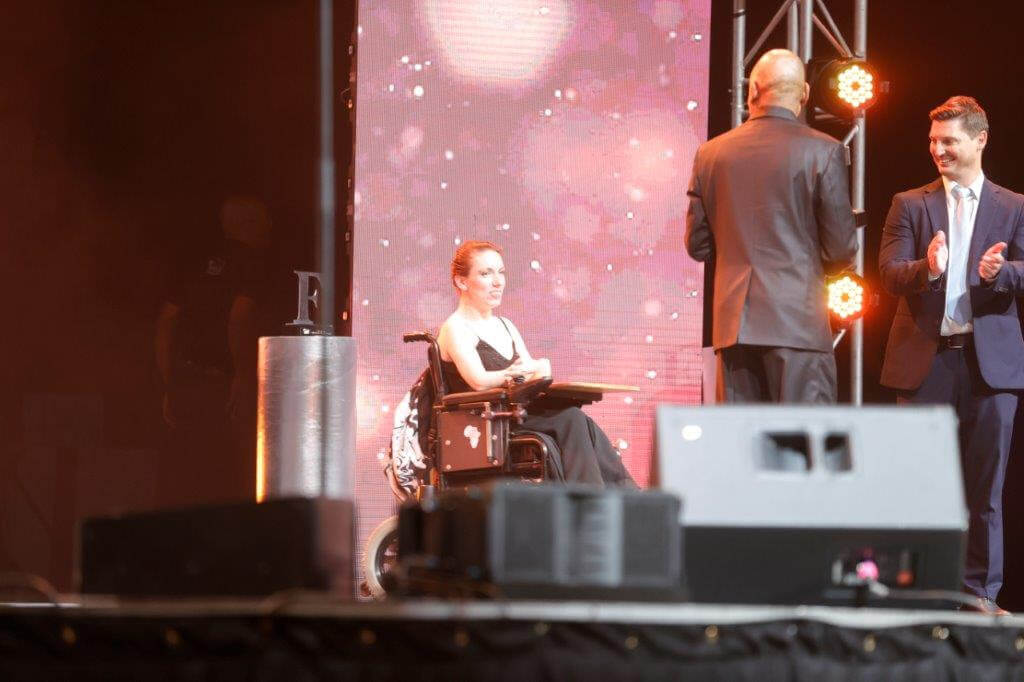 Michaela is also the winner of the International Children's Peace Prize in 2011, the Peace Summit Medal for Social Activism in 2012, and was awarded the 2013 World of Children Awards (Youth category). In 2015, she was the first quadriplegic to summit Mount Kilimanjaro, and the first wheelchair athlete in 95 years to finish the Comrades Marathon.
On accepting her award, Mycroft said: "We talk about equity and equality, and I think it's about understanding, and bringing everybody, exactly as they are into every conversation that we need to be in. Then we can work together to build the equality that we all talk about."
FORBES WOMAN AFRICA Technology and Innovation Award
Winner: Funmi Adewara, CEO and Founder of Mobihealth International.
Adewara said she started the company at a dark period in her life, having just gone through a divorce and with two young children to look after. "This award means so much to me on a very personal level. I want to thank God for the vision and the empowerment to fulfil it. Venturing into a startup at such a dark moment was the craziest thing in the world, it started off as a dream." says Adewara.
She ended her acceptance speech with a quote from former Liberian president, H.E. Ellen Johnson Sirleaf, one of the speakers at the 8th FORBES WOMAN AFRICA Leading Women Summit: "If your dreams do not scare you, they are not big enough."
FORBES WOMAN AFRICA Academic Excellence Award
Winner: Prof Rabia Johnson, Senior Researcher at the South African Medical Research Council and Senior Lecturer at Medical Physiology, Faculty of Medicine and Health Sciences, Stellenbosch University.
"I'd like to thank God for allowing us all to be here, and I'd also like to thank the FORBES team for giving these beautiful, young, pioneering women a platform and a voice. Finally, thanks go to my mom who says: 'You must fall, but you must get up again and move on'. This award is for every single mom out there."
FORBES WOMAN AFRICA Sports Award
Winner: Salima Mukansanga, Rwandan international football referee listed with FIFA.
Salima is the first woman to referee at the African Cup of Nations, as well as officiating at the Olympics, FIFA Women's World Cup, Africa Women's Cup of Nations, and CAF Women's Champions League.
"The moment I've been spending in the field of play, I've been feeling a bit scared – but I got many messages saying you're strong enough, you're going to make it. 99% of the people sending me messages were women. They supported me. I dedicate this award to each and every young girl who has a dream to reach higher."
FORBES WOMAN AFRICA Entertainer Award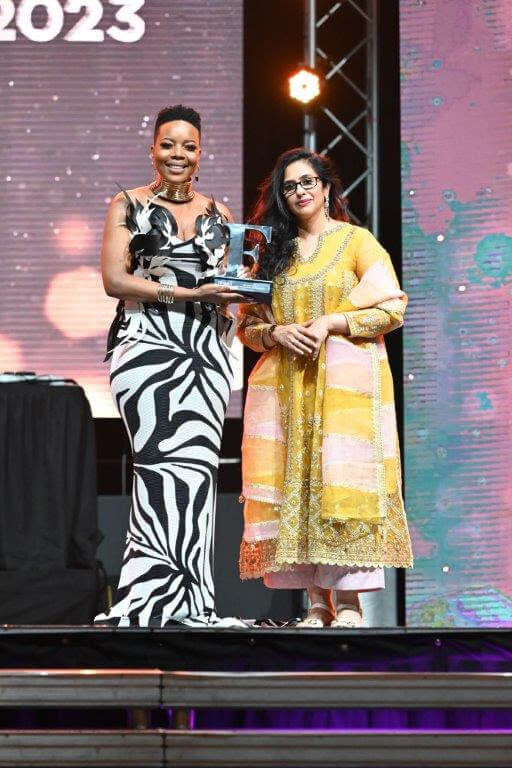 Nomcebo featured on the hit song Jerusalema, winning the category of Best Female Artist at the KZN Entertainment Awards. The song gained worldwide attention in 2019, with 85 million streams on Spotify, and around 546 million views on YouTube. 
She's the second-ever Grammy award-winning female from South Africa, taking the award alongside fellow South African musicians, Wouter Kellerman and Zakes Bantwini, for their song "Bayethe".
"There's so much that is happening in this industry – when I say so much, I mean going through so much. So, for me, as a woman, to be recognised by FORBES AFRICA, is great."
FORBES WOMAN AFRICA Businesswoman Award
Winner: Nonkululeko Gobodo, CEO of AWAKENED Global, and Founder of Gobodo Incorporated which merged with SizweNtsaluba VSP to form SizweNtsalubaGobodo, South Africa's largest black-owned accountancy firm. She was also the first black female in South Africa to qualify as a chartered accountant.
"I want to dedicate this award to all the women of the world, as we struggle to end gender inequality. Especially all the mothers, single and married. I was a single mother for many years – I don't wish that on anyone."
FORBES WOMAN AFRICA Lifetime Achievement Award
Winners: Gloria Serobe and Louisa Mojela, Co-Founders of Women Investment Portfolio Holdings (WIPHOLD), the first women-owned and led company listed on the Johannesburg Stock Exchange.
Louisa Mojela: "These are lessons you learn in business – so long as you have a strong resolve, failure is not an option."
Gloria Serobe added: "To the next woman in business – I hope they are scared to fail us…Not everyone's going to be a billionaire, just do it right. Please look at us and see how we did it. And don't fail anyone"
FORBES WOMAN AFRICA Youth Icon Award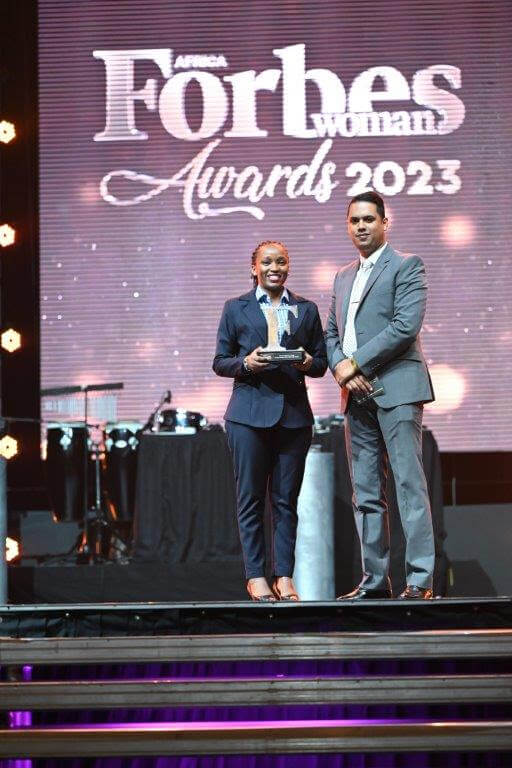 Kaliisa commented: "As a young entrepreneur, I've faced so much opposition…but this award goes out to all the young women to show they can do it."
Roberta Naicker, Managing Director, ABN Group, concluded the proceedings by saying:
"From the women who walk kilometres for their basic needs to the CEOs, we acknowledge the role of all women. We must be audacious enough to believe a better world is possible. Through our collective action, we hope we can one day leave no one behind."
The 2023 FORBES WOMAN AFRICA Leading Women Summit and Awards were presented by McDonald's, in association with The Macallan and Coca-Cola, supported by Access Bank, Avon, Lucara Diamonds Botswana and The ROOM, in partnership with CNBC Africa, Jacaranda FM, and KIA South Africa.
Editor's Note: Our content may be inaccurate or out-of-date, so please contact us at press@nowthendigital.com if you see something that needs to be updated.
You're reading nowthendigital.com — which breaks the news about Uganda, Kenya, Nigeria, South Africa and the rest of the world, day after day. Be sure to check out our homepage for all the latest news, and follow NOW THEN DIGITAL on YouTube, Google, Web Stories, Google News, Medium, Twitter, Reddit, Pinterest, Linktr, Buy Me a Coffee, and Flipboard to stay in the loop.