Hon. John Mulimba, the Minister of State for Foreign Affairs in Charge of Regional Corporation, officiated the launch of the 12th edition of the Rotary Cancer Run, scheduled for 27th August 2023 at Kololo ceremonial grounds.
KAMPALA, UGANDA | NOW THEN DIGITAL — The 12th edition of the Rotary Cancer Run was launched by Hon. John Mulimba, the Minister of State for Foreign Affairs in Charge of Regional Corporation, at Kololo ceremonial grounds on 27th August 2023.
Earlier on today at @UgandaMFA Hon. @MulimbaJohn1 the Minister of State For Foreign Affairs in Charge of Regional Corporation, officiated at the launch of the 12th edition of #RotaryCancerRun23 taking place on 27th August 2023 at Kololo Ceremonial grounds and a cross major towns… pic.twitter.com/C9vU6cbXMV

— #RotaryCancerRun23 (@UgRotaryCancerP) August 3, 2023
In his speech, Mulimba highlighted the event as a significant milestone in the collective fight against one of humanity's most formidable adversaries – Cancer.
These efforts encompass the National Cancer Control Plan/Program (NCCP), Union for International Cancer Control (UICC) Programme, and National Cancer Control Steering Committee (NCCSC).
For decades, Rotary has been at the forefront of humanitarian efforts, profoundly impacting countless lives worldwide.
"These efforts go a long way to diminish wide disparities in cancer treatment like Gender norms, Poverty and Social economic factors such as transport, geographical divide and age," Mulimba stated.
The National Cancer Control Programme is a public health initiative designed to reduce cancer cases and deaths while enhancing the quality of life for patients through evidence-based strategies, including prevention, early detection and diagnosis, treatment, palliative care, survivorship, surveillance, research, policy advocacy, and inclusion for all, including individuals with special needs, refugees, and albinos.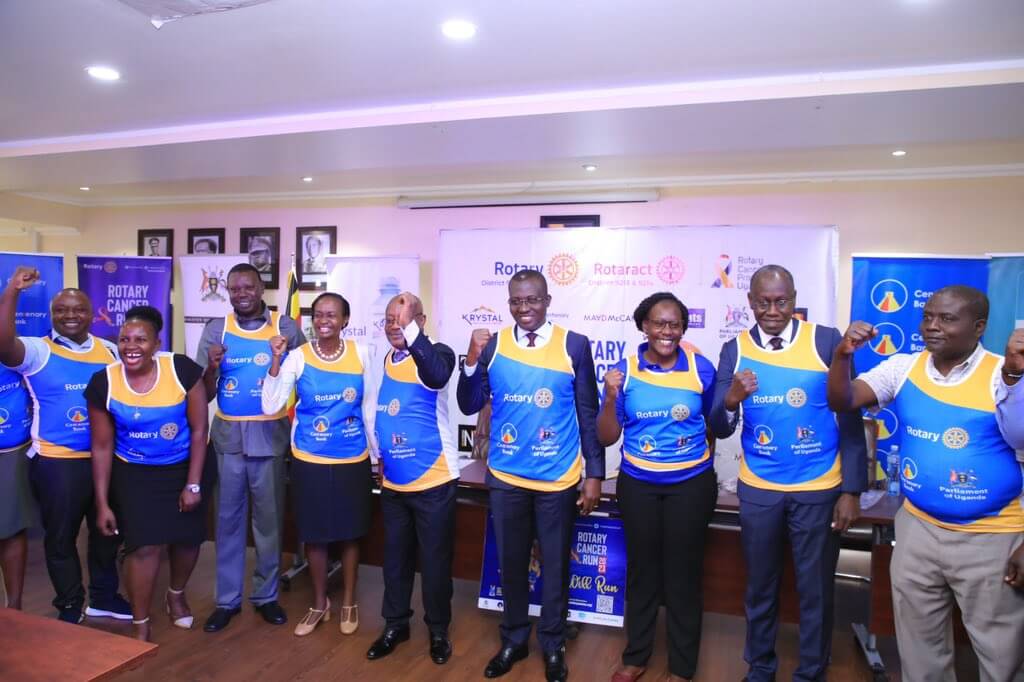 In May, the government acquired a state-of-the-art Radiotherapy Treatment Machine, employing cutting-edge technology to deliver precise and effective treatment for patients. This expansion will increase the patient bed capacity at the Cancer Institute from 120 to 365 beds.
"Cancer has touched the lives of so many among us, directly or indirectly. It knows no boundaries, affecting individuals of all ages, races, ethnicity, disability, lifestyle and all kind of backgrounds," Mulimba remarked.
The 2023 Rotary Cancer Run adopts the theme "Close the Care Gap: Uniting our Voices and Taking Action."
Mulimba urged the public to maintain a healthy lifestyle, exercise regularly through activities like running, cycling, swimming, hiking, or walking, avoid smoking, ensure sufficient sleep, undergo screening tests, and regulate alcohol consumption (ideally, limiting it to zero).
"Additionally, there will be a call for increased cancer awareness, support advancements in diagnostics and treatment, among others." he added.
This Rotary Run/Walk goes beyond being a mere physical event; it symbolizes unity and solidarity, bearing in mind the countless cancer patients and families facing daily physical, emotional, and financial challenges.
One of the primary goals of the Cancer Rotary Run is to raise funds for vital Cancer Research Initiatives, pushing the boundaries of medical knowledge, leading to improved treatment options, early detection methods, and ultimately, a cure for Cancer.
According to Mulimba, this will further narrow the gap between professionals and those involved in caring for cancer patients, enhancing the multidisciplinary team's coordination, communication, and decision-making with patients, with the aim of producing more positive outcomes.
The Rotary team, led by Dr. Mike Sebalu, expressed gratitude to Centenary Bank, a platinum sponsor that has supported the event for the past 12 years, alongside the government of Uganda.
Representing the institution at the event was Allen Ayebare, Centenary Bank's Chief Manager of Corporate Affairs and Communication.
𝐇𝐎𝐍. 𝐉𝐎𝐇𝐍 𝐌𝐔𝐋𝐈𝐌𝐁𝐀
𝐌𝐈𝐍𝐈𝐒𝐓𝐄𝐑 𝐎𝐅 𝐒𝐓𝐀𝐓𝐄 𝐅𝐎𝐑 𝐅𝐎𝐑𝐄𝐈𝐆𝐍 𝐀𝐅𝐅𝐀𝐈𝐑𝐒 𝐈𝐍 𝐂𝐇𝐀𝐑𝐆𝐄 𝐎𝐅 𝐑𝐄𝐆𝐈𝐎𝐍𝐀𝐋 𝐀𝐅𝐅𝐀𝐈𝐑𝐒 𝐒𝐏𝐄𝐄𝐂𝐇 𝐀𝐓 𝐓𝐇𝐄 𝐋𝐀𝐔𝐍𝐂𝐇 𝐎𝐅 𝐓𝐇𝐄 𝐑𝐎𝐓𝐀𝐑𝐘 𝐂𝐀𝐍𝐂𝐄𝐑 𝐑𝐔𝐍 𝟐𝟎𝟐𝟑. @UgandaMFA pic.twitter.com/TzQ1vpEfFD

— Government of Uganda (@GovUganda) August 3, 2023
Editor's Note: If you find any of our content to be inaccurate or outdated, please contact us at press@nowthendigital.com
You're reading nowthendigital.com — which breaks the news about Uganda, Kenya, Nigeria, South Africa and the rest of the world, day after day. Be sure to check out our homepage for all the latest news, and follow NOW THEN DIGITAL on YouTube, Google, Web Stories, Google News, Medium, LinkedIn, Twitter, Reddit, Pinterest, Linktr, Buy Me a Coffee, Truth Social, and Flipboard to stay in the loop.