ActionAid International Uganda and its partners have joined forces to combat corruption and promote integrity through the launch of the National Citizens Integrity Awards.
KAMPALA, UGANDA | NOW THEN DIGITAL — ActionAid International Uganda, in collaboration with esteemed organizations such as the Anti-Corruption Coalition Uganda (ACCU) and Transparency International Uganda (TIU), has unveiled the National Citizens Integrity Awards.
This significant initiative aims to celebrate individuals of exceptional integrity who have devoted their public service to combating corruption in Uganda. Xavier Ejoyi, Country Director of ActionAid International, emphasized that these annual awards seek to recognize public officials who have consistently displayed high ethical standards in their community service.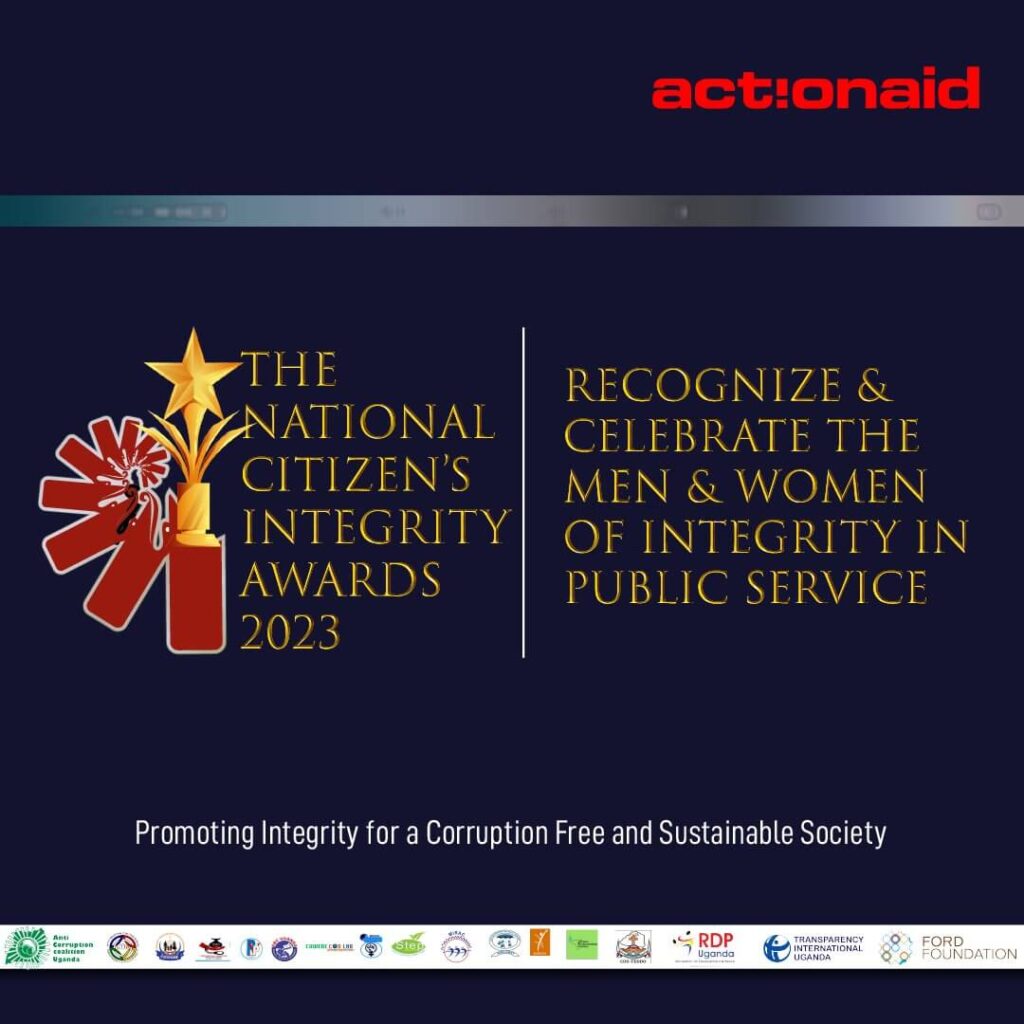 Championing Integrity: The National Citizens Integrity Awards
In the face of Uganda's alarming annual loss of at least Shs9.144 trillion to corruption conduits, the National Citizens Integrity Awards serve as a symbol of hope.
Aligned with the Africa Anti-Corruption Day celebrations, these awards highlight the importance of upholding integrity and honor individuals who have demonstrated unwavering commitment to fighting corruption.
Collaborative Efforts: A Unified Front Against Corruption
ActionAid International Uganda has partnered with prominent organizations, including the Anti-Corruption Coalition Uganda, Transparency International Uganda, BDO East Africa, Nation Media Group, Inspectorate of Government, and Directorate of Ethics and Integrity.
This collaborative effort underscores the collective commitment to combating corruption and fostering a culture of integrity in Uganda.
Transparent Selection Process: Recognizing Exemplary Public Officials
The National Citizens Integrity Awards uphold transparency and fairness through a carefully designed selection process.
Nominees, who must have exhibited unwavering integrity in public office for a minimum of five years, are eligible for recognition across three distinct categories: Frontline service providers (service obligation), Management Obligation, and Political Obligation.
Recognition Criteria: Shining a Light on Acts of Integrity
The vetting committee will evaluate nominees based on specific criteria. These include assessing the nominee's specific acts of integrity, their consistency and sustainability in upholding ethical standards, and the impact of their contributions on society.
Using a rating scale of 1-5, the committee will carefully assess the nominees' dedication to combating corruption and promoting a culture of integrity.
Active Participation: Empowering Citizens in the Nomination Process
Xavier Ejoyi urges citizens to actively participate in the nomination process by providing details of public officials who exemplify integrity. By contributing nominations that align with the established criteria, citizens can play a pivotal role in ensuring that deserving individuals who have made significant contributions to the fight against corruption are recognized.
Today @actionaiduganda joined partners to brief the media about the National Citizens Integrity Awards. The awards are aimed at promoting the fight against corruption by recognizing men and women of integrity #StandAgainstCorruption#ActionAccounts#IntegrityAwards2023 pic.twitter.com/Xlkj5aMzUA

— ActionAid International Uganda (@actionaiduganda) July 5, 2023
Editor's Note: If you find any of our content to be inaccurate or outdated, please contact us at press@nowthendigital.com
You're reading nowthendigital.com — which breaks the news about Uganda, Kenya, Nigeria, South Africa and the rest of the world, day after day. Be sure to check out our homepage for all the latest news, and follow NOW THEN DIGITAL on YouTube, Google, Web Stories, Google News, Medium, LinkedIn, Twitter, Reddit, Pinterest, Linktr, Buy Me a Coffee, Truth Social, and Flipboard to stay in the loop.