The Aga Khan University (AKU) in Kampala, a multi-million dollar education and health complex, will open its doors to pioneer students in two years.
The university, located in Nakawa Division, is set to be completed by 2025.
KAMPALA, UGANDA | NOW THEN DIGITAL — The Aga Khan University (AKU) in Kampala has begun construction on a multi-million dollar education and health complex, which is set to open its doors to pioneer students in 2025.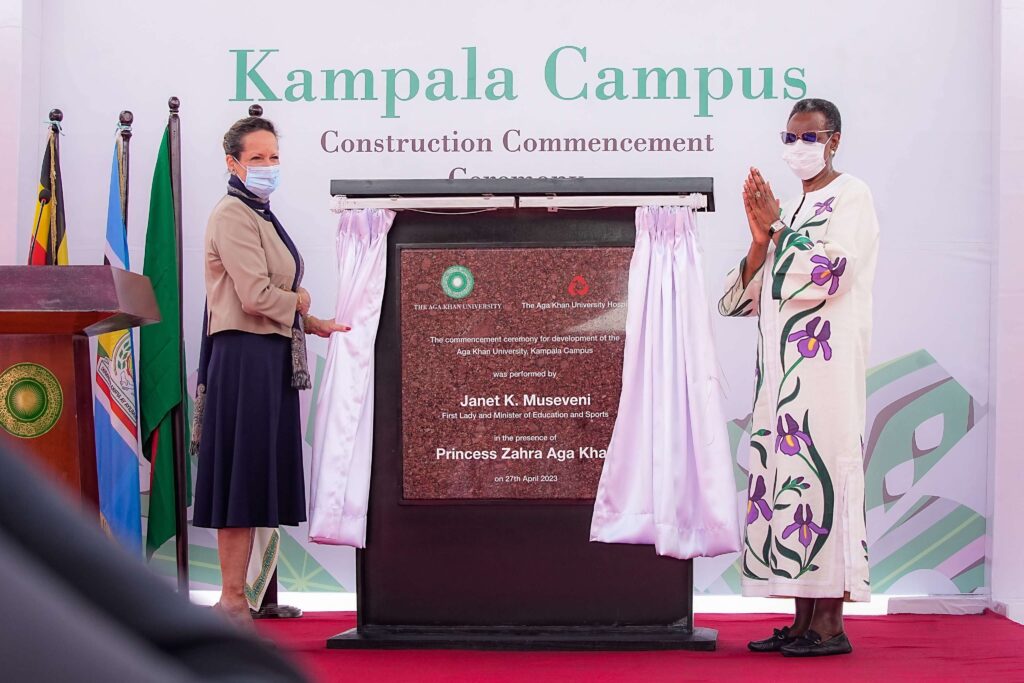 Uganda's Education Minister, Janet Museveni, and Princes Zahra Aga Khan, trustee of Aga Khan University, launched the project and engineering works at an on-site ceremony yesterday.
"The Aga Khan Development Network's goal in East Africa is to build a network of clinics and hospitals that bring primary care as close as possible to people's homes, while linking them seamlessly to advanced care," Princess Zahra Aga Khan said.

"We aim for these facilities – in collaboration with partner governments and educational institutions – to be staffed by highly-trained clinicians, equipped with the latest technologies, and prepared to address the region's changing burden of disease."​​

"We know that through this facility, a new crop of exceptionally skilled and equipped nurses and midwives will be available to support the health sector all over Uganda in years to come," said Her Excellency Janet Museveni, Minister of Education and Sports.

"We look forward to witnessing this project succeed, as we experience international quality health care and a new generation of phenomenal leaders in this sector!"
Facilities being built on the 60-acre prime land in Nakawa Division include a university centre, student residences, and an outpatient medical centre that will offer a wide range of services.
The initial phase of the facility will comprise a seven-storey university centre, a nine-storey student housing building, and the Aga Khan University Hospital, which will offer care in nearly two dozen specialties, ranging from family medicine to oncology.
A four-storey ambulatory care building is also being established to offer outpatient care.
The project, which is one of AKU's largest investments in East Africa to date, will enable a significant expansion of the university's existing school of nursing and midwifery in Kampala and will also allow the university to begin training medical specialists in fields such as internal medicine and surgery.
Praise for President Museveni's support
Dr Sulaiman Shahabuddin, the university president, commended President Museveni for his support for the project, saying "we are extremely grateful to His Excellency for his unflagging support, including his direct engagement to resolve issues, allowing us to reach this momentous day".
Health minister Jane Aceng also highlighted that the Aga Khan Hospital in Kampala, which will be the 20th medical training institution in the country, will complement the government's efforts to provide quality specialized healthcare.
Ronald Balimwezo, Nakawa East Division Member of Parliament, said that the institution would lift the burden of seeking advanced medical services in neighbouring countries or overseas for Ugandans.
The construction works are being funded by His Highness the Aga Khan, donors, and the German government's BMZ and KfW, alongside support from the East African Community.
The AKU in Uganda campus will contribute to the progress of the country and the region, according to Dr Shahabuddin, who stated that the institution looks forward to working with quality institutions such as Makerere University.
With its promising facilities and academic programs, the AKU in Kampala is set to offer new opportunities for students and medical professionals in the region, lifting the burden of seeking advanced medical services in neighbouring countries or overseas.
Editor's Note: We would appreciate it if you could reach out to press@nowthendigital.com if you find any outdated or inaccurate content.