Apple made a groundbreaking announcement today, introducing Apple Vision Pro, a spatial computer that redefines the way users interact with digital content.
NAIROBI, KENYA | NOW THEN DIGITAL — Apple unveiled its latest innovation, Apple Vision Pro, a groundbreaking spatial computer that seamlessly merges digital content with the physical world while keeping users present and connected.
This revolutionary device introduces an infinite canvas for apps, goes beyond traditional display boundaries, and offers a fully three-dimensional user interface controlled by natural inputs such as eyes, hands, and voice.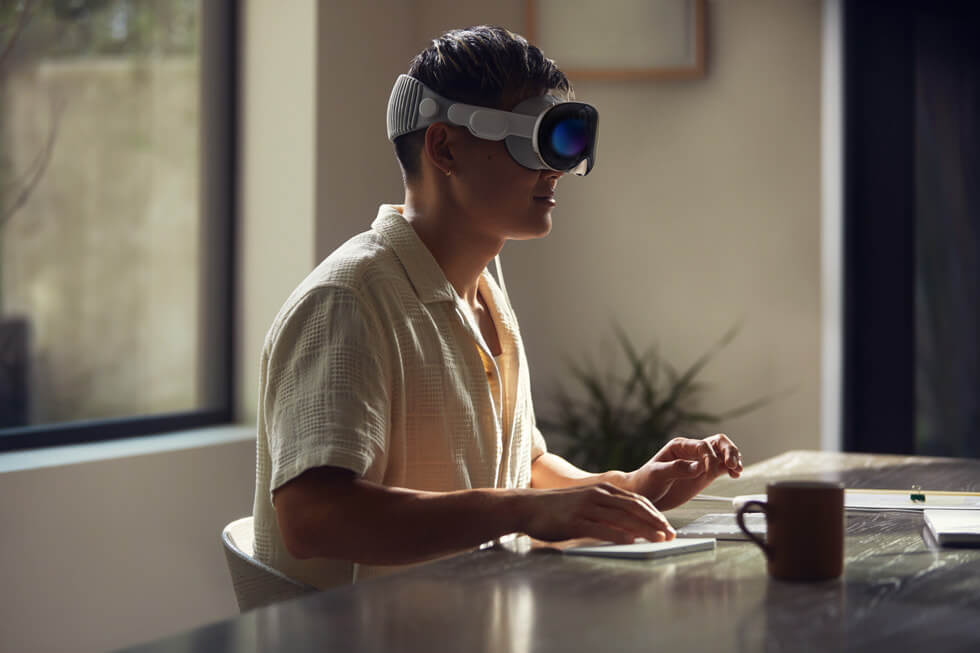 Mike Rockwell, Apple's vice president of the Technology Development Group, emphasized the extensive engineering efforts involved in creating Vision Pro, stating, "Creating our first spatial computer required invention across nearly every facet of the system. Through a tight integration of hardware and software, we designed a standalone spatial computer in a compact wearable form factor that is the most advanced personal electronics device ever."
Introducing visionOS: The World's First Spatial Operating System
Apple Vision Pro comes with visionOS, the world's first spatial operating system, which combines digital content with the physical world in a truly innovative way. With visionOS, users can interact with digital content as if it were physically present in their space.
The device features an ultra-high-resolution display system with 23 million pixels across two displays, as well as custom Apple silicon in a unique dual-chip design, ensuring an immersive real-time experience for users.
Tim Cook, Apple's CEO, commented, "Today marks the beginning of a new era for computing. Just as the Mac introduced us to personal computing and the iPhone introduced us to mobile computing, Apple Vision Pro introduces us to spatial computing. Built on years of Apple innovation, Vision Pro offers a revolutionary new input system and groundbreaking innovations that unlock incredible experiences for our users and new opportunities for developers."
Infinite Canvas for Apps and Multitasking
Vision Pro's visionOS introduces a three-dimensional interface that frees apps from the limitations of a display, allowing them to appear side by side at any scale.
This enables users to be more productive, with limitless screen real estate and access to their favorite apps. Users can also seamlessly integrate their Mac into Vision Pro wirelessly, creating a private and portable 4K display.
Apps in visionOS fill the space around users, can be moved anywhere, and dynamically react to lighting, even casting shadows.
Vision Pro Turns Any Space into a Personal Movie Theater
With two ultra-high-resolution displays, Apple Vision Pro can transform any space into a personal movie theater with a screen that feels 100 feet wide. It offers an advanced Spatial Audio system and supports immersive videos, making users feel like they're in entirely new places.
Vision Pro also offers new gaming possibilities, with titles that immerse gamers in all-new worlds. Users can access over 100 Apple Arcade games on a large screen with immersive audio and support for popular game controllers.
Expanding Environments and Reliving Memories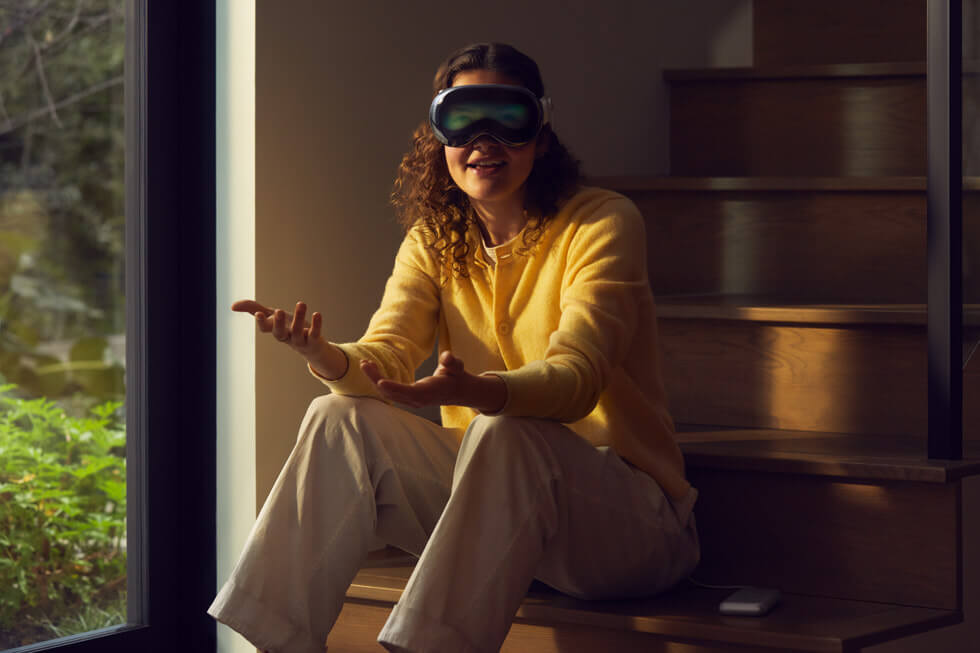 Vision Pro's Environments feature allows users to expand their world beyond the dimensions of a physical room by offering dynamic and beautiful landscapes that help them focus or reduce clutter in busy spaces. With a twist of the Digital Crown, users can control their level of immersion in an environment.
Additionally, Vision Pro features Apple's first three-dimensional camera, enabling users to capture, relive, and immerse themselves in their favorite memories. Spatial photos and videos transport users back in time, while stunning panorama photos shot on an iPhone create the sensation of being present at the original location.
FaceTime calls on Vision Pro take advantage of the surrounding room, with life-size video tiles and Spatial Audio, making it feel as if participants are speaking right from their respective positions.
App Store on Vision Pro and New App Experiences
Apple Vision Pro features an all-new App Store, providing users with access to apps and content from developers.
Users can enjoy familiar iPhone and iPad apps on Vision Pro, and developers can take advantage of its unique capabilities to create new app experiences specifically for spatial computing.
visionOS Designed to Support Spatial Computing
Built on the foundation of macOS, iOS, and iPadOS, visionOS was developed from the ground up to support the low-latency requirements of spatial computing.
The operating system offers a brand-new three-dimensional interface, making digital content appear and feel present in the user's physical world. It dynamically responds to natural light and casting shadows, enhancing the user's understanding of scale and distance.
Vision Pro introduces a new input system controlled by a user's eyes, hands, and voice, enabling seamless navigation and interaction with spatial content.
EyeSight Keeps Users Connected
Apple Vision Pro incorporates EyeSight, an extraordinary innovation that helps users stay connected with people around them. When someone approaches a person wearing Vision Pro, the device becomes transparent, allowing the user to see the approaching individual while also displaying the user's eyes.
EyeSight provides visual cues to others about the user's focus, even when fully immersed in an environment or using an app.
Apple Vision Pro's Cutting-Edge Design and Technology
Apple Vision Pro is the culmination of Apple's engineering expertise and innovation. It is designed to deliver exceptional performance, mobility, and wearability. The device utilizes the most advanced materials available, combining them to achieve ambitious goals.
Its design includes a singular piece of three-dimensionally formed and laminated glass, custom aluminum alloy frame, and a modular system that ensures a tailored fit. Flexible straps and a three-dimensionally knitted Head Band provide comfort and breathability. Apple Vision Pro is capable of running for two hours on a single charge.
Ultra-High-Resolution Display System and Spatial Audio
Apple Vision Pro features an ultra-high-resolution display system built on Apple silicon, utilizing micro-OLED technology to pack 23 million pixels into two displays the size of a postage stamp.
This breakthrough, combined with custom catadioptric lenses, delivers incredibly sharp and clear visuals. ZEISS Optical Inserts ensure visual fidelity and eye tracking accuracy for users with vision correction needs.
The device also includes an advanced Spatial Audio system that creates a realistic audio experience, adapting to the environment based on the user's head and ear geometry.
High-Performance Eye Tracking System and Dual-Chip Design
Apple Vision Pro's high-performance eye tracking system uses high-speed cameras and LED patterns to enable responsive and intuitive input. The device's groundbreaking innovations are powered by Apple silicon in a unique dual-chip design.
The M2 chip provides unparalleled standalone performance, while the R1 chip processes input from multiple cameras, sensors, and microphones, ensuring content appears in real time in front of the user's eyes.
Apple Vision Pro is designed for all-day use when plugged in and can be used for up to two hours with its external, high-performance battery.
Apple Vision Pro Pricing and Availability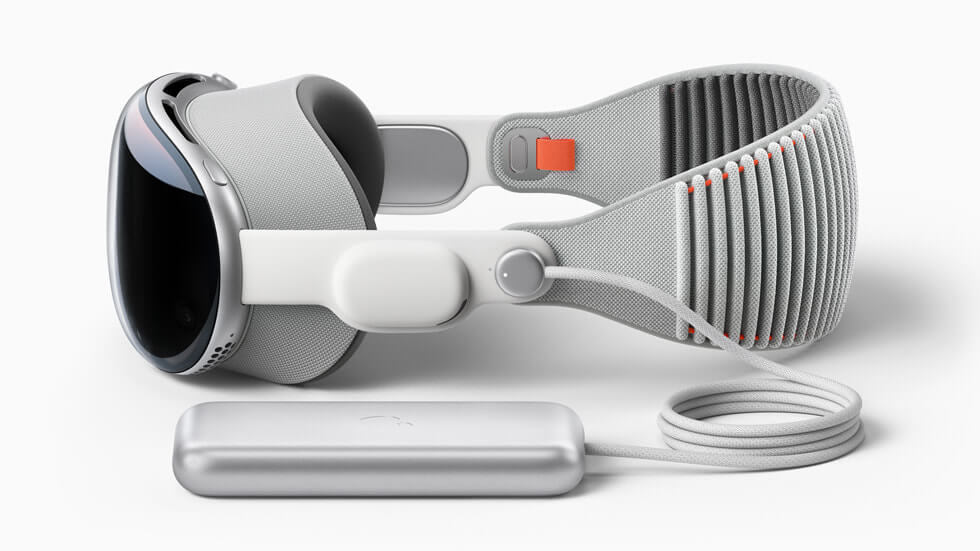 Apple Vision Pro starts at $3,499 and will be available early next year on apple.com and at Apple Store locations in the U.S., with availability in more countries to follow.
Customers will have the opportunity to learn about, experience, and personalize their fit for Vision Pro at Apple Store locations. For additional information about Apple Vision Pro, visit apple.com/apple-vision-pro.
Editor's Note: Please contact press@nowthendigital.com if you find any of the content to be inaccurate or outdated. 
You're reading nowthendigital.com — which breaks the news about Uganda, Kenya, Nigeria, South Africa and the rest of the world, day after day. Be sure to check out our homepage for all the latest news, and follow NOW THEN DIGITAL on YouTube, Google, Web Stories, Google News, Medium, LinkedIn, Twitter, Reddit, Pinterest, Linktr, Buy Me a Coffee, and Flipboard to stay in the loop.