In a devastating incident on Wednesday morning, a boat capsized in Ugandan waters on Lake Victoria, resulting in the loss of twenty lives.
KAMPALA, UGANDA | NOW THEN DIGITAL — Tragedy struck Lake Victoria on Wednesday morning as a boat capsized, claiming 20 lives. Rescuers and local residents raced against time to find survivors.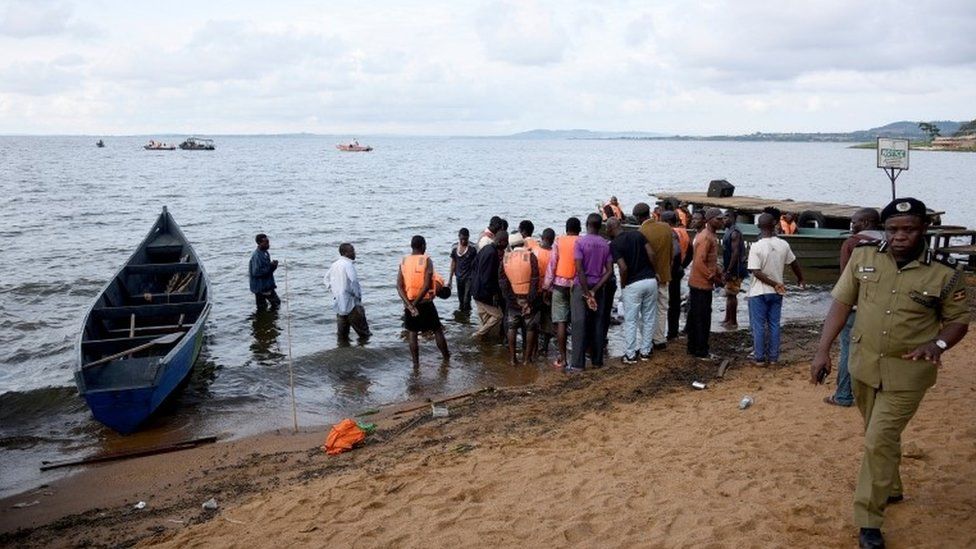 The Uganda police force confirmed the devastating toll on Twitter. So far, 20 people lost their lives, with only nine rescued from the wreckage.
"So far 20, people have been confirmed dead, and nine (9) rescued. The boat was carrying bags of charcoal, fresh foods, silver fish among others. The cause of accident is attributed to overloading and bad weather.", the Police posted.
Police Update on marine accident

On 2nd August 2023, a boat capsized on Lake Victoria.

The number of people on board are allegedly to be 34.

The incident happened at 5am. So far 20, people have been confirmed dead, and nine (9) rescued.

The boat was carrying… pic.twitter.com/bnHn4eOAca

— Uganda Police Force (@PoliceUg) August 2, 2023
The ill-fated boat, carrying charcoal, fresh food, and fish, met its fate at 5:00 am amid treacherous weather and overloading.
Overcrowding and bad weather were pinpointed as the root cause of the tragedy. An estimated 34 people were onboard when the disaster struck.
In the wake of this heart-wrenching event, authorities issued a plea to the public. They urged anyone traveling on waters to always wear life jackets and never overload vessels.
Lake Victoria, Africa's largest lake, has a grim history of boat disasters. Many incidents are attributed to overcrowding and harsh weather conditions.
In a chilling incident back in November 2018, a pleasure boat carrying more than 90 revelers sank during bad weather, resulting in 32 fatalities.
Similarly, in September of that year, the MV Nyerere passenger ferry met a tragic fate on the Tanzanian side of Lake Victoria, claiming hundreds of lives.
Lake Victoria, with a surface area of 70,000 square kilometers, sprawls across Tanzania, Uganda, and Kenya. Its size rivals that of Ireland.
Unfortunately, ferry capsizings are not uncommon due to a lack of life jackets and limited swimming skills among passengers.
Across Africa's Great Lakes region, boats are a lifeline for transportation, but they are frequently overcrowded and poorly maintained.
Accidents also plague Lake Albert, the border between Uganda and the Democratic Republic of Congo. In December 2020, 26 lives were lost in a boat sinking blamed on bad weather.
As we mourn the loss of these precious lives, let us remember the importance of safety measures and responsible navigation on our beloved waterways.
Editor's Note: If you find any of our content to be inaccurate or outdated, please contact us at press@nowthendigital.com
You're reading nowthendigital.com — which breaks the news about Uganda, Kenya, Nigeria, South Africa and the rest of the world, day after day. Be sure to check out our homepage for all the latest news, and follow NOW THEN DIGITAL on YouTube, Google, Web Stories, Google News, Medium, LinkedIn, Twitter, Reddit, Pinterest, Linktr, Buy Me a Coffee, Truth Social, and Flipboard to stay in the loop.