COLORSxSTUDIOS continues to showcase its exceptional talent and unique aesthetic on a grand stage, as it debuts its limited radio series, COLORS THREE SIXTY FM, exclusively on Apple Music's global streaming radio station, Apple Music 1.
KAMPALA, UGANDA | NOW THEN DIGITAL — Berlin-based music platform COLORSxSTUDIOS, renowned for its distinctive aesthetic and exceptional talent worldwide, introduces COLORS THREE SIXTY FM, a captivating limited radio series exclusive to Apple Music's prominent streaming radio station, Apple Music 1.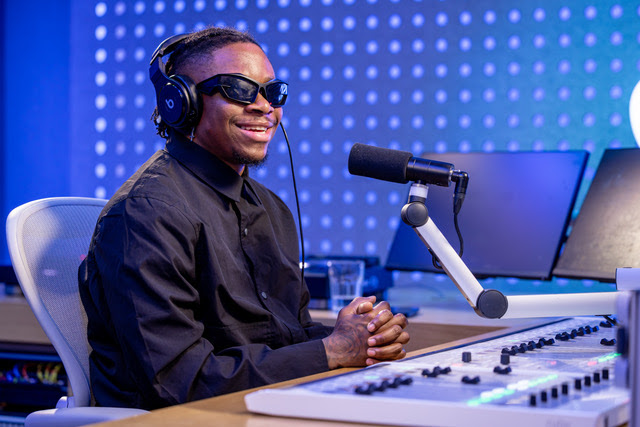 Showcasing the Finest in Music, Unveiling Stories of Inspiration
On this monthly radio show, esteemed artists who have previously graced the COLORS platform take on the role of hosts, delving into the music that has profoundly influenced them.
Additionally, they engage in interviews with fellow artists who have mesmerized audiences with their performances on the COLORS stage, unraveling the behind-the-scenes narratives that enhance their creative expressions.
Each of the 6 enthralling episodes is meticulously recorded in distinct cities such as New York, London, Paris, and Berlin, forging connections between iconic artists from COLORS history and emerging voices, thus presenting a compelling representation of the platform's global diversity and its profound significance in the contemporary music landscape.
Oxlade's London Sojourn: Celebrating the Impact of "KU LO SA"
Leading the charge in the third episode of COLORS THREE SIXTY FM from the illustrious London Studios is the Nigerian sensation, Oxlade. Reflecting on the monumental success of his A COLORS SHOW hit, "KU LO SA," Oxlade expresses profound gratitude to the COLORS team for their unwavering support in amplifying the voices of Afrobeats artists.
He recalls how just a few years ago, he avidly watched his favorite artists on COLORS, seeking inspiration and guidance in the pursuit of his musical dreams. Now, as a beneficiary of this remarkable platform, he finds himself living a dream come true.
Bellah's Unforgettable Debut: A Tale of Unfinished Brilliance
Joining Oxlade in this memorable episode is the talented Nigerian-British singer, Bellah, who has left her indelible mark with the resounding track "Evil Eye – A COLORS SHOW." Sharing her surprise at the opportunity to debut an unreleased song on COLORS, Bellah reminisces about the studio experience, diligently completing the song merely days before the show.
"I never thought, if I'd be on COLORS I'd be debuting a song but they heard my unreleased archive and they were like "That's the song you gonna do." It wasn't finished, so I finished the song 2 or 3 days before the show."
The resonating connection between artists and the COLORS platform becomes evident as they discover shared song preferences, favorite artists, and a collaborative history that binds them together.
Catch the COLORS THREE SIXTY FM Show on Apple Music
The monthly COLORS THREE SIXTY FM show is a must-listen for music enthusiasts across the world.
Tune in on Wednesdays at 2 pm CET / 8 am ET / 5 am PT / 2 pm CAT / 1 pm WAT / 3 pm EAT to savor the delightful blend of music, storytelling, and cultural diversity that COLORSxSTUDIOS offers on Apple Music 1's esteemed radio station.
Editor's Note: Please contact press@nowthendigital.com if you find any of the content to be inaccurate or outdated. 
You're reading nowthendigital.com — which breaks the news about Uganda, Kenya, Nigeria, South Africa and the rest of the world, day after day. Be sure to check out our homepage for all the latest news, and follow NOW THEN DIGITAL on YouTube, Google, Web Stories, Google News, Medium, LinkedIn, Twitter, Reddit, Pinterest, Linktr, Buy Me a Coffee, Truth Social, and Flipboard to stay in the loop.