Daniel Richard Makayi Nangalama assumes the role of Acting Executive Director for the Uganda National Bureau of Standards, taking over from Livingstone Ebiru, who faces corruption allegations.
KAMPALA, UGANDA | NOW THEN DIGITAL — Daniel Richard Makayi Nangalama has assumed the position of acting Executive Director for the Uganda National Bureau of Standards, taking over from Livingstone Ebiru, who faces corruption allegations.
The appointment of Nangalama, previously serving as the Deputy Executive Director in charge of management and financial services, was made by the National Standards Council (NSC).
UNBS issued a statement confirming Nangalama's appointment on Monday afternoon.
The National Standards Council (NSC) has appointed Mr. Daniel Nangalama as the Acting ED of UNBS.

Mr. Nangalama has been serving at the Bureau as the Deputy Executive Director in charge of Management & Financial Services.

Details here 👉 https://t.co/xem0YErmoY pic.twitter.com/nokGFHMGh1

— UNBS (@UNBSug) July 24, 2023
This development comes in the wake of an arrest warrant issued by the Inspectorate of Government (IGG) against Ebiru.
The arrest warrant, issued on July 21, 2023, by Deputy IGG Anne Twinomugisah Muhairwe, orders police officers to arrest Ebiru in response to allegations of corruption.
According to the warrant, Mr. Ebiru was summoned to appear before the Inspectorate of Government on July 21, 2023, at 2 pm, to testify or furnish information related to an ongoing inquiry. However, he failed to respond to the summons or provide any evidence for his non-appearance.
Consequently, the ombudsman directed officers to arrest Ebiru on sight.
Last week, Ebiru admitted to paying a bribe of shs100 million in an attempt to prevent the termination of his contract while appearing before Parliament's Committee on Public Accounts – Commissions, Statutory Authorities, and State Enterprises (COSASE).
"I confess that I bribed the board to secure my position. The shs100 million was handed over to one board member for distribution," Ebiru said.
However, Charles Musekuura, the UNBS board chairperson, firmly denied the allegations, stating that he had no knowledge of any such transaction.
Ebiru later made a u-turn and retracted the bribery allegations.
Who is Mr. Nangalama Daniel: Biography and Education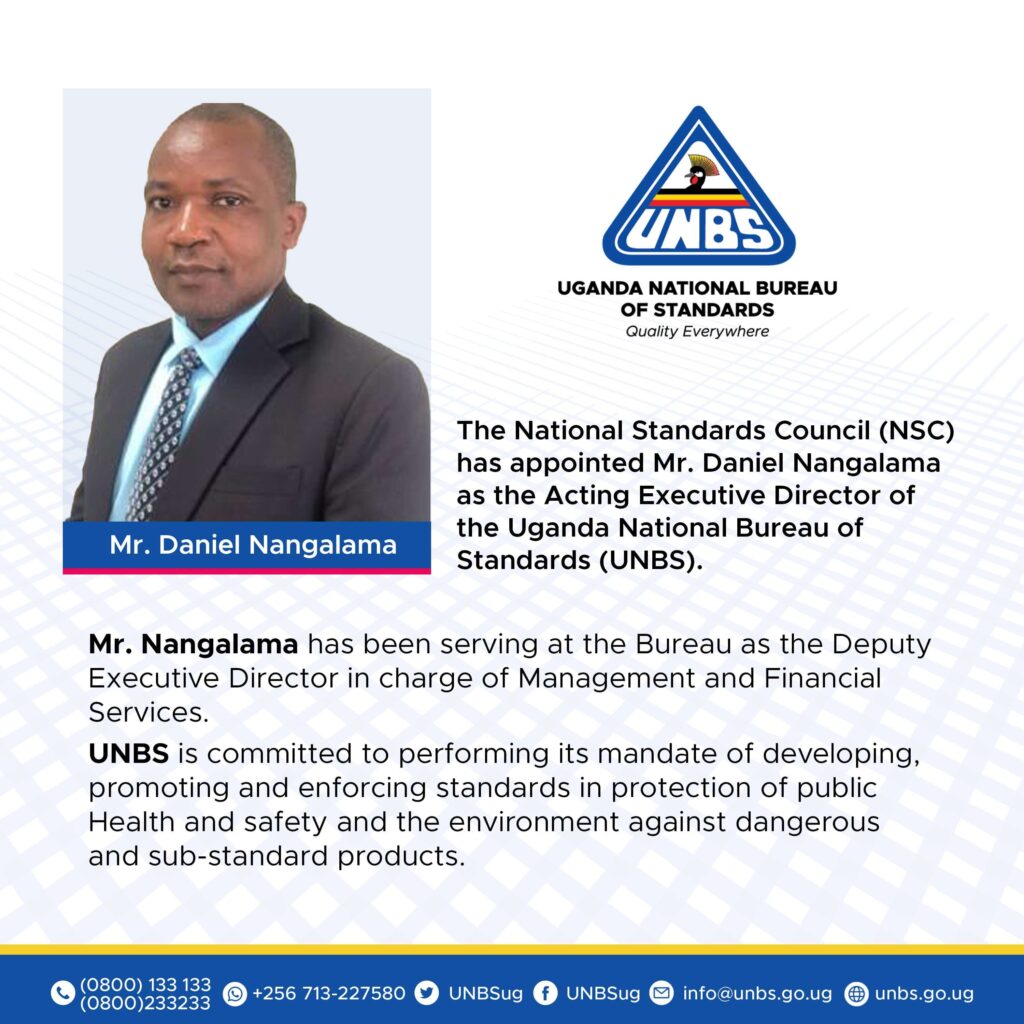 Previously, Mr. Daniel Nangalama served as the Deputy Executive Director – Management and Financial Services, responsible for providing strategic leadership and oversight of the directorate through effective and efficient planning, monitoring, coordinating, and implementing UNBS policies and programs.
He had previously worked as the Audit Manager at the Bureau from 2013 to 2016.
Before his appointment, he served as the Chief Internal Auditor at Kyambogo University, accumulating over two decades of experience in both private and public entities. His expertise spans strategy and policy monitoring, internal audit, financial and operations management, primarily within the sectors of tertiary education, energy, quality, and standards regulation.
He holds a Master of Science Degree in Accounting & Finance, a Postgraduate Diploma in Human Resource Management, a Certificate in Law (Administrative Officers course), and a Bachelor of Commerce.
Additionally, he has received training in Quality Management Systems (QMS ISO 9001), Corporate Governance for directors and senior managers, Internet security and ethical hacking, Competence-Based Job Evaluation, and Public Finance Reforms, among others. He is a Certified Public Accountant (Uganda and Kenya), Certified Internal Auditor, Certified Information Systems Auditor, and a Certified ISO 31000 Risk Management Professional.
Actively involved in governance responsibilities, Mr. Nangalama serves as a member of the Audit Committee of Inter-University Council of East Africa, the Governing Council of Aduku College of Commerce, and the Board of Finance Mukono diocese.
He also chairs the Board of Governors at Bubulo Secondary School and is a member of Bubulo Girls High School. Additionally, he has served on several professional committees at the Institute of Internal Auditors of Uganda (IIA-Uganda) and Institute of Certified Public Accountants of Uganda (ICPAU).
Throughout his career and voluntary engagements, he has contributed to the establishment of policy frameworks and institutional capabilities in the areas of Governance, Auditing, Risk Management, Financial, and Operations Management.
Mr. Nangalama strongly advocates for Teamwork, Inclusiveness, Value-added Propositions, Continuous Improvement, and Professionalism. He is a member of the Institute of Corporate Governance of Uganda and a life member of the Bible Society of Uganda.
Editor's Note: If you find any of our content to be inaccurate or outdated, please contact us at press@nowthendigital.com
You're reading nowthendigital.com — which breaks the news about Uganda, Kenya, Nigeria, South Africa and the rest of the world, day after day. Be sure to check out our homepage for all the latest news, and follow NOW THEN DIGITAL on YouTube, Google, Web Stories, Google News, Medium, LinkedIn, Twitter, Reddit, Pinterest, Linktr, Buy Me a Coffee, Truth Social, and Flipboard to stay in the loop.