Discover effective methods to achieve a thick and hearty consistency in your pinto bean soup. From incorporating thickening agents to simmering techniques, we have you covered.
CUPERTINO, CALIFORNIA | NOW THEN DIGITAL — Pinto bean soup is a hearty and satisfying dish, but sometimes you may prefer a thicker consistency. Here are some methods to thicken your pinto bean soup and achieve that desired texture.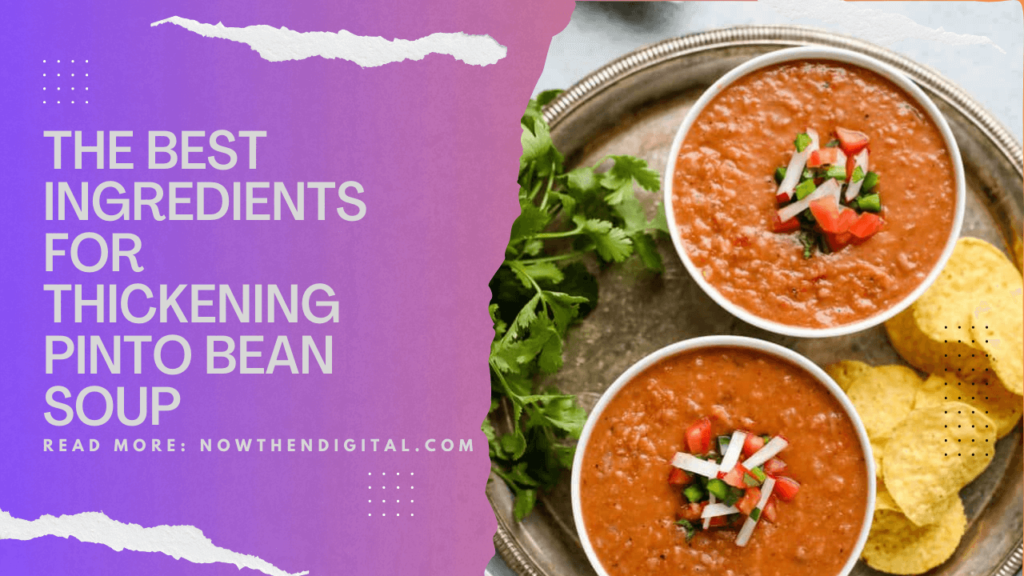 Achieving a thick and luscious pinto bean soup is easily accomplished with the right techniques. Whether you prefer using thickening agents, simmering for longer durations, or creating a cornstarch slurry, these methods will help you achieve the desired consistency. Experiment with different techniques and find your perfect thickening method to enhance the enjoyment of your pinto bean soup.
Understanding Bean Soup
Bean soup serves as a versatile dish, featuring beans as the main ingredient. Whether you choose dry beans or canned options like white beans, black beans, great northern beans, cannellini beans, or navy beans, the result is a protein-rich and satisfying meal.
Typically, bean soup recipes include variations like bean and ham soup, featuring ham bone or chopped ham, and chicken and black bean soup.
To create a customized base, start by sautéing celery stalks and garlic cloves, simmering them with beans in chicken stock or broth until tender. Enhance the flavor by adding vegetables and aromatics such as bay leaf, black pepper, red pepper flakes, or dried thyme.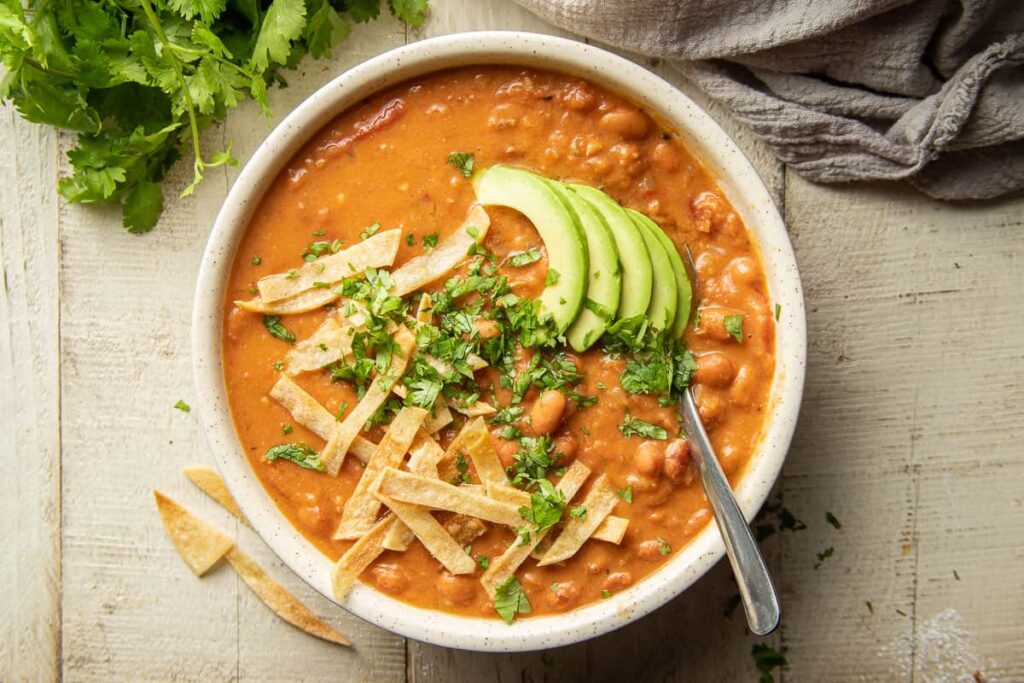 Thicken Pinto Bean Soup: Methods and Techniques
When it comes to thickening pinto bean soup, various options are available. Consider these approaches:
1. Adding a Thickening Agent
Prepare a slurry by dissolving a teaspoon or two of cornstarch or all-purpose flour in a small amount of cold water. Gradually incorporate the slurry into the bubbling soup, adjusting the amount to achieve the desired thickness. Add more cornstarch or flour if necessary.
2. Simmering the Soup
A longer simmering period allows the soup to thicken naturally as the liquid reduces. This method is effective in creating a thicker consistency.
3. Bean Mashing
Utilize a potato masher or immersion blender to mash a portion of the cooked beans within the soup. This process releases the beans' starches, contributing to a thicker consistency.
4. Incorporating Cooked Potatoes
Add cooked potatoes to the pinto bean soup, as they act as a natural thickening agent.
5. Flour or Cornmeal
Create a paste by combining flour or cornmeal with water, then introduce it to the soup, stirring until thickened.
6. Using a Roux
Prepare a roux by melting butter in a pan, adding flour, and cooking until the mixture turns brown. Incorporate the roux into the soup, stirring until thickened.
7. Tomato Paste
Introduce tomato paste to the soup for both thickening and flavor enhancement.
8. Arrowroot or Potato Starch
Mix arrowroot or potato starch with water to create a paste, gradually incorporating it into the soup while stirring until thickened.
9. Bone Broth
Employ bone broth as a means to thicken pinto bean soup while infusing it with additional flavor. As the beans absorb the broth during the cooking process, they become more robust in taste.
10. Adjusting Liquid Levels
Control the liquid content by reducing the amount of cooking liquid when initially preparing the pinto beans. Maintain enough liquid to cover the beans initially and add more water as necessary during simmering. It is easier to add liquid than to remove it.
Remember to taste and adjust the seasoning before serving. Delight in the rich and satisfying flavors of your thick pinto bean soup!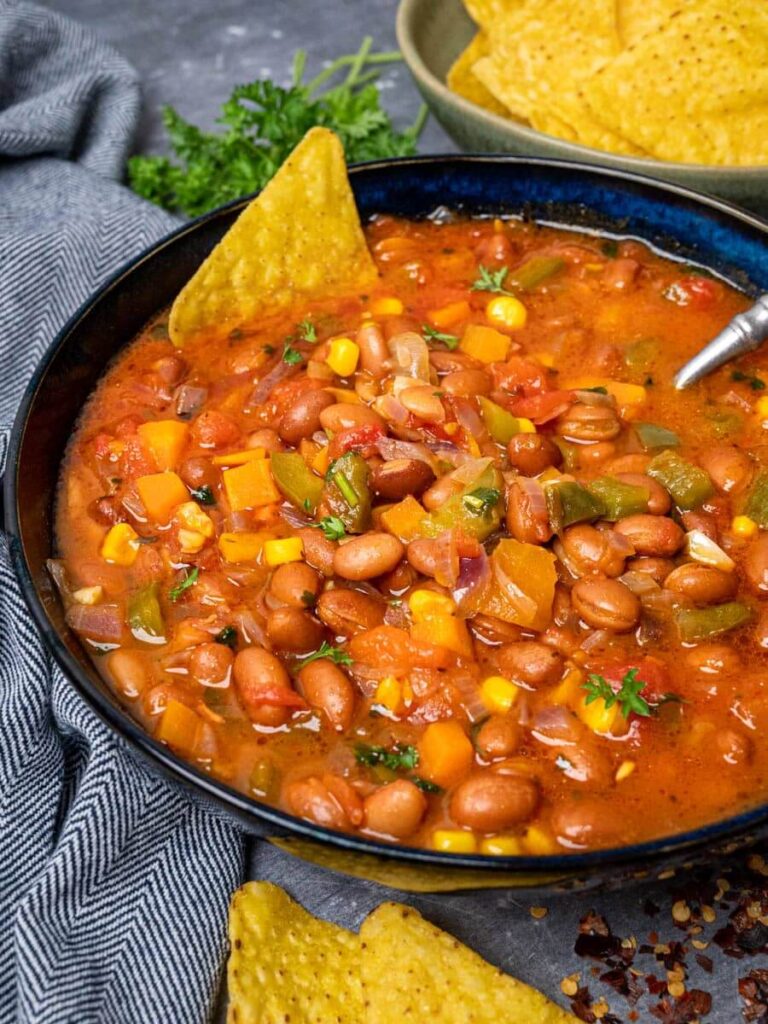 How to Make a Cornstarch Slurry for Thickening Pinto Bean Soup
Creating a cornstarch slurry offers a quick solution to thicken pinto bean soup. The cornstarch absorbs liquid, resulting in a thicker consistency. Follow these steps to make a cornstarch slurry:
In a small bowl, combine 1-2 tablespoons of cornstarch with an equal amount of cold water.
Stir until the cornstarch is completely dissolved.
Slowly pour the cornstarch mixture into the soup while stirring constantly.
Continue stirring the soup for a few minutes until it reaches the desired thickness. Note that adding cornstarch directly to hot liquid can cause clumping, so mixing it with cold water is essential. Exercise caution not to add excessive cornstarch, as it may make the soup overly thick. Start with a small amount and adjust as needed.
How to Thicken Sauce with Cornstarch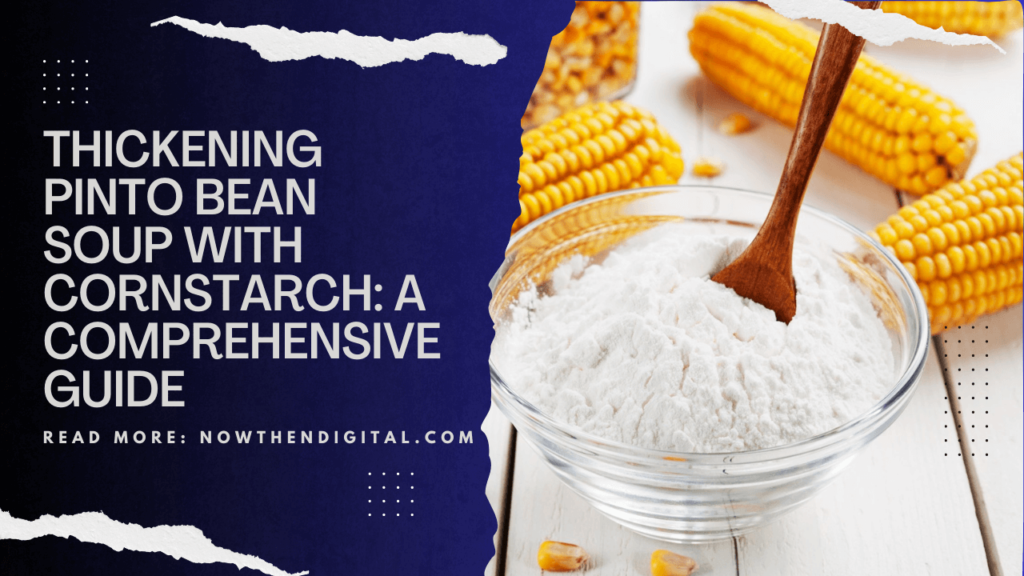 Cornstarch is a widely used thickening agent that lends a velvety texture to sauces, gravies, and soups.
In this guide, we'll walk you through the steps to effectively thicken your sauce using cornstarch. Follow these simple instructions for a smooth and luscious result.
Step 1: Prepare the Cornstarch Mixture
To begin thickening your sauce with cornstarch, follow these initial steps:
In a small bowl, combine 1-2 tablespoons of cornstarch with an equal amount of cold water.
Stir the mixture vigorously until the cornstarch is fully dissolved. Ensure there are no lumps remaining, as they can affect the smoothness of the sauce.
Step 2: Incorporate the Cornstarch Mixture
To achieve optimal results while adding the cornstarch mixture to your sauce, follow these guidelines:
Gradually pour the cornstarch mixture into the sauce, all the while stirring continuously. This gradual addition helps prevent the formation of clumps.
Ensure the sauce is gently simmering while adding the cornstarch mixture. The heat activates the thickening properties of cornstarch.
Stir the sauce consistently as you pour in the cornstarch mixture, ensuring it is evenly distributed throughout the sauce.
Step 3: Thicken and Perfect the Consistency
To achieve the desired thickness and consistency for your sauce, follow these crucial steps:
Continue to stir the sauce for a few minutes after adding the cornstarch mixture. The heat and constant stirring will allow the cornstarch to thicken the sauce gradually.
Be mindful not to overheat the sauce, as excessive heat can cause the cornstarch to break down, resulting in a less effective thickening agent.
Adjust the heat as necessary to maintain a gentle simmer, allowing the sauce to thicken gradually. Remember to stir frequently during this process.
Step 4: Fine-tune the Flavor
To ensure a harmonious flavor profile, consider these additional steps:
Taste the thickened sauce and evaluate the seasoning. Add salt, pepper, or any other desired seasonings to balance and enhance the flavors.
Stir the sauce well after seasoning additions, allowing the flavors to meld together.
Important Considerations
While cornstarch is an excellent thickening agent, there are a few factors to bear in mind:
Clarity of the sauce: Cornstarch may cause the sauce to become cloudy. For visually appealing results, consider using cornstarch in clear or light-colored sauces.
Acidic ingredients: Cornstarch can break down when exposed to acidic components such as vinegar or lemon juice. If your sauce contains acidic ingredients, it's advisable to opt for an alternative thickening agent like flour or arrowroot.
By following these simple steps, you can confidently thicken your sauce to the desired consistency using cornstarch, resulting in a delectable and well-textured culinary creation.
How Long Should You Simmer Pinto Bean Soup to Thicken It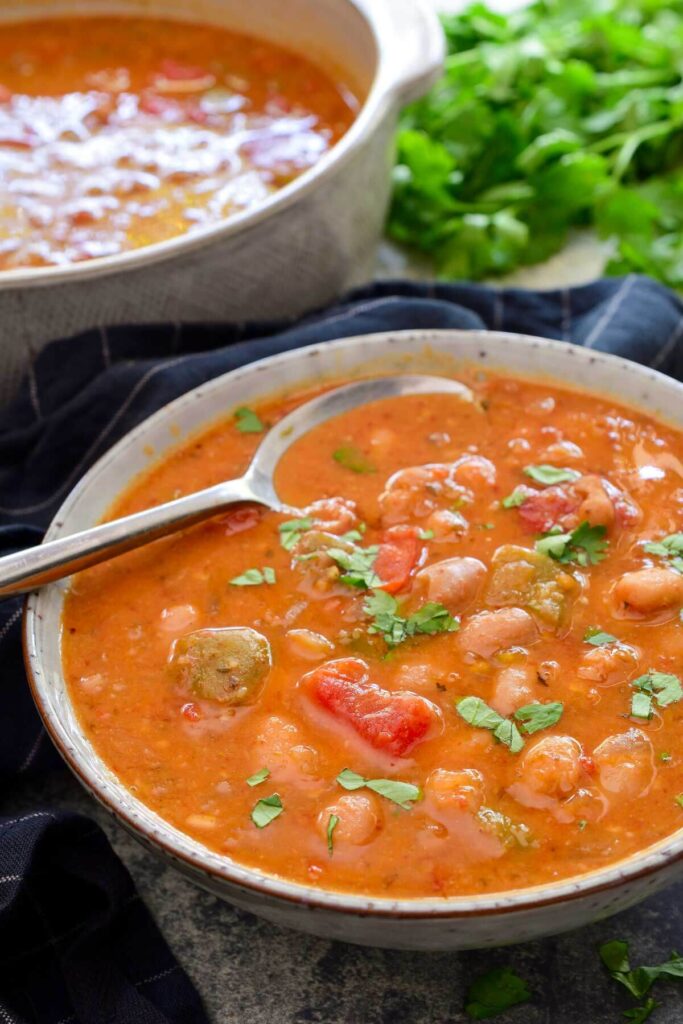 Simmering pinto bean soup for an extended period is an effective way to achieve a thicker consistency. The duration required varies depending on factors such as liquid quantity, heat intensity, and pot type.
According to Budgetbytes, once the soup reaches a boil, reduce the heat slightly and let it simmer (uncovered) for approximately 15 minutes. During this time, the soup will thicken slightly, and flavors will further develop.
After 15 minutes of simmering, the beans should be exceptionally soft. Utilize the back of a large cooking spoon to further mash the beans, thereby enhancing thickness.
Keep in mind that over-simmering can lead to mushy beans and loss of texture. To prevent this, monitor the soup frequently, stirring occasionally to prevent sticking.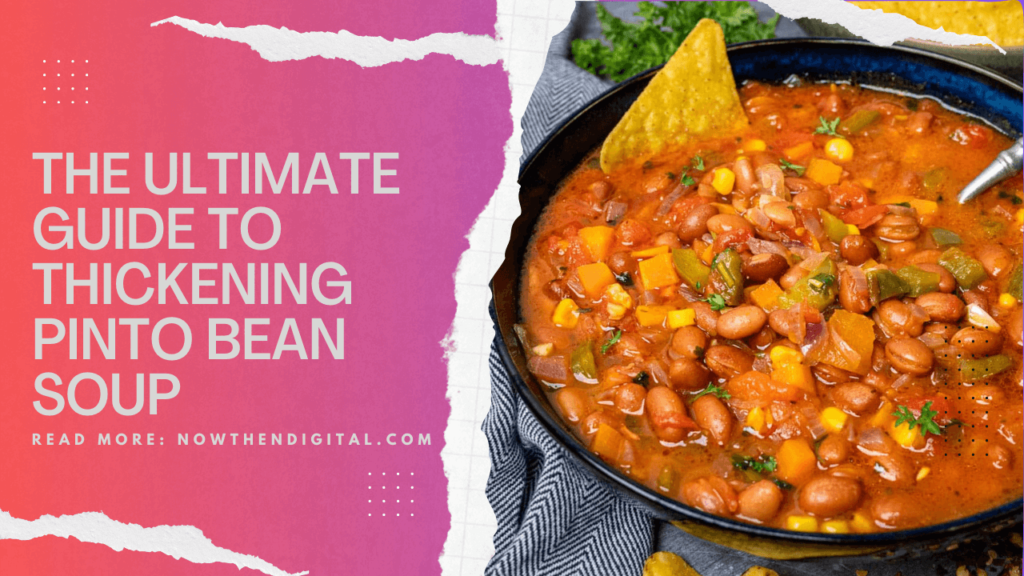 Editor's Note: If you find any of our content to be inaccurate or outdated, please contact us at press@nowthendigital.com