An official list of Visa Exempt countries to Uganda was released on Monday by the Country's Ministry of Internal Affairs.
KAMPALA, UGANDA | NOW THEN DIGITAL — In a statement released on Monday, the Ministry of Internal Affairs, Uganda, released a list of countries that are exempt from Ugandan visa requirements.
There are 37 countries on the list whose citizens may visit Uganda without a visa. The nationals of the countries listed do not require a visa in order to enter Uganda.

As the term implies, a visa is an official document that permits the bearer to enter a foreign country. It is usually attached to the bearer's passport.

There are several different types of visas, each of which confers different rights on the bearer.
According to the list, citizens of 37 countries are permitted to visit Uganda without requiring a visa.
In other words, people who are citizens of the countries listed will not be required to apply for a Visa in order to enter Uganda.
What is a Visa?
Visas are official documents allowing the bearer to legally enter a foreign country. Visas can be issued in two ways: by stamping or by sticking them to the passport of the bearer.
There are several different types of visa, each of which grants the bearer a particular set of rights in the country of residence.
Visiting Uganda without a visa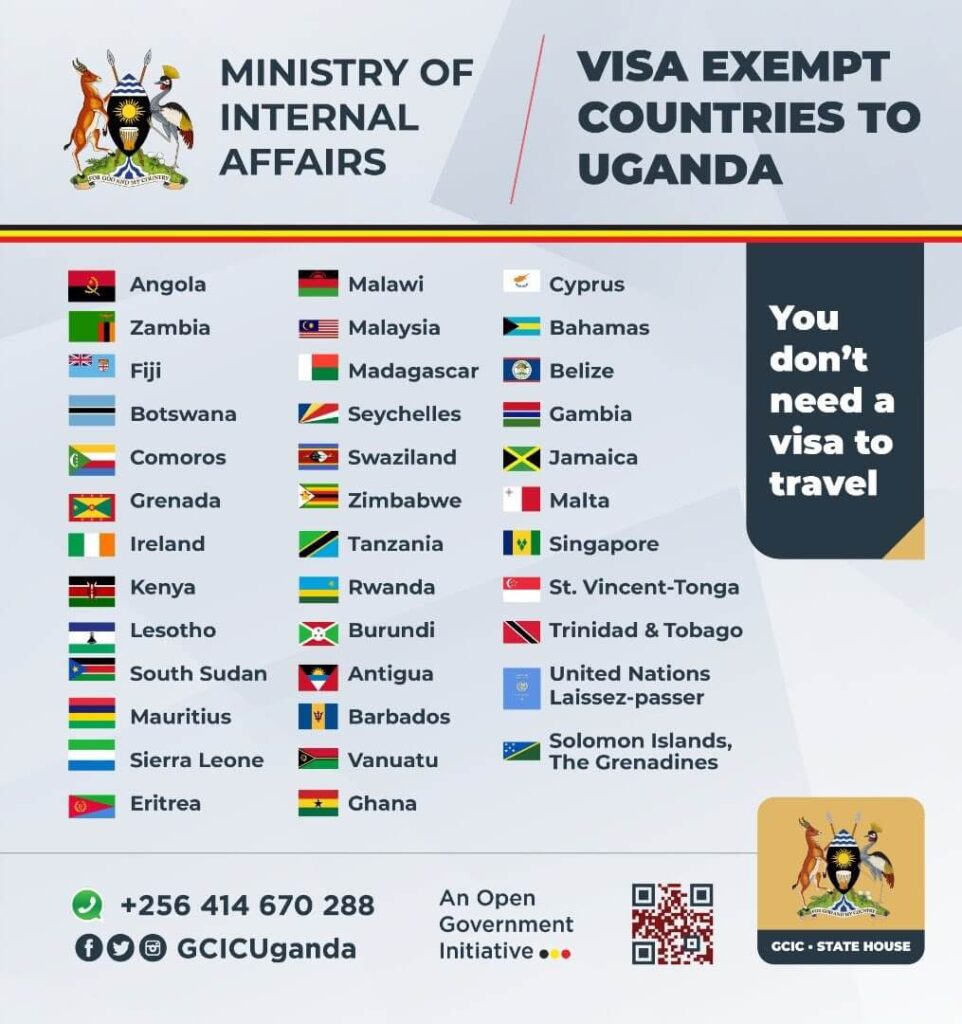 Here is the complete list of countries for which Uganda does not require a visa:
Angola

Zambia

Fiji

Botswana

Comoros

Grenada

Ireland

Kenya

Lesotho

South Sudan

Mauritius

Sierra Leone

Eritrea

Malawi

Malaysia

Madagascar

Seychelles

Swaziland

Zimbabwe

Tanzania

Rwanda

Burundi

Antigua

Barbados

Vanuatu

Ghana

Cyprus

Bahamas

Belize

Gambia

Jamaica

Malta

Singapore

St. Vincent-Tonga

Trinidad & Tobago

United Nations Laissez-passer

Solomon Islands, The Grenadines
Visa Exempt Countries to Uganda#OpenGovUG pic.twitter.com/uuZkDM19Py

— Ministry of ICT&NG (@MoICT_Ug) December 5, 2022
Editor's Note: Our content may be inaccurate or out-of-date, so please contact us at press@nowthendigital.com if you see something that needs to be updated.
You're reading nowthendigital.com — which breaks the news about Uganda, Kenya, Nigeria, South Africa and the rest of the world, day after day. Be sure to check out our homepage for all the latest news, and follow NOW THEN DIGITAL on YouTube, Google, Web Stories, Google News, Medium, Twitter, Reddit, Pinterest, Linktr, Buy Me a Coffee, and Flipboard to stay in the loop.