Time magazine's Time100 Next list for 2023 has featured Nigerian Afrobeats singer Temilade Openiyi, known as Tems, among its emerging trailblazers.
NAIROBI, KENYA | NOW THEN DIGITAL — Nigerian Afrobeats singer Temilade Openiyi, professionally known as Tems, has earned a spot on Time magazine's 2023 Time100 Next list, which recognizes emerging trailblazers across various fields.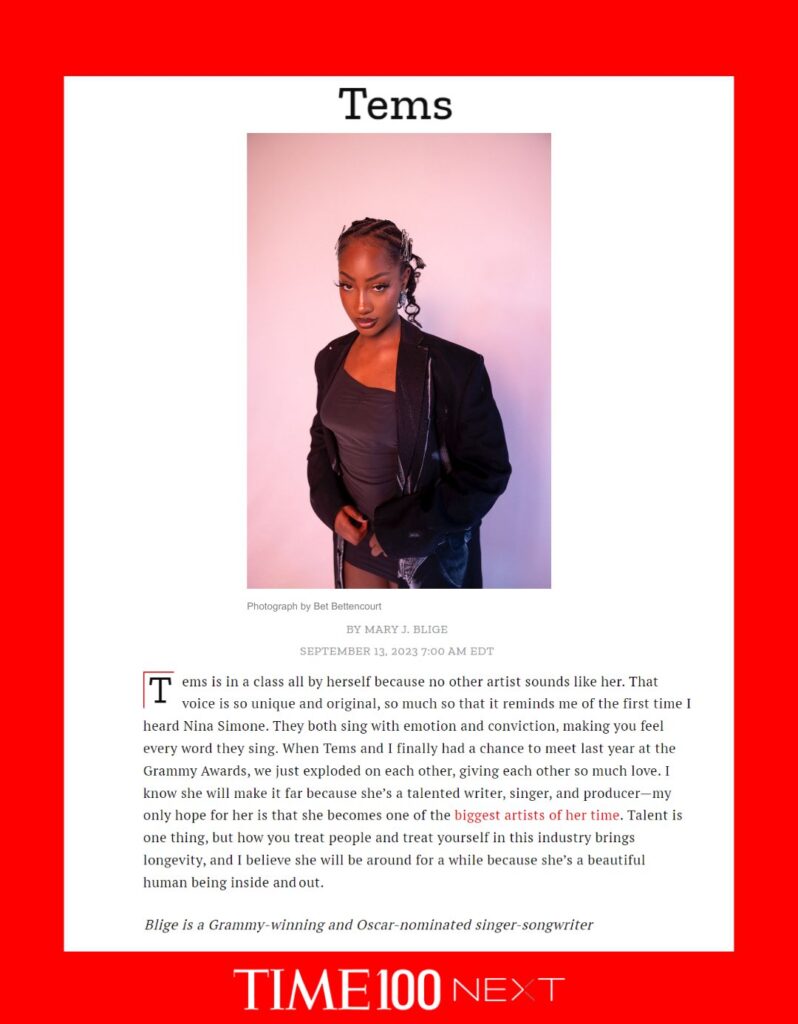 Time100 Next's Purpose
Launched in 2019, Time100 Next identifies 100 emerging leaders across diverse fields, extending Time magazine's influential Time 100 franchise.
Time Magazine's Ambition
Time magazine aims to inspire by showcasing not only the present but also the potential of future leaders in health, climate, business, sports, the arts, and more.
"A great magazine and a great media company should not just reflect the present, it should push us forward, showing what is possible as well as what society's future and future leaders will look like," Time Magazine said.

"That is our ambition for TIME100 Next, our annual franchise recognising the rising leaders in health, climate, business, sports, the arts and more."
Tems: A Rising Star
Tems, celebrated for her R&B album "If Orange Was a Place" and the global summer hit "Essence" with Afrobeats star Wizkid, is a Grammy winner, multiple BET award winner, and 2022 BMI Impact Award recipient.
Praise from Mary J. Blige
Grammy-winning and Oscar-nominated singer-songwriter Mary J. Blige, in her profile of Tems, highlighted her unique and emotionally charged voice reminiscent of Nina Simone.
She emphasized Tems' talent as a writer, singer, and producer and expressed hope for her long-lasting success in the industry.
"Tems is in a class all by herself because no other artist sounds like her," Mary J. Blige wrote.

"That voice is so unique and original, so much so that it reminds me of the first time I heard Nina Simone. They both sing with emotion and conviction, making you feel every word they sing. When Tems and I finally had a chance to meet last year at the Grammy Awards, we just exploded on each other, giving each other so much love. I know she will make it far because she's a talented writer, singer, and producer –  my only hope for her is that she becomes one of the biggest artists of her time(link is external). Talent is one thing, but how you treat people and treat yourself in this industry brings longevity, and I believe she will be around for a while because she's a beautiful human being inside and out." she added.
Tems' Recent Conversations
Tems' recent accolades include a conversation with US rapper Kendrick Lamar for Interview Magazine, where they discussed their shared passion for music and the significance of artistic integrity.
Editor's Note: Please contact press@nowthendigital.com if you find any of the content to be inaccurate or outdated.