Frank Walusimbi, a Luganda news anchor who has been anchoring "Akawungeezi" on NTV Uganda since the beginning of 2006, ended his fifteen-year career on Thursday 28th April 2022.
KAMPALA | NOW THEN DIGITAL — Frank Walusimbi, the beloved Luganda news anchor who has been anchoring the news at NTV Uganda since 2006, finally called it quit on Thursday 28th April 2022 after a period of fifteen years of working in the industry.
On Thursday 28th April 2022, the celebrated Luganda news anchor Frank Walusimbi ended his fifteen-year news career on NTV Uganda.

Frank Walusimbi in the company of NTV employees read his final bulletin at "Akawungeezi" and thanked the station and its fans.

Read also: 

Sandra Kahumuza Twinoburyo

, a journalist, news anchor, and TV presenter, 

resigned from her position at NTV Uganda

 after many years of service.
After delivering his last bulletin at 'Akawungeezi', Frank Walusimbi with the help of fellow NTV employees waved goodbye to everyone at the station and the fans that supported it.
"This is the last bulletin I am anchoring. Who knows in future, God willing, whether I will make a return? Thank you for standing with me," Frank Walusimbi noted.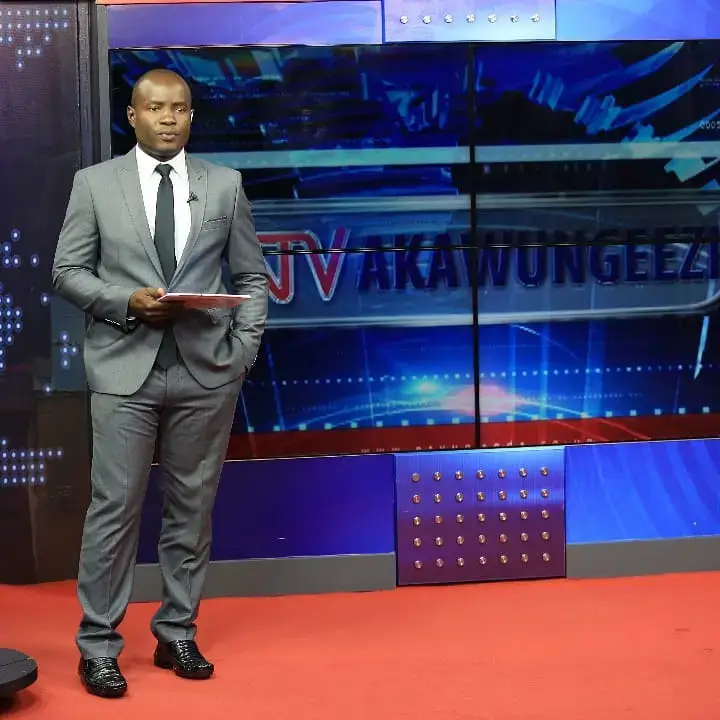 Over the years Frank Walusimbi has been distinguished from a large number of talented journalists thanks to his calmness, composure, superior Luganda dialect, and so much more.
Walusimbi's presentations on TV shows such as 'NTV Akawungeezi' and 'Tuwaye' will forever have a lasting impact on Ugandans, mostly those who watched him daily.
Throughout Frank's long career in the media industry, he has made a significant contribution to what is considered to be a thriving field, and he appreciates the support he has received from colleagues and the general public.
Walusimbi leaves NTV: Twitter reaction
Still don't really have words to say ? but rest assured ; you will be missed ??@FrankWALUSIMBI
@ntvuganda

God bless you in your new journey & endeavors ??? pic.twitter.com/AhmyYeh8TJ

— Lynda Ddane (@lynda_ddane) April 29, 2022
Professionalism as you know it . @FrankWALUSIMBI Well in comrade?.
Wishing you the very best in the future.
Thank you for your service. pic.twitter.com/Wwj44TGHYs

— YKEE BENDA (@YkeeBenda) April 29, 2022
Thank you @FrankWALUSIMBI for a job well done as a journalist and news anchor all these years. Thank you for the competence, professionalism and always according respect to the viewers. Always warmed by your calmness, composure & fluency. Wish you the best in your next endeavours pic.twitter.com/jATfJNAalg

— BOBI WINE (@HEBobiwine) April 29, 2022
A very calm and composed gentleman he is. Fifteen years ago, he started a journey on air and gradually mastered his craft to become a people's darling. He made many love luganda on #NTVAkawungeezi. This week, he signed out. Thank you for choosing the NTV Family. All the best?‍♂️ pic.twitter.com/d5i5Boyqxz

— Faridah Nakazibwe (@fsnakazibwe) April 29, 2022
FAREWELL: NTV journalist Frank Walusimbi anchors his last #NTVAkawungeezi bulletin.#LiveWireUpdates pic.twitter.com/9Rk9w3w1GT

— SPARK TV (@sparktvuganda) April 28, 2022
One of the best News Anchors Uganda has ever had. A man so irreplaceable, a man with a unique craft. You'll be missed and all the best in your new journey @FrankWALUSIMBI pic.twitter.com/XrmPJb9P5O

— The Romantic Mukiga (@emeka_ug) April 28, 2022
Thank you for 15 years of professionalism, @FrankWALUSIMBI. You're truly an icon. Best wishes for the future ? pic.twitter.com/XZSs3JTV86

— Sheilla Nduhukire ?? (@Snduhukire) April 28, 2022
Wishing you all the best @FrankWALUSIMBI onto your next step. You inspired a lot of us in pursuing journalism and most especially broadcasting in Luganda.

— Canary Mugume (@CanaryMugume) April 28, 2022
Frank Walusimbi's retirement is a call to students and graduates of journalism and communication whom he has inspired to emulate his professionalism—to uphold the legacy of one of the most incredible news presenters on national Television. Good luck, Frank, on your next journey.

— Barnabas Nawangwe (@ProfNawangwe) April 28, 2022
Icon. Thank you and good luck, onwards. ?? @FrankWALUSIMBI @ntvuganda pic.twitter.com/px8WnRi6tI

— Atukwasize Chris Ogon (@chrisatuk) April 28, 2022
What is Frank Walusimbi's background?
He was born on August 29, 1981, at Kilembe Mines Hospital in Kasese. He attended Busega Preparatory Primary School, Uganda Martyrs' Secondary School, Rubaga to obtain the Uganda Certificate of Education, and the Uganda Advanced Certificate of Education.
He also holds a Masters' degree in Development Studies from Uganda Martyrs University as well as a Bachelor of Arts in Mass Communication from Uganda Christian University.
While he was in his final year at Uganda Christian University, Frank Walusimbi began to contribute to the Sunday Vision Magazine as a Features Writer before joining the Daily Monitor in 2005. 
Following his stint at Daily Monitor, Walusimbi joined NTV in 2006.