KAMPALA, UGANDA | NOW THEN DIGITAL — Capital FM Uganda responded to allegations made by Rahma Nakands via social media on Wednesday evening, refuting claims of an intimate affair between the station's CEO, Peter Mungoma, and his employee, Lucky Mbabazi.
The controversy began earlier in the week when tweets from an anonymous user, identified as @rnakands, surfaced, alleging a sexual scandal involving Lucky Mbabazi and her boss at Capital FM, Peter Mungoma.
In her tweets, Rahma Nakands asserted that Mbabazi and CEO Mungoma were "engaged in a secret relationship," allegedly leading to marital troubles for Mbabazi with her husband, Patrick Kanyomozi. One tweet even hinted at connections between Lucky and Gaetano Kaggwa.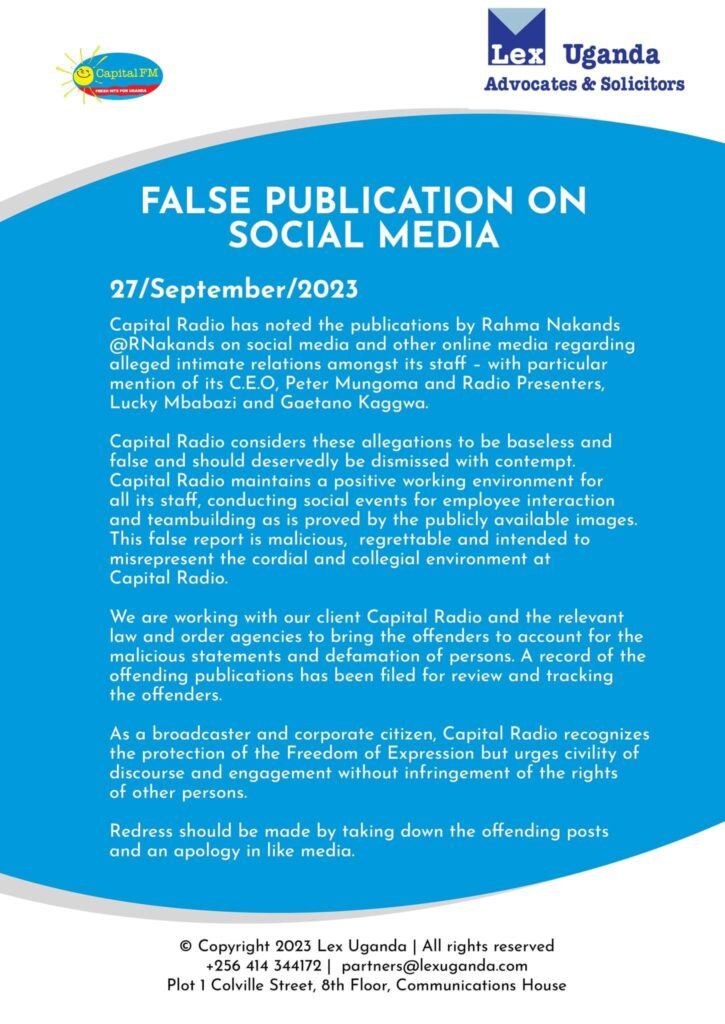 Lucky Mbabazi swiftly dismissed the allegations, posting a video of herself and her husband on her Instagram account during a mid-morning workout session, accompanied by the caption, "This mid-morning workout is directed by mwami."
Capital FM Uganda issued a statement strongly rejecting the allegations, categorizing them as "baseless and false." The Kisementi-based radio station emphasized its commitment to maintaining a positive working environment for all employees and urged Rahma Nakands to retract her claims.
In their official statement, Capital FM stated, "Capital Radio has noted the publications by Rahma Nakands (@RNakands) on social media and other online media regarding alleged intimate relations amongst its staff – with particular mention of its C.E.O, Peter Mungoma and Radio Presenters, Lucky Mbabazi and Gaetano Kaggwa. Capital Radio considers these allegations to be baseless and false and should deservedly be dismissed with contempt."
The statement continued, "Capital Radio maintains a positive working environment for all its staff, conducting social events for employee interaction and teambuilding as is proved by the publicly available images. This false report is malicious, regrettable and intended to misrepresent the cordial and collegial environment at Capital Radio. We are working with our client Capital Radio and the relevant law and order agencies to bring the offenders to account for the malicious statements and defamation of persons."
Capital FM also acknowledged the importance of Freedom of Expression but urged for civil discourse and engagement without infringing upon the rights of others. They requested the removal of the offending posts and an apology through the same media.
Rahma Nakands, however, responded to the statement, promising to release videos supporting her claims. She tweeted, "Interesting! I will post the videos soon. Go on with your online threats."
Interesting! I will post the videos soon. Go on with your online threats.

— Rahma Nakands (@RNakands) September 27, 2023