Ugandans are collectively grieving the loss of the renowned sports commentator Stuart Mutebi Kiwanuka, whose passing was announced on Saturday by his relatives.
KAMPALA, UGANDA | NOW THEN DIGITAL — The Ugandan sports community mourns the loss of Stuart Mutebi Kiwanuka, a celebrated sports commentator who passed away on Saturday after a long battle with illness.
Stuart Mutebi had been bedridden for four years following a stroke, but his unwavering passion for sports and dedication to his craft remained unshaken.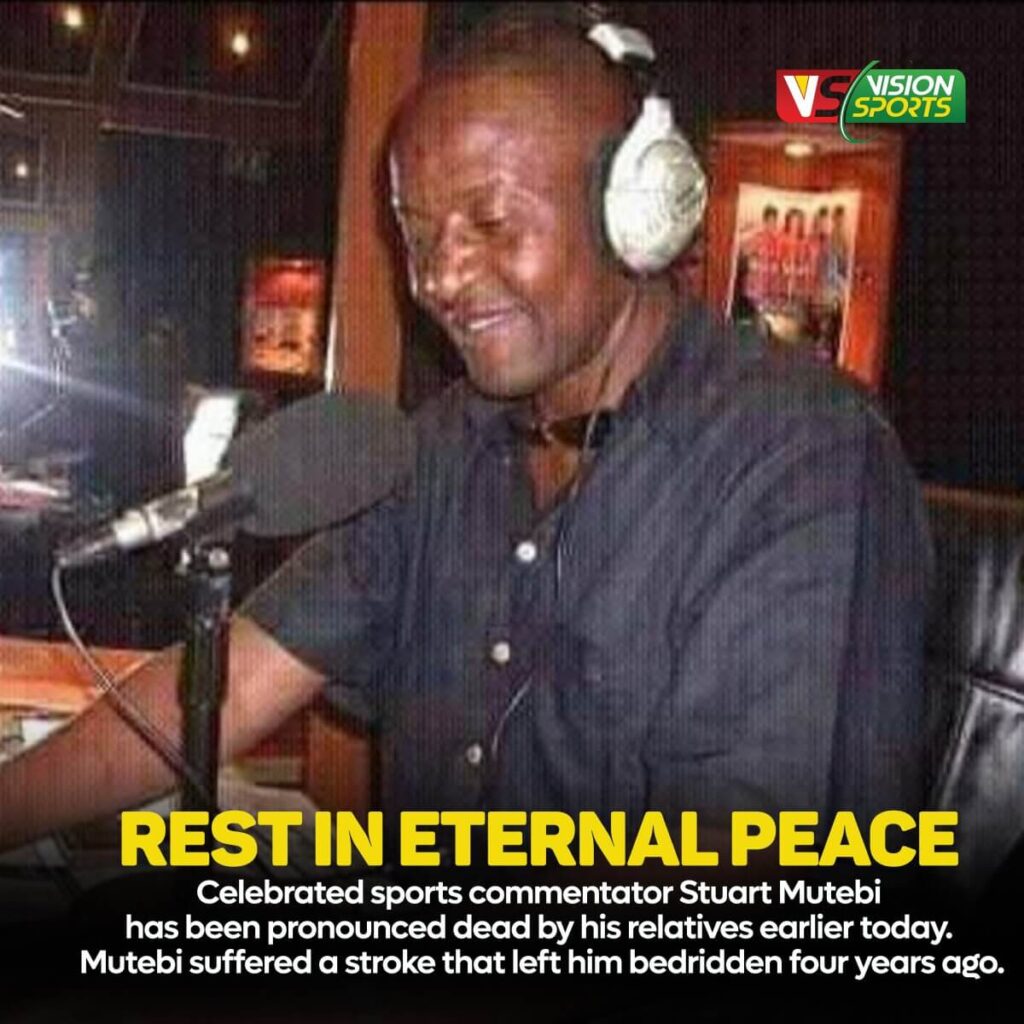 While the loss of Stuart Mutebi Kiwanuka leaves an irreplaceable void, his impact will resonate through the annals of sports commentary. The funeral arrangements are yet to be confirmed, but updates will be shared as more details emerge, allowing everyone to pay their final respects to this legendary figure.
A Remarkable Career Cut Short
For over two years, Stuart Mutebi had been absent from the airwaves due to his debilitating condition. Despite being paralyzed by the stroke, his love for sports never waned.
His last public appearance was in April this year when he was visited by Uganda North American Association special envoy Zephania Kizza Sseninde and Henry Kizito Divosh.
A Respected Figure in Sports Commentary
Before his untimely demise, Stuart Mutebi had established himself as a highly respected sports commentator. He had been rendering his services at UBC and Star FM, leaving an indelible mark in the field. Born and raised in Kasokokoso Kireka, Mutebi's journey in sports commentary began with humble beginnings.
A Voice That Resonated
Stuart Mutebi lent his voice to various prominent radio stations and television channels, including CBS FM, Super FM, Star FM, NBS TV, and UBC. His talent and expertise earned him a loyal following, making him a trusted source of information and entertainment for sports enthusiasts.
A Resilient Inspiration
Despite facing immense challenges, Stuart Mutebi remained an inspiration to all. He displayed unwavering resilience and a fighting spirit that touched the hearts of many. Beyond his career accomplishments, Mutebi will be remembered for his warm personality and genuine kindness.
Mentoring the Next Generation
Mutebi took the time to mentor aspiring sports commentators, generously sharing his knowledge and experience with the next generation. His legacy extends beyond his commentary; it lies in the lives he influenced and the hearts he captured through his work.
Tributes Pour In
As news of Stuart Mutebi's passing spreads, tributes pour in from the sports industry and beyond. Colleagues, athletes, and fans express their gratitude for his contributions, acknowledging his unique voice and unwavering dedication.
The New Vision tweeted, "The #Ugandan media fraternity has lost one of its own: celebrated sports commentator Stuart Mutebi. May the good Lord comfort his friends, family, and everyone who knew and listened to him."
A Void That Cannot Be Filled
The loss of Stuart Mutebi leaves a void that cannot be filled. However, his impact will forever echo through the annals of sports commentary. The funeral arrangements for the late Stuart Mutebi Kiwanuka are still uncertain, but we will provide updates as more details become available.
Editor's Note: If you find any of our content to be inaccurate or outdated, please contact us at press@nowthendigital.com