Formula One driver Sebastian Vettel has announced his retirement from the sport. His retirement announcement has sparked a worldwide reaction from F1 fans.
KAMPALA | NOW THEN DIGITAL — The German Formula One driver Sebastian Vettel has announced his retirement from the sport after the 2022 season. Vettel, who won four world championship titles with Red Bull, will now concentrate on family life.
The 35-year-old will retire at the end of the 2022 season. Announcing his retirement, the Formula One driver said that he loves the sport but it's time to start writing the next chapter of his life. 

The German driver will retire at the end of the 2022 Formula One season. In a statement released, Vettel explained that he has changed his mind and is focusing on other interests. 

The announcement was made ahead of the Hungarian Grand Prix, the last race before the August break. While it's hard to imagine a world without Sebastian Vettel, it's a great way to send the sport off on a high note.

You may also want to read: A three-year deal has been renewed between the Premier League and Supersport.
Sebastian Vettel, who joined Sauber in 2007 and raced in the United States Grand Prix in 2008, will retire at the end of the 2022 season.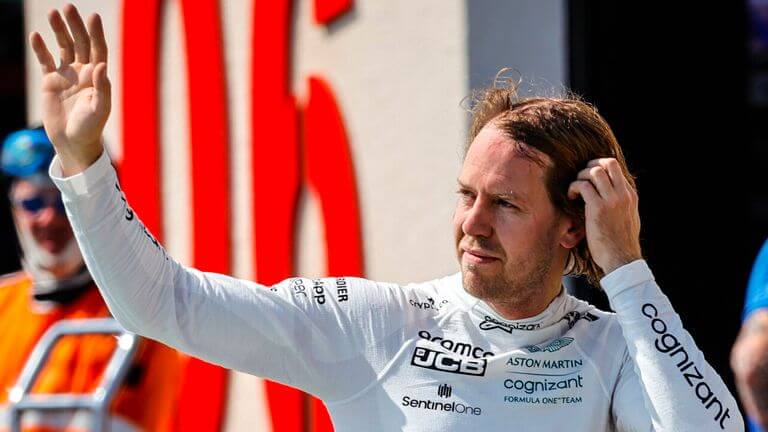 In less than 24 hours, Vettel's newly-created Instagram account has over 1 million followers. He'll be remembered for his remarkable achievements, and will always be a hero to fans of the sport.
Vettel has won 53 races and claimed 122 podium finishes. 
Since leaving Ferrari, he has been with Aston Martin. His contract will expire at the end of the season, but the company is currently looking for a replacement.
The German had the most competitive car for the majority of the 2017 and 2018 seasons. But Ferrari started to run into operational and reliability issues. 
After a string of mistakes during the season, Ferrari lost faith in Vettel. It was at this point that the team decided to sign Charles Leclerc as a benchmark for the driver in 2019.
The announcement of Sebastian Vettel's retirement was welcomed by F1 fans around the world. The 35-year-old has been under contract with Aston Martin until the 2022 season. 
Although he is currently the eighth best driver in the world, he has also been a prominent advocate of sustainable technologies in recent years. 
The retirement is a great way for him to spend more time with his family. And the world will lose an iconic driver who has helped to define the sport.
The news of Vettel's retirement is not surprising, given the fact that he was the most consistent driver in the 2010s. He won four titles in Red Bull and was tied for fourth with Alain Prost. 
His 53 Grand Prix wins place him behind only Michael Schumacher and Lewis Hamilton in the history of Formula One. Sebastian Vettel has also lost four titles since joining Ferrari. 
The season that he ended his career will be his 300th meeting.
While many fans may be happy for Vettel, there are some who would be disappointed if the German driver did not make it to the end of the season. 
In any case, Vettel's retirement opens the door for many aspiring F1 drivers. In addition to Lance Stroll, another young and talented driver, is now available to join Aston Martin. The billionaire Stroll's father owns the company.
After Sebastian Vettel retires from F1 in 2022, the team will be left with a talented driver to replace him. Nico Hulkenberg is the best replacement for Vettel, having replaced the German in the championship with Covid. 
He finished the Saudi Arabian Grand Prix in 12th place and is considered a popular driver within the team. 
While his retirement will come as a shock to many fans, he has certainly earned the right to retire from F1 in a spectacular manner.
Here is Vettel's retirement statement
"I hereby announce my retirement from Formula 1 by the end of the 2022 season. Probably I should start with a long list of people to thank now, but I feel it is more important to explain the reasons behind my decision. I love this sport, it has been central to my life since I can remember. But as much as there's life on track, there's my life off track too. Being a racing driver has never been my sole identity. I very much believe in identity by who we are and how we treat others, rather than what we do."

"Who am I? I am Sebastian, father of three children and husband to a wonderful woman. I am curious and easily fascinated by passionate or skilled people. I am obsessed with perfection."

"I am tolerant and feel we all have the same rights to live no matter what we look like, where we come from and who we love.

"I love being outside and love nature and its wonders. I'm stubborn and impatient. I can be really annoying."

"I like to make people laugh, I like chocolate and the smell of fresh bread. My favourite colour is blue. I believe in change and progress, and that every little bit makes a difference. I am an optimist and I believe that people are good.

"Next to racing, I have grown a family and I love being around them. I have grown other interests outside Formula 1. My passion for racing and Formula 1 comes with lots of time spent away from them, and takes a lot of energy."

"Committing to my passion the way I did and the way I think is right, no longer goes side-by-side with my wish to be a great father and husband. The energy it takes to become one with the car and the team, to chase perfection, takes focus and commitment. My goals have shifted from winning races and fighting for championships to seeing my children grow, passing on my values, helping them up when they fall, listening to them when they need me, not having to say goodbye, and most importantly being able to learn from them and let them inspire me."

"Children are our future, further I feel there is so much to explore and learn about life and about myself."

"Speaking of the future, I feel we live in very decisive times and how we all shape these next years will determine our lives. My passion comes with certain aspects that I've learned to dislike. They might be solved in the future, but the will to apply that change has to grow much stronger and has to be leading to action today. Talk is not enough and we cannot afford to wait. There is no alternative, the race is underway."
You're reading nowthendigital.com — which breaks the news about Uganda, Kenya, Nigeria, South Africa and the rest of the world, day after day. Be sure to check out our homepage for all the latest news, and follow NOW THEN DIGITAL on Google News, Medium, Twitter, Reddit, Pinterest and Flipboard to stay in the loop.