Discover effective ways to support your partner dealing with male factor infertility. Learn about emotional support, treatment options, and communication strategies to navigate this challenging journey together.
CALIFORNIA, UNITED STATES | NOW THEN DIGITAL — Infertility is a common problem that affects many couples. Dealing with infertility can be a challenging and emotional journey, but it is important to remember that, as a couple, you are not alone.
There are many resources available to help you navigate this difficult time and your partner can be one of the most important support pieces through your fertility journey together.
If you or your partner has been affected by male factor infertility, this guide will provide you with some tips and strategies to help you support one another.
By working together, you can overcome the challenges of male factor infertility and build the family of your dreams.
What is Male Factor Infertility?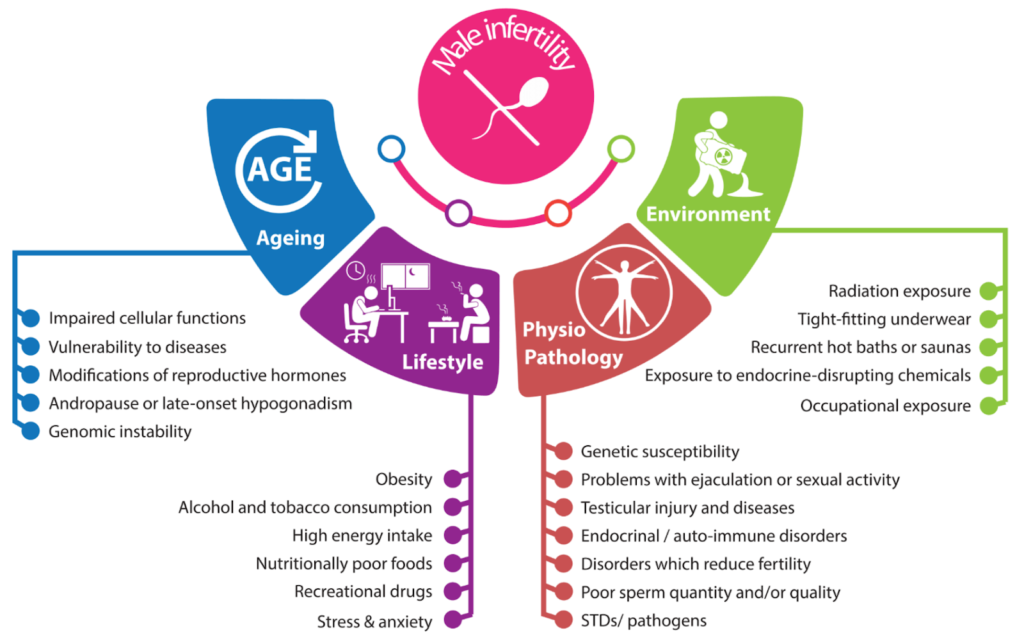 Male factor infertility is best defined as a medical condition in which the male partner is unable to conceive with a female partner after at least 1 year of unprotected intercourse.
It is commonly caused by many different factors such as low sperm production, decreased sperm quality or blocked sperm delivery. It is estimated that male-factor infertility is either the sole cause or a contributing factor in about 60% of all infertility cases.
Impact of Male Infertility on Couples
When couples experience infertility issues, most will extensively evaluate the female partner's fertility status for months before assessing the male. This can place undue stress on the female partner and can make the timeline to conception much longer for many couples.
That's why it's best for both partners to get fertility evaluations simultaneously so you can identify the problem and address it much more quickly.
Male infertility can be a difficult experience for couples who want to have children. The infertility diagnosis can cause emotional distress and strain on the relationship, as well as feelings of guilt and disappointment.
And while some lifestyle changes such as quitting smoking, reducing alcohol intake or losing weight can help improve fertility in men, this can be a difficult adjustment for one or both partners.
It's important to remember that male-factor infertility is not always permanent; there are many successful treatment options available that may help couples reach their goal of parenthood.
With proper diagnosis, treatment, and support from reproductive urologists and loved ones, couples facing male factor infertility can have hope for the future.
What Causes Male Factor Infertility?
Male factor infertility can be due to any number of underlying health or fertility issues. Causes can include:
Physical conditions such as blocked sperm ducts, varicocele, retrograde ejaculation, or erectile dysfunction

Hormonal imbalances caused by the pituitary gland

Previous surgeries like a vasectomy

Lifestyle factors such as smoking, use of marijuana, being overweight or excessive alcohol intake
A semen analysis is the best first step to identify male factor infertility and to identify the cause(s). This assessment measures multiple sperm parameters such as the number and concentration of sperm present in a semen sample, as well as the cells' motility (movement) and morphology (shape).
In certain cases, further fertility assessments such as hormone or genetic tests may be done to identify the underlying cause(s).
In many cases, male factor infertility can be successfully treated with medications, lifestyle changes, or other fertility treatments. In other cases, couples may need to rely on techniques like in vitro fertilization with intracytoplasmic sperm injection (ICSI) to achieve a successful pregnancy.
If your partner is struggling with infertility issues, it's important to provide emotional support for them. Don't place blame or make your partner feel guilty about their situation.
You should strive to be sympathetic and sensitive to the issue and validate his or her feelings. Don't compare him or her to others. Instead, look for ways to show your support and make them feel heard.
To maximize fertility outcomes for couples facing male infertility issues, both partners should strive to make healthy lifestyle choices together and get regular check-ups with a qualified fertility specialist (an OBGYN for females and a reproductive urologist for males).
Doing so can help improve many sperm parameters, like sperm concentration and motility, which may ultimately result in successful conception without the need for medical intervention.
How is Male Infertility Diagnosed?
If you and your partner have been trying to conceive for over a year and have not achieved it yet, then there is likely an infertility factor affecting one or both of you.
Both partners should seek fertility assessments with qualified fertility experts simultaneously so that the cause(s) of infertility can be pinpointed in one or both partners. The evaluation should be moved up to the six-month mark if the female partner is 35 or older
Male factor infertility can be initially diagnosed through a semen analysis. If the male partner gets an "abnormal" result, then they likely have an infertility issue that needs further investigation.
For a full diagnosis, male patients will need to undergo a complete physical exam in-person and review their medical history with a reproductive urologist. Other fertility assessments may be ordered as necessary.
During the initial exam, the male fertility specialist will assess your partner's medical history by asking questions about previous surgeries, lifestyle habits, and any medications that he may take. From there, the specialist will conduct a physical exam to evaluate the reproductive organs and check for any abnormalities that may be visible.
If male infertility is the sole cause or a contributing factor for a couple experiencing infertility, further testing may be necessary to determine exactly what is causing the issue. These may include genetic testing, hormonal assessments, and imaging evaluations such as a scrotal ultrasound.
Treating Male Factor Infertility
The appropriate treatment for male factor infertility typically depends on the cause and severity of the issue. For men with mild fertility issues, lifestyle changes such as diet and exercise, and stress management techniques may help improve sperm quality and increase the chances of natural conception.
In many cases, these minor changes to your daily life can correct infertility issues naturally, so your partner may not need to seek out additional treatment.
In other cases, the male partner may require prescription medications to address the infertility issues. These may be meds like clomiphene or anastrozole, but the right medication depends on the infertility factors.
For instance, if a male partner is suffering from infertility due to a hormone imbalance, they may instead use hormone therapies or medications to improve their fertility status. Sometimes removing an existing medication can improve the male partner's fertility status
In cases where the cause of infertility is a condition or a blockage in the sperm tubes, couples may need to pursue surgical intervention. Surgery may be used to treat conditions such as varicocele and obstruction.
If the case of male infertility cannot be treated through one of these methods, couples may decide to use assisted reproductive technologies (ART) such as intrauterine insemination (IUI) or in vitro fertilization (IVF).
In these cases, healthy sperm may still be extracted from the male partner and used for IVF through a handful of procedures and, such as:
Testicular epididymal sperm aspiration (TESA)

Percutaneous epididymal sperm aspiration (PESA)
Once the sperm is collected from the male partner, it may then be used as part of an IVF.
How You Can Support and Assist Your Male Partner Through Infertility Issues
Infertility can be a challenging experience for any couple, and while it is demoralizing and sensitive for both partners, men can be especially emotional about the subject due to social stigma. Male infertility is often associated with masculinity or virility, which causes many men to feel ashamed or "less like a man" if they are affected by infertility. However, that is not the case at all.
Male infertility is NOT linked at all to virility or masculinity. Infertility is a disease that affects millions of people across the world, and it equally affects both men and women. It's up to all of us to break down the stigmas that surround male infertility and that starts with having open conversations on the topic.
If you and your partner are struggling with infertility, it's important to remember that you're not alone. One of the best things you can do to support your male partner through infertility issues is to be there for him emotionally.
Infertility can be a difficult and isolating experience, but your emotional support can make a huge difference.
Here are a few ideas to help you show your support:
See a counselor as you navigate your fertility journey together

Take time to talk through your emotions and listen to each other together

Stay physically connected in the bedroom or during couple bonding time

Explore new goals, hobbies, and interests together to stay busy
You can also help your partner by researching and learning about the various reproductive technologies and treatments available. Together, you can discuss these options with a fertility specialist to determine which method(s) may work best for your situation.
Above all, remember that infertility is not a reflection of your worth or your partner's worth. It's simply a medical condition that can be treated with the right support and resources. By supporting your partner through this journey, you can strengthen your relationship and increase your chances of starting a family together.
Remember to be patient and understanding while also emotionally supporting your partner. With love, patience, and the right resources, you can overcome male factor infertility and start your journey towards parenthood as a united couple.
Author's Bio: Dr. Barrett Cowan is Reproductive Urologist and has specialized in treating male patients with infertility for more than 20 years. He is also the co-founder and Chief Medical Officer of Posterity Health, a digital male fertility platform that helps couples achieve their conception goals through a variety of personalized treatments and services.
Editor's Note: Please contact press@nowthendigital.com if you find any of the content to be inaccurate or outdated.