The UK government recently issued an alert warning of a potential terror attack in Uganda, citing the possibility of indiscriminate or targeted assaults against foreign nationals and places they frequent.
KAMPALA, UGANDA | NOW THEN DIGITAL — In the wake of a recent terror alert issued by the UK government, Uganda remains resolute in its commitment to safeguarding its citizens.
The UK government warned of potential attacks that could target foreign nationals or places frequented by them, urging heightened vigilance.
According to joint security spokesperson Fred Enanga, Uganda has enjoyed relative peace despite persistent threats aimed at soft targets. Enanga sought to reassure Ugandans of their safety in the face of these risks.
"We want to reassure Ugandans that the country has been generally peaceful for many years despite existing threats targeting soft targets," he said.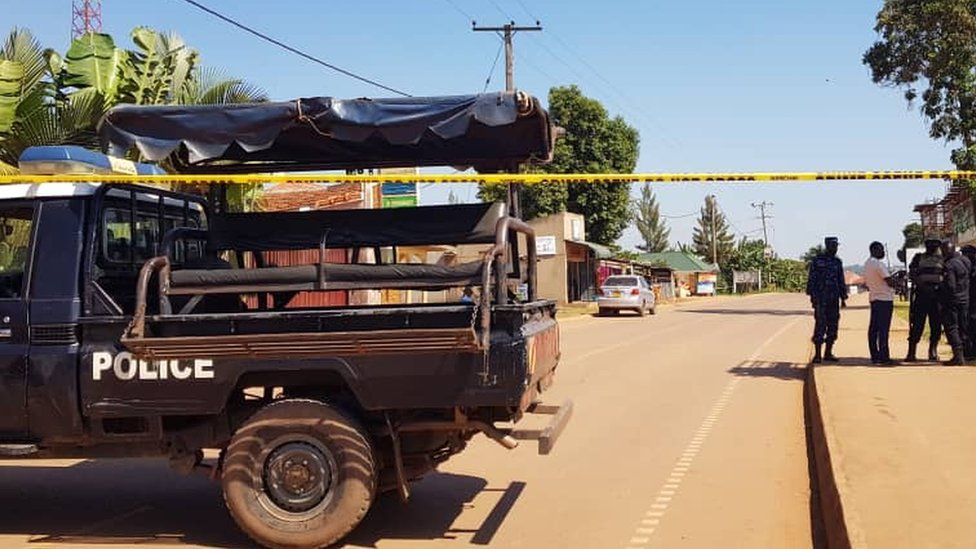 While previous alerts have sometimes been followed by actual attacks, Enanga emphasized the authorities' dedication to thwarting any potential threats. He acknowledged the challenge posed by the general nature of the advisory, which doesn't specify the exact targets or identities involved.
"The way the advisory was released makes it difficult for security agencies to determine the specifics because it comes in form of general information and doesn't mention the targets. We acknowledge the concern and use the general information shared to determine which protective measures to be put in place by the joint security agencies."
Enanga highlighted the ADF rebel group as the primary threat to the country.
However, he mentioned significant progress in neutralizing the group's bases in the Democratic Republic of Congo and disrupting their recruitment and training activities within Uganda. Several agents and collaborators have been apprehended or eliminated.
Despite these successes, Enanga urged individual responsibility and called on the public to remain vigilant. Reporting any suspicious behavior or individuals to the police is crucial, as even the smallest piece of information can be instrumental in ensuring public safety.
Quick Terror Facts
Q: What did the United Kingdom warn about in Uganda?
A: Possible terrorist attacks.
Q: What did the UK's Foreign Office say about the potential attacks?
A: The UK's Foreign Office stated, "Terrorists are very likely to try to carry out attacks in Uganda."
Q: What type of attacks are the UK authorities concerned about in Uganda?
A: The UK authorities are concerned that attacks in Uganda could be indiscriminate or targeted against foreign nationals or places frequented by foreign nationals.
Q: Did the UK provide evidence for their claims?
A: No, they did not provide evidence to back up their claims.
Q: Did the UK share details about the source of the information?
A: No, they did not share details about the source of the information.
Q: What recent terrorist attacks occurred in Uganda?
A: The Allied Democratic Forces (ADF) attacked a school in Kasese district, killing 44 people. Al Shabaab terrorists also killed over 54 Ugandan soldiers in Somalia.
Q: How did the UK advise its citizens in Uganda to stay safe?
A: The UK advised its citizens to be vigilant at all times, especially in crowded areas and public places like hotels, transport hubs, restaurants, bars, and during major gatherings. They also warned about the proximity to government buildings and security installations like police stations.
Q: How did the UK government describe the global threat of terrorist attacks?
A: The UK government stated that there is a high threat of terrorist attacks globally affecting UK interests and British nationals. They mentioned that groups and individuals view the UK and British nationals as targets, so vigilance should be maintained at all times.
Q: What security measures may be implemented in public places, according to the UK?
A: Additional security checks, including baggage and car searches, may be conducted in public places, including hotels.
Q: What impact do such warnings have on Uganda's tourism sector and potential investors?
A: Such warnings affect Uganda's tourism sector and scare away potential investors.
Q: Can you provide some recent attacks that occurred in Uganda?
A: On June 17, 2023, militants (the Allied Democratic Forces – ADF) attacked a school in Mpondwe, Kasese District, killing 42 people. On November 16, 2021, terrorists used two explosive devices in central Kampala, killing 4 and injuring 33 people. On October 25, 2021, terrorists used an explosive device on a coach traveling on the Kampala to Masaka road near Mpigi, killing one person. On October 23, 2021, terrorists used an explosive device to attack a restaurant in Kamamboga, a suburb in the northeast of Kampala, killing one person and injuring several others.
Editor's Note: If you find any of our content to be inaccurate or outdated, please contact us at press@nowthendigital.com
You're reading nowthendigital.com — which breaks the news about Uganda, Kenya, Nigeria, South Africa and the rest of the world, day after day. Be sure to check out our homepage for all the latest news, and follow NOW THEN DIGITAL on YouTube, Google, Web Stories, Google News, Medium, LinkedIn, Twitter, Reddit, Pinterest, Linktr, Buy Me a Coffee, Truth Social, and Flipboard to stay in the loop.