The Ugandan academic community is in mourning following the death of Prof John Ntambirweki, the Vice Chancellor of Uganda Pentecostal University.
KAMPALA, UGANDA | NOW THEN DIGITAL — The family of Prof John Ntambirweki and Uganda Pentecostal University have announced the passing of the Vice Chancellor, who died on Wednesday, April 12, 2023.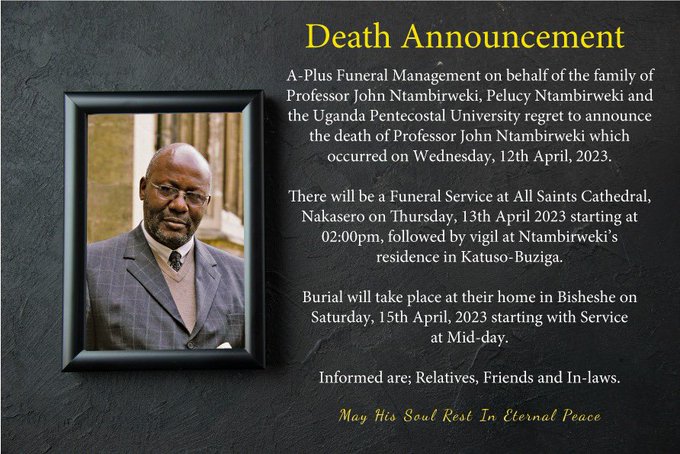 In a statement, the family expressed their regret, stating that a funeral service will be held at All Saints Cathedral, Nakasero on Thursday at 2 pm, followed by a vigil at the late Ntambirweki's home in Katuso-Buziga, Kampala. The burial is scheduled for Saturday, April 15, 2023, at his ancestral home in Bisheshe, Ibanda District.
Prof Ntambirweki was passionate about legal education and played a key role in the academic excellence of Uganda Pentecostal University. The institution's website notes that he was a champion of access to education for indigenous communities in Western Uganda, Uganda and the East African region.
Renowned legal scholar and consultant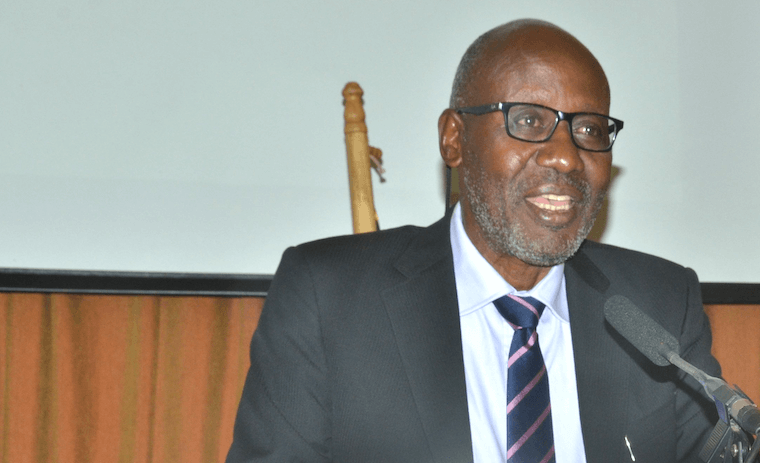 As a renowned legal scholar, Prof Ntambirweki held a Bachelor of Law from Makerere University, a Diploma in Legal Practice from the Law Development Centre, and a Master of Law from the University of Nairobi.
He had extensive academic experience and background, having served in various capacities as a lecturer and legal advisor.
At the time of his death, he was a consultant with several international organizations, including the World Bank, UNICEF, UNDP, and FAO, among others. He was also a consultant at the law firm of Ntambirweki Kandeebe and Company Advocates.
Trailblazing academic and scholar
Norbert Mao, the Minister for Justice and Constitutional Affairs, described Prof Ntambirweki as a trailblazing academic and scholar who founded Uganda Pentecostal University. Mao tweeted his condolences to the widow and the entire family, adding to the outpouring of grief and sympathy expressed by many who knew Prof Ntambirweki.
I'm saddened by the death of the Vice Chancellor of @UPU_Uganda Prof. John Ntambirweki – a trailblazing academic and scholar who founded Uganda Pentecostal University. I send my heartfelt condolences to the widow @pntambirweki and the entire family. Rest In Peace Prof.! @barnta pic.twitter.com/C99JA4hgi5

— Norbert Mao (@norbertmao) April 12, 2023
A legacy of founding Uganda Pentecostal University
Prof Ntambirweki founded Uganda Pentecostal University in 2001 as the Grotius School of Law and Professional Studies. In 2005, the National Council for Higher Education licensed the Grotius School of Law, which was subsequently renamed Uganda Pentecostal University.
Final Thoughts
The passing of Prof John Ntambirweki has left a void in the academic and legal communities of Uganda and beyond. His contributions to legal education and access to education for marginalized communities will be deeply missed, as will his leadership and vision for Uganda Pentecostal University.
Editor's Note: If you find any of our content to be inaccurate or outdated, please contact us at press@nowthendigital.com
You're reading nowthendigital.com — which breaks the news about Uganda, Kenya, Nigeria, South Africa and the rest of the world, day after day. Be sure to check out our homepage for all the latest news, and follow NOW THEN DIGITAL on YouTube, Google, Web Stories, Google News, Medium, LinkedIn, Twitter, Reddit, Pinterest, Linktr, Buy Me a Coffee, and Flipboard to stay in the loop.