Kampala, Uganda | NOW THEN DIGITAL — Uganda, known as the Pearl of Africa, is situated in the eastern region of the continent. Its capital, Kampala, boasts several noteworthy skyscrapers. Contrary to the common belief that tall buildings aren't prevalent in Africa, Uganda stands out with over 15 skyscrapers.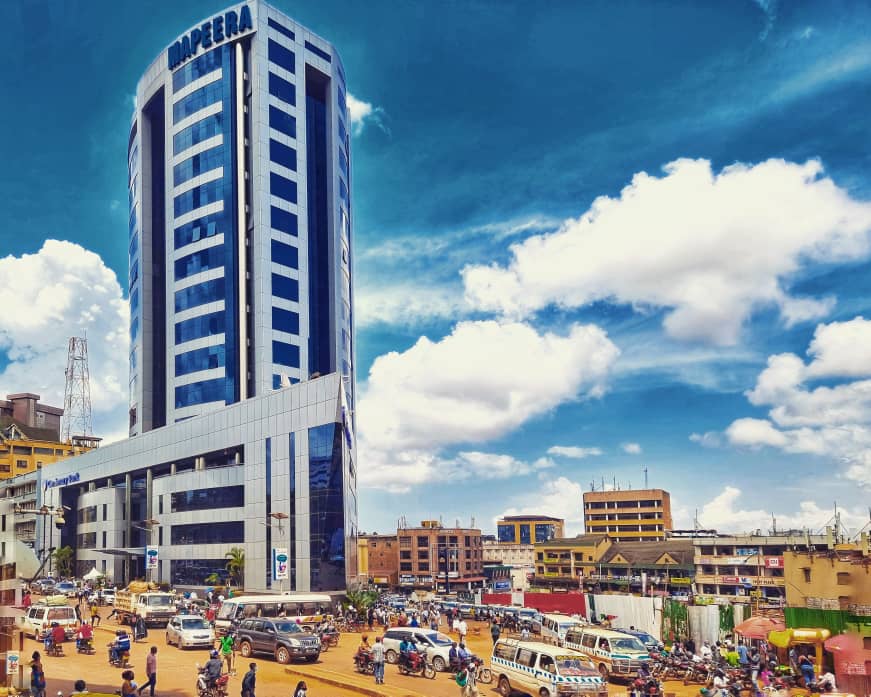 In this article, we present a comprehensive list of the tallest buildings in Uganda, including their heights, number of floors, and construction details.
Pearl of Africa Hotel Kampala – 24 Floors

Location: 28 Nakasero Road, Central Kampala
Height: 90 m
Construction Dates: 2006-2017
Description: The tallest building in central Kampala, standing on Nakasero Hill, providing an impressive view at 1,240 meters above sea level. Completed in 2017, the five-star hotel is a prominent feature on the Kampala skyline, having cost approximately USh1.75 trillion (US$300 million).

Uganda Revenue Authority Tower – 22 Floors

Location: Nakawa, Kampala, Uganda
Height: 79 m
Construction Dates: 2015-2019
Description: URA Tower, based in Nakawa, consolidates the Uganda Revenue Authority offices. It was constructed to centralize URA's operations, significantly reducing rental costs. The project, commissioned in 2019, amounted to about USh140 billion (approx. US$37 million).

Workers' House – 20 Floors

Location: 1 Pilkington Road, Kampala
Height: 72.33 m
Construction End Date: 2001
Description: Workers' House, a 20-floor skyscraper on Pilkington Road, serves as the headquarters for the National Social Security Fund (NSSF), providing a centralized location for workers to access their benefits.

Stanbic Bank North Tower, Kampala – 20 Floors

Location: Nile Avenue at Hannington Road, Kampala
Height: 72.33 m
Construction End Date: 1970
Description: Originally Crested Towers, it became Stanbic Bank North Tower after Stanbic Bank Uganda acquired Uganda Commercial Bank. The 20-storey building was completed in 1970.

Mapeera House, Kampala – 19 Floors

Location: Kampala road
Height: 68.71 m
Construction End Date: 2011
Description: Mapeera House, a 19-storey building completed in 2011, houses the headquarters of Centenary Bank, a significant player in Uganda's banking sector.

Uganda House – 16 Floors

Location: Kenyatta Avenue, Kampala Road
Height: 60.96 m
Construction End Date: 1980
Description: Built in 1980, Uganda House accommodates The Uganda People's Congress, a prominent political party in Uganda.

Cham Towers – 16 Floors

Location: 12 Kampala Road
Height: 57.87 m
Construction End Date: 1979
Description: Originally the UCB House, later acquired by Standard Bank of South Africa and renamed Cham Towers, this 16-storey building has been an integral part of Kampala's skyline since 1979.

Janani Luwum Church House – 15 Floors

Location: 34 Kampala Road
Height: 54.25 m
Construction End Date: 2018
Description: Completed in June 2018, Janani Luwum Church House is a 15-storey building belonging to the Church of Uganda.

Kampala Sheraton Hotel – 14 Floors

Location: Ternan Avenue
Height: 50.63 m
Construction End Date: N/A
Description: The 14-storey building initially known as Apollo Hotel since 1965 has been a landmark in Kampala, with several name changes and management transitions over the years.

Diamond Trust Building, Kampala – 14 Floors

Location: DTB Centre, at 17/19 Kampala Road
Height: 50.63 m
Construction End Date: 1970
Description: Serving as the headquarters of Diamond Trust Bank Uganda, this 14-storey building has been a notable feature of Kampala's cityscape since 1970.
This list showcases the diverse and growing architectural landscape of Uganda, with each skyscraper contributing to the city's unique skyline and serving different functions within the community.