Xente, a licensed Financial Technology company by the Bank of Uganda, provides businesses with a unique solution to their payment and finance issues through the Xente Visa debit card.
KAMPALA, UGANDA | NOW THEN DIGITAL — Financial technology has transformed the way businesses manage their finances and make payments. Xente, a licensed financial technology company by the Bank of Uganda, has created a unique solution to payment and finance issues for businesses through its Xente Visa debit card.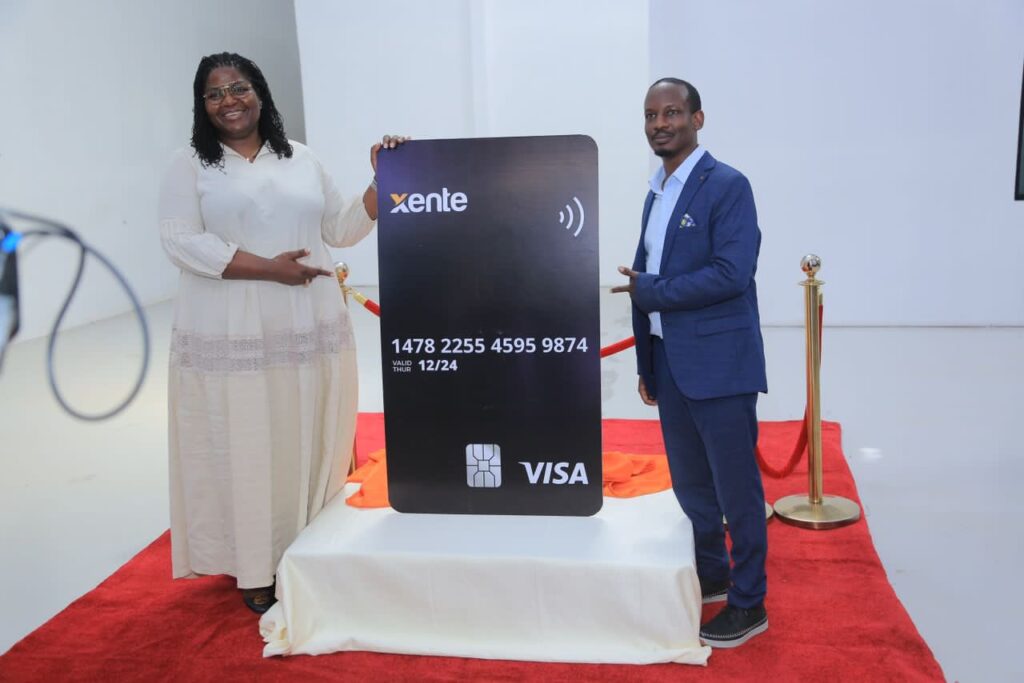 In this article, we explore how Xente's services have helped over 1,000 businesses, such as NSSF and Jumia, automate their financial management processes and ease their business transactions.
The company's Head of Public Relations and Marketing, Lyn Tukei, encourages all businesses to get formal licensing and become compliant to gain the trust of stakeholders, investors, and other partners. She also calls for developers to create user-centric solutions targeting those at the bottom of the pyramid.
The Xente Visa Debit Card: Designed for Businesses
Xente's partnership with Visa has enabled it to issue both virtual and physical debit cards, making it one of the first FinTechs to do so in Uganda.
The Xente Visa debit card is specifically designed for businesses and offers various ways to manage and track finances. It allows businesses, companies, and organizations to automate company finances by providing a platform where they can log on and open an account.
From there, businesses can make bank transfers, mobile money, airtime, and data transfers to their teams, beneficiaries, and staff.
Xente's Visa debit card has several use cases, including online payments, employee spend management, petty cash expenses, fuel expenses, foreign travel spend, and employee benefits.
The API integration of the Xente Visa debit card also makes it easy for businesses to incorporate it into their existing systems.
Automating Financial Management
Lyn Tukei, Head of Public Relations and Marketing at Xente, notes that businesses are able to save time and money while ensuring proper accountability.
For instance, businesses can send money to as many people as they want across various networks without needing to walk to a mobile money agent.
Automation also helps businesses approve every payment, track every transaction in real-time, manage money across teams, branches, and/or countries, and sync data with their accounting platforms.
Creating an Account on Xente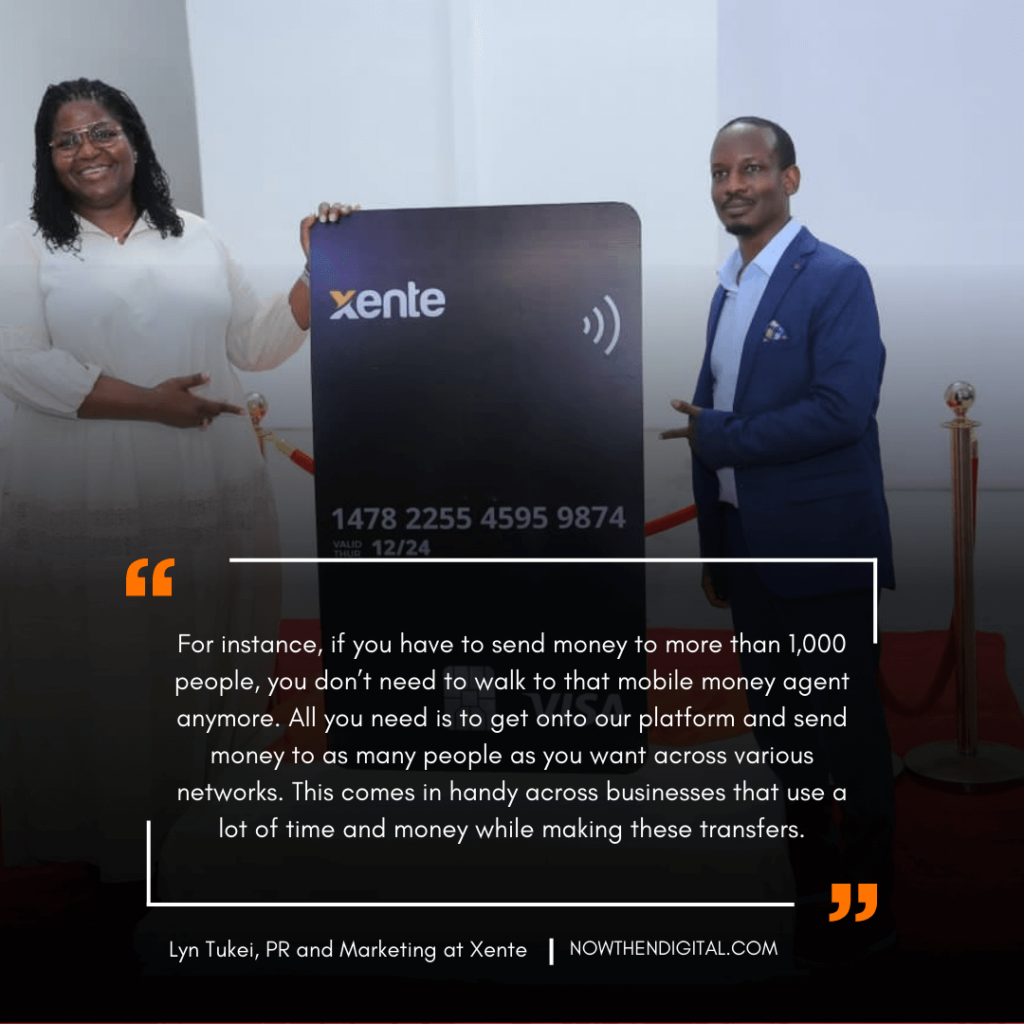 Creating an account on Xente is easy and straightforward. All businesses need to do is log on to the Xente website, and if they are already registered, they can simply log in and see the various features available to them.
If they are new, they will need to provide simple KYCs like the certificate of incorporation to confirm that they are a registered business. From there, they can start sending out bulk SMS, data, mobile money, airtime, and bank transfers, and issue virtual and physical visa cards.
All that's needed is an Excel sheet of all the targeted beneficiaries, and businesses can automate all their payments in real-time.
The Impact of 40 Days 40 FinTechs Initiative
Xente is the fourth participant in Season Four 40 Days 40 FinTechs initiative, which seeks to accelerate and highlight the impact of FinTechs in the lives of under-served populations. The initiative has helped elevate the FinTech space in East Africa, increasing awareness of FinTechs, especially in rural areas.
The initiative also provides FinTechs with useful tools and introduces them to emerging technologies like Mojaloop Open Source Software and guidance from Level One Project foundational material.
The Need for Licensing
Xente is a Bank of Uganda licensed Payments Systems Operator (PSO) in Uganda, with a license to issue any payment instrument such as the Xente Visa Card.
Tukei calls on other FinTechs to obtain formal licensing to be trusted by stakeholders, investors, and other partners.
Looking Ahead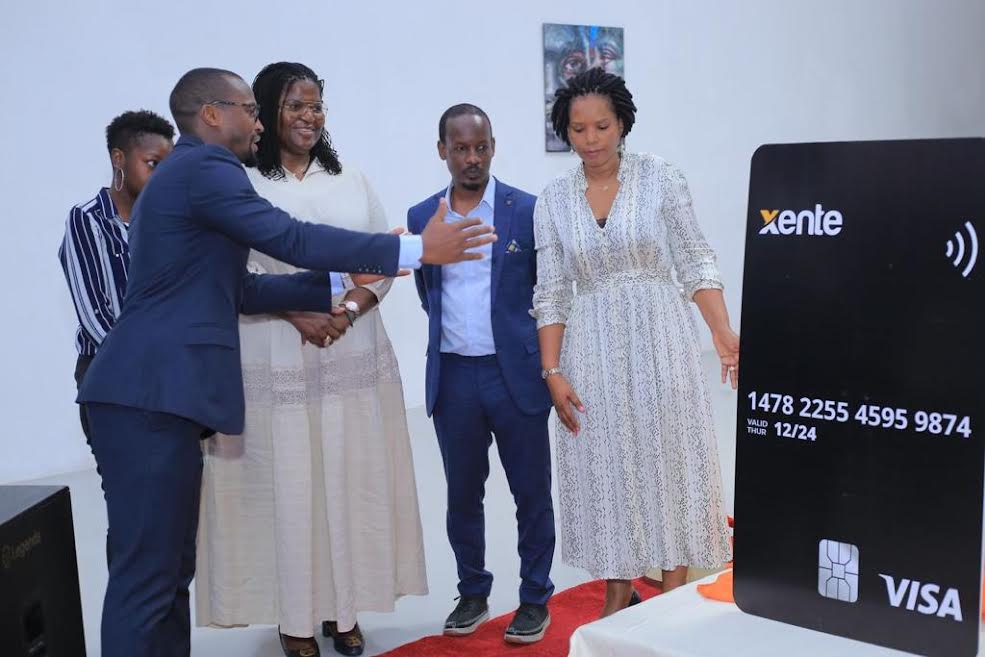 Tukei encourages developers to come up with user-centric solutions that target people at the bottom of the pyramid, increasing the uptake of FinTech in Uganda.
With Xente's unique solution to payment and finance management, more businesses in Uganda can experience the benefits of automation, saving time, and money while ensuring proper accountability.
Optimize your financial processes with xente!

By adopting digital technology, you can reduce the risk of fraud, speed up transactions,and save time and money.

Embrace efficiency with Xente today.

Sign Up at https://t.co/sNABn1wI21#Xente#WeMeanBusiness pic.twitter.com/K9IRCAMkzG

— Xente (@xentetech) May 11, 2023
Editor's Note: We would appreciate it if you could let us know if any of our content is inaccurate or outdated at press@nowthendigital.com.