On Thursday (Mar 17, 2022), Ugandan singer-songwriter Priscilla Zawedde, aka Azawi, received a YouTube Silver Play Button for surpassing 100,000 subscribers.
KAMPALA | NOW THEN DIGITAL  — Singer-songwriter Priscilla Zawedde, professionally known as Azawi, was awarded a YouTube Silver Play Button for surpassing 100,000 subscribers on Thursday (Mar 17, 2022).
A Silver Play Button is the first play button award to be given out via YouTube's Creator Awards to creators who have 100,000 subscribers.
With more than a dozen achievements to her name already (Janzi Awards and Buzz Teenz), the 'My Year' singer looks forward to receiving more awards.
Azawi has effortlessly applauded her fans for their unwavering support. She took to Twitter to thank her fans: "Thank you @youtubemusic and to the fans who make the views count Muli Ba Majje Nyo," she wrote.
Eunice Awaro gets the Silver Play Button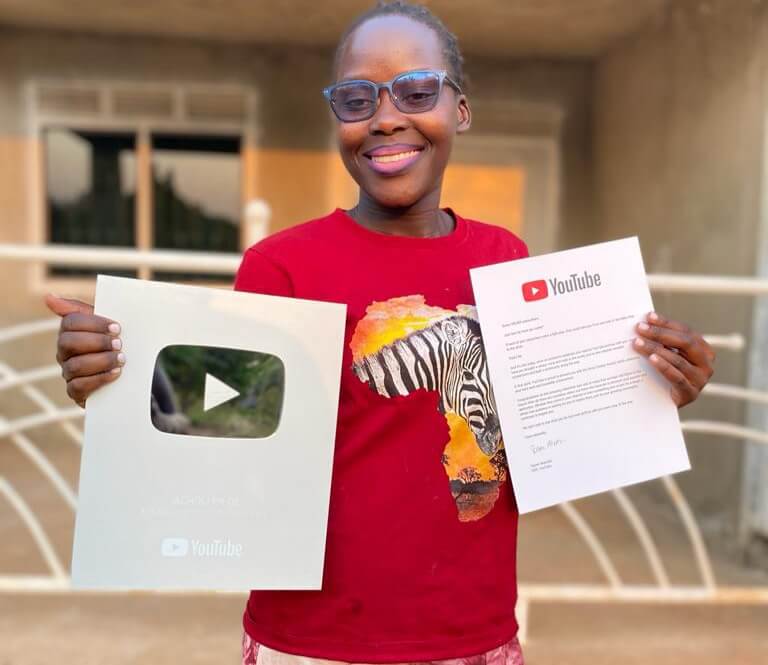 In addition to Azawi, Eunice Awaro also received a Silver Play Button in February after she released a video documenting a typical day in an African village girl's life, a video that made Acholi Pride's official YouTube channel soar, receiving more than 6 million views.
For her hard work towards her YouTube milestone, Eunice Awaro has become the first-ever recipient of a YouTube Silver Play Button Award from Northern Uganda.
The Acholi Pride YouTube channel has a subscription of over 111,000 at the time this article was written, making it the most subscribed channel in Northern Uganda.
Awaro's next milestone will be to reach 1,000,000 subscribers and to achieve the Gold Play Button in the YouTube Subscribers Award program.
This award is intended to recognize the contribution of significant creators to YouTube's community, but it should not be confused with YouTube Awards or YouTube Music Awards.
Azawi and Awaro join other artists and personalities like Jose Chameleone, Eddy Kenzo and others who have been recognized by YouTube.