Airtel Uganda, in collaboration with Infinix, a leading global smartphone brand, has launched the Infinix NOTE30 series in Uganda.
KAMPALA, UGANDA | NOW THEN DIGITAL — Airtel Uganda has joined forces with Infinix, a leading global smartphone brand, to introduce the Infinix NOTE30 series in Uganda. The partnership aims to enhance smartphone penetration in the country, offering customers an unparalleled mobile experience.
As part of the exclusive offer, customers purchasing the Infinix NOTE30 series will receive a free 3GB data bundle for three months.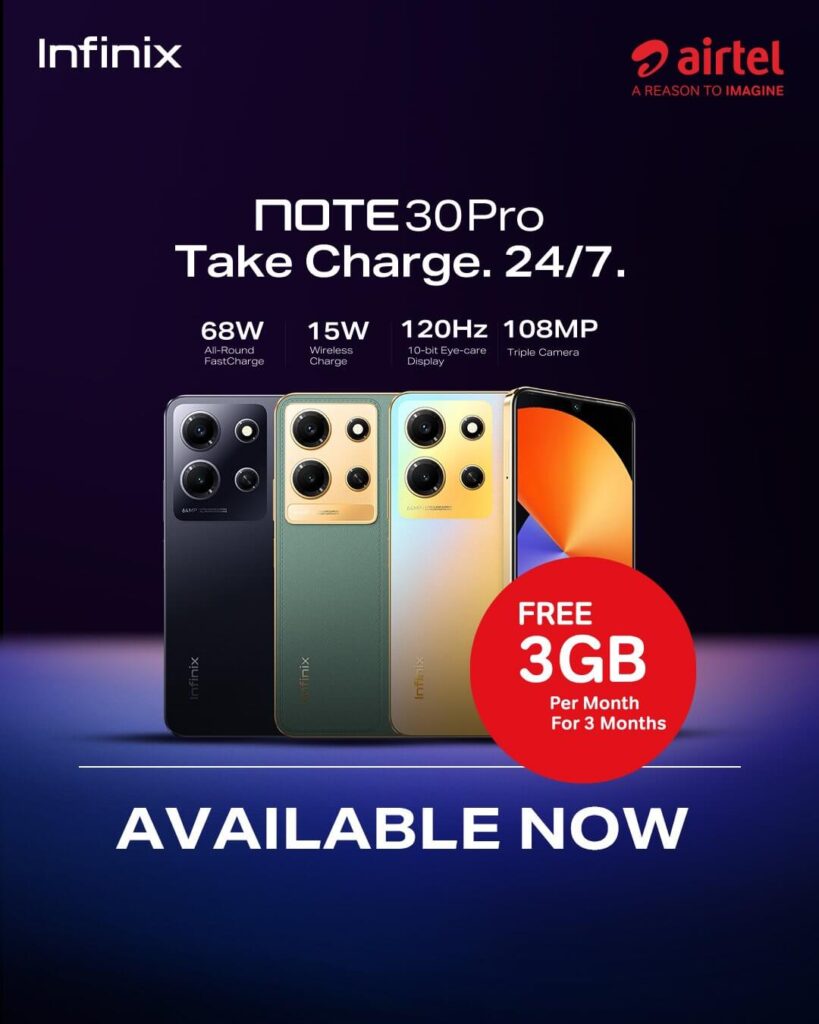 Introducing the Infinix NOTE 30 Series
The latest release from Infinix, the NOTE 30 Series, includes the NOTE 30 VIP, NOTE 30 Pro, and NOTE 30 models.
This smartphone series showcases Infinix's renowned charging capabilities, featuring an enhanced All-Round Fast Charge solution capable of reaching up to 68W wired charging and 15W wireless charging.
Addressing User Expectations
In today's fast-paced world, users demand smartphones with batteries that can keep up with their lifestyle. The All-Round Fast Charge on the Infinix NOTE Series meets those expectations while setting a new industry standard.
David Birungi, the PR Manager at Airtel Uganda, highlighted the importance of increasing smartphone access in Uganda, enabling the youth to explore their passions and contribute to the country's socio-economic development.
"Having access to gadgets like smartphones and a reliable internet connection to engage in the creatives, entertainment, among other sectors will generate income for the youths and further enhance the country's socio-economic development.", he said.
Uganda's Growing Population and Tech Needs
According to the 2023 National Audience Measurement Survey Report by Ipsos, Uganda has one of the youngest and fastest-growing populations in the world. With a population growth rate of 3.7% and 81% of Ugandan youths below the age of 35, there is a significant need to cater to their smartphone and internet connectivity requirements.
Key Features of the NOTE30 Series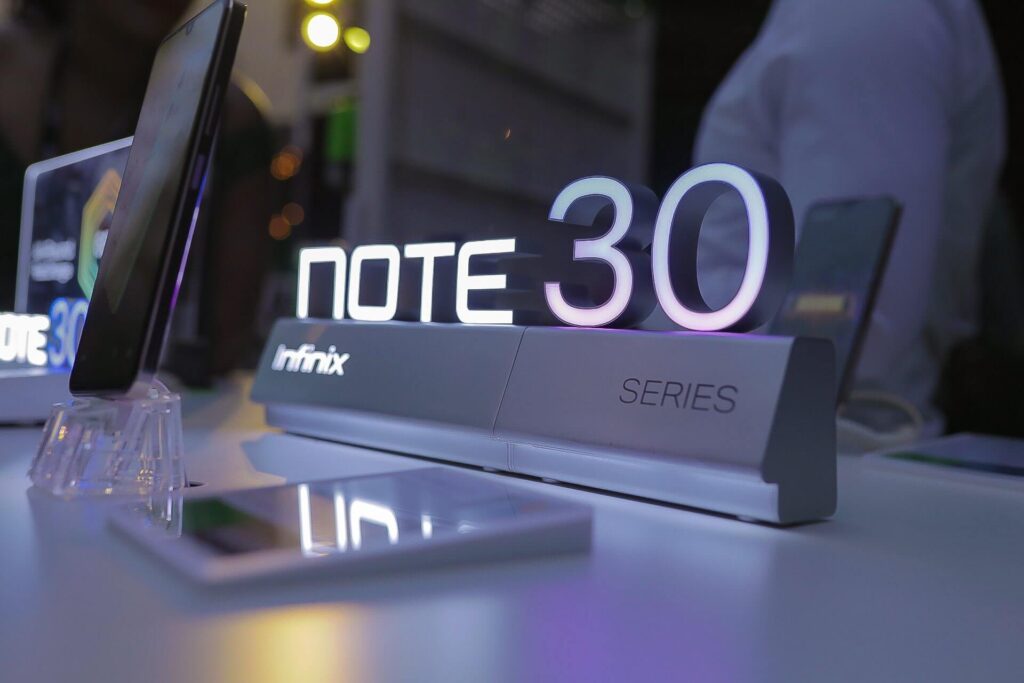 The NOTE30 series introduces several new and innovative features, including:
Lightning-Fast Charging: The Substrate Switch Charge Pump technology enables a high conversion efficiency of 98.5%, resulting in less heat generation. Users can achieve 85% power from just 1% in a quick 30-minute charge.
Wireless Charging: The NOTE 30 Pro becomes Infinix's first smartphone to offer wireless charging capabilities, providing a flagship feature for the series. The bypass charge feature allows charging directly from the motherboard after reaching 30% power, extending battery life while maintaining high performance.
Charging Capability for Other Phones: The NOTE30 Pro and NOTE30 VIP offer wireless reverse charging, enabling users to power a friend's device by simply touching their phones together.
Impressive Camera System: The series boasts an outstanding triple camera system, including a 108MP ultra-high pixel primary camera in the NOTE 30 Pro and a 64MP primary camera in the NOTE 30 model. These cameras empower users to capture professional-grade photos and videos, unleashing their creativity.
Captivating Visual Experience: With a 120Hz 1080P 6.78″ Super Bright Display, the NOTE30 series delivers a captivating visual experience. The device adjusts its refresh rate based on the user's scenario, providing a smoother experience while conserving power.
Sound by JBL: In collaboration with HARMAN's JBL audio and technology brand, Infinix brings Sound by JBL audio excellence to the NOTE 30 Series, ensuring a rich audio experience for music, movies, and calls.
Powerful Performance: Equipped with the Ultra-Power Helio G99 processor and the latest Android 13 operating system, the NOTE30 series offers unrivaled performance, smooth gaming experiences, lightning-fast app launches, multitasking, and enhanced security.
Exclusive Offer with Airtel Uganda
To enhance the lives of smartphone users, Infinix has partnered with Airtel Uganda to provide an exclusive deal for customers purchasing the NOTE30 series.
Buyers will receive a complimentary 3GB data bundle every month for three months, enabling them to fully utilize the capabilities of their new device and stay connected without limitations.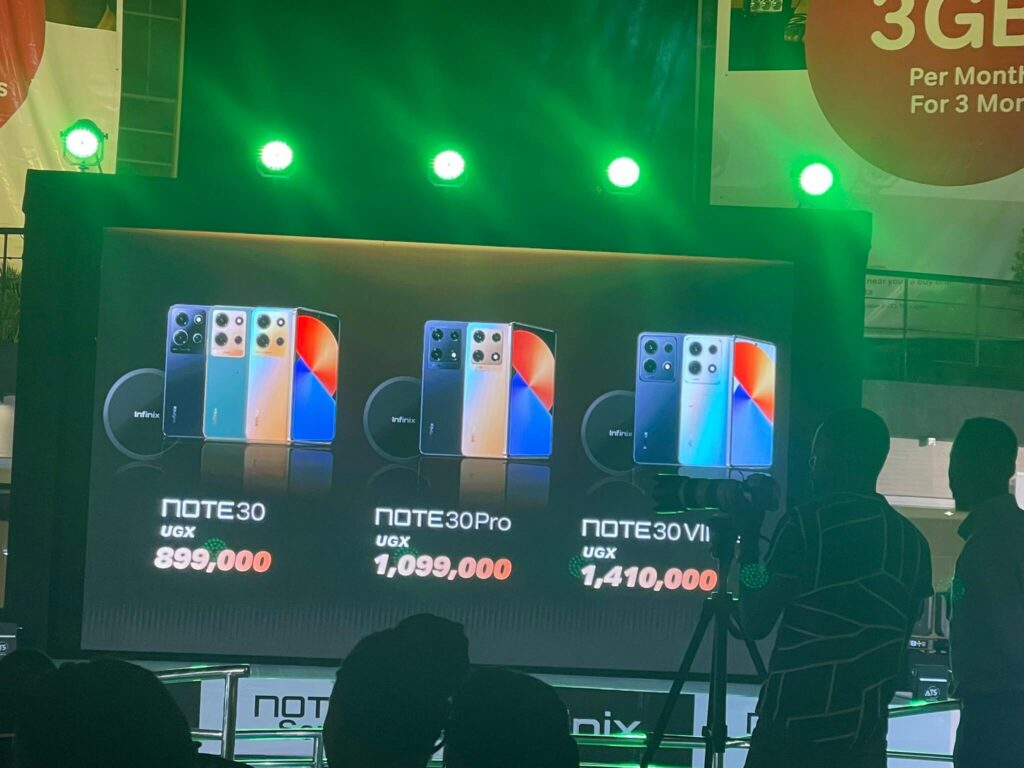 Positive Outlook and Partnership
Robin Weichao, the Brand Manager at Infinix, expressed excitement about introducing the Infinix NOTE30 series to Uganda, believing it will redefine the smartphone experience for customers. Teaming up with Airtel Uganda allows Infinix to provide users with an exceptional offer, allowing them to explore their new smartphone's potential fully.
Birungi concluded by stating that collaborations with partners like Infinix extend products that give customers a reason to imagine, harnessing the power of technology and internet connectivity to positively impact lives and communities.
"Our new brand promise is to give our customers and Ugandans A Reason to Imagine, and we are always pleased to collaborate with partners like Infinix to extend products like the Smartphone we have launched today. This will allow them to harness the power of technology and internet connectivity to positively impact their lives and communities," he concluded.
Availability
The Infinix NOTE30 series is now available at authorized Infinix outlets across Uganda. The NOTE 30 Pro comes in Classic Black or Variable Gold with a sleek and durable glass back cover, while the NOTE 30 is available in Classic Black, Interstellar Blue, or Sunset Gold.
#NOTE30series are now available with an exclusive offer of FREE 3GB @Airtel_Ug bundle for 3 whole months! 🎉📶
Don't miss out on this unbeatable combo!
Grab yours today and stay connected like never before. #InfinixNote30 #DataBundleDelight #AirtelUganda pic.twitter.com/JKNu7r4reA

— Infinix Uganda (@infinixuganda) June 22, 2023
Editor's Note: Please contact press@nowthendigital.com if you find any of the content to be inaccurate or outdated.