Airtel Uganda offers several 4G internet solutions, including the Airtel 4G Pocket MiFi, which you can use for home, business, and personal use.
KAMPALA | NOW THEN DIGITAL — Whether it's for home or business use, the Airtel 4G Pocket MiFi is one of the many 4G internet solutions that Airtel Uganda offers. This device will help you grow your business.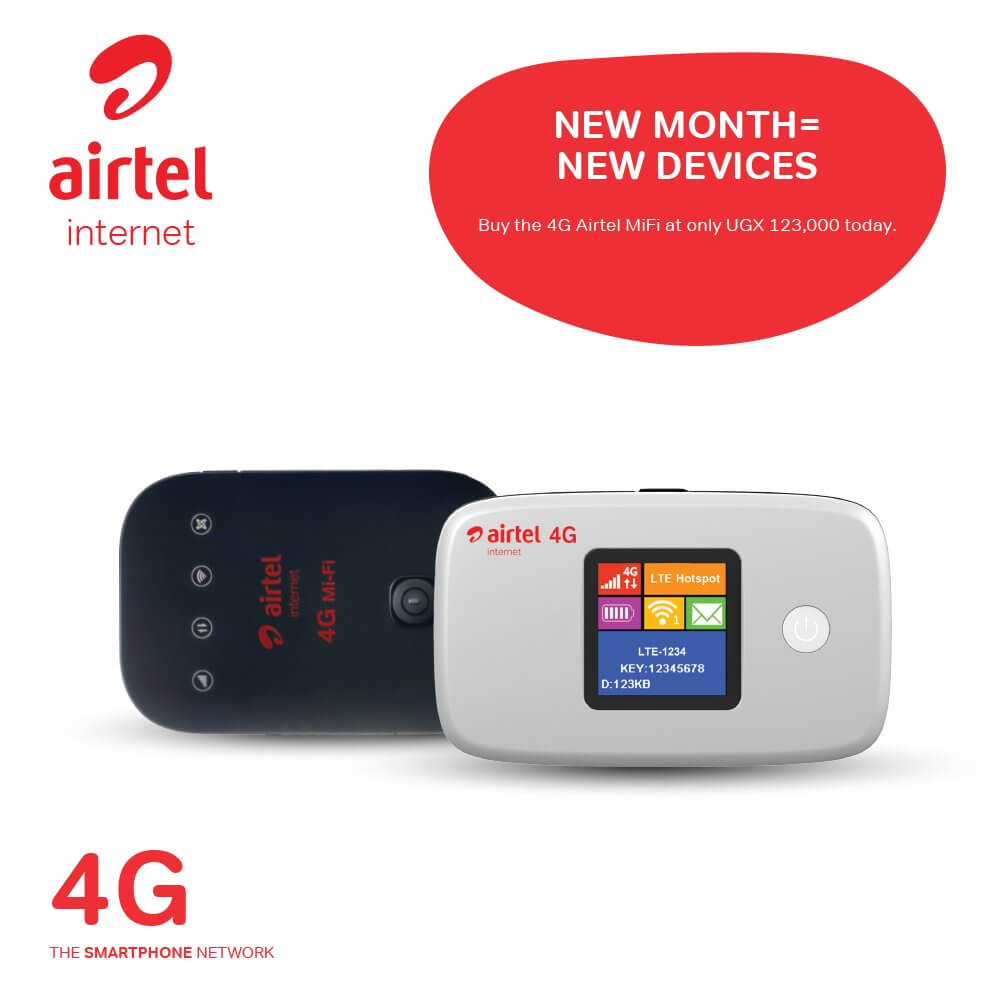 If you are in the market for a mobile broadband plan, you should check out the Airtel 4G Pocket MiFi data bundles in Uganda. 
This service gives you the chance to enjoy fast internet speeds and a lot of data for very little cost. These bundles are designed to target small businesses, young people and children. 
They allow you to use Zoom, Google Meet, Microsoft Teams, and selected educational and streaming websites. You can even access YouTube or Google search using these bundles. 
These bundles are rechargeable using Airtel Money, Credit Card, PayWay, and the MyAirtel app.
Airtel 4G MiFi features
The Airtel Uganda MiFi has the following features.
The Airtel 4G pocket MiFi costs UGX 123,000.

Your Airtel MiFi will work wherever you go, whether you're at home, at work, or on the road.

It supports multiple internet connections at once, enabling you to connect up to ten devices at once.

The battery of the device can be recharged and it can be used without a power source.

For one month, Airtel Uganda will give you 15 GB of free data.

The Airtel MiFi does not require any installation. Simply pick up one from an Airtel shop and turn it on to join Uganda's fastest network.
Airtel Uganda MiFi price
The Airtel 4G pocket MiFi is available for UGX 123,000 and is capable of linking up to ten devices simultaneously.
Just like MTN, Airtel also offers a 4G/LTE network in Uganda. The service uses 800 MHz frequencies and covers major cities. 
Although there are no fallbacks to 3G and 2G networks, you can still expect high-speed connections and reliable service in those areas where the service is available. 
It is important to note that some of these plans are limited to certain regions, so you'll need to check the coverage area in your area and choose a data bundle that suits you best.
MiFi 4G in Uganda
The Airtel UGX350,000 broadband plan comes with a free data allowance of 51GB every month. With the current economy, demand for domestic reliable internet has decreased. 
However, individuals, schools, and businesses are still in need of reliable internet, and that's where the MiFi 4G comes into play. If you're in Uganda and looking for a good internet domestic 4G provider, the MiFi 4G is a great option.
MiFi routers consist of a wireless router and modem, connected together through a cellular network. MiFi devices can connect up to 10 devices to the internet at the same time. 
The number of devices you can connect to depends on the speed of your mobile network. The MiFi router's capacity will determine how many devices you can connect simultaneously. 
To make use of MiFi, service providers must connect their MiFi devices to cellular networks. Airtel Uganda offers a variety of 4G home internet plans, including the MiFi (Airtel 4G SmartBox, Airtel 4G Pocket MiFi, and Airtel 4G Broadband).
The 4G pocket MiFi device from Airtel is a budget-friendly way to connect to the internet in your home. It supports up to 10 users and comes with 15GB of data for a month at a cost of UGX123,000. 
MiFi routes are usually limited in range, meaning the WiFi signal will be weaker if you're too far away from the device. MTN Uganda has also recently launched the Mifi power bank, which doubles as a MiFi. It costs UGX185,000.
The MTN MiFi, however, is the best MiFi for Uganda and offers 1GB of data per month for 3 months. It is a 4G LTE device that can be purchased at almost all MTN outlets throughout the country. 
The device can support download speeds of up to 100Mbps. The MTN 4G MiFi is available on Jumia Uganda and in the MTN Shop outlets.
You're reading nowthendigital.com — which breaks the news about Uganda, Kenya, Nigeria, South Africa and the rest of the world, day after day. Be sure to check out our homepage for all the latest news, and follow NOW THEN DIGITAL on YouTube, Google News, Medium, Twitter, Reddit, Pinterest and Flipboard to stay in the loop.