Telecom giant Airtel Uganda has recently unveiled the introduction of Voice over LTE (VoLTE) technology, revolutionizing mobile communication in the country with its high-definition voice calls.
KAMPALA, UGANDA | NOW THEN DIGITAL — Airtel Uganda, one of the leading telecom giants in the country, has made a significant announcement regarding the introduction of Voice over LTE (VoLTE) technology.
This innovative technology aims to revolutionize mobile communication by delivering high-definition voice calls (HD voice calls) and setting a new standard in call quality.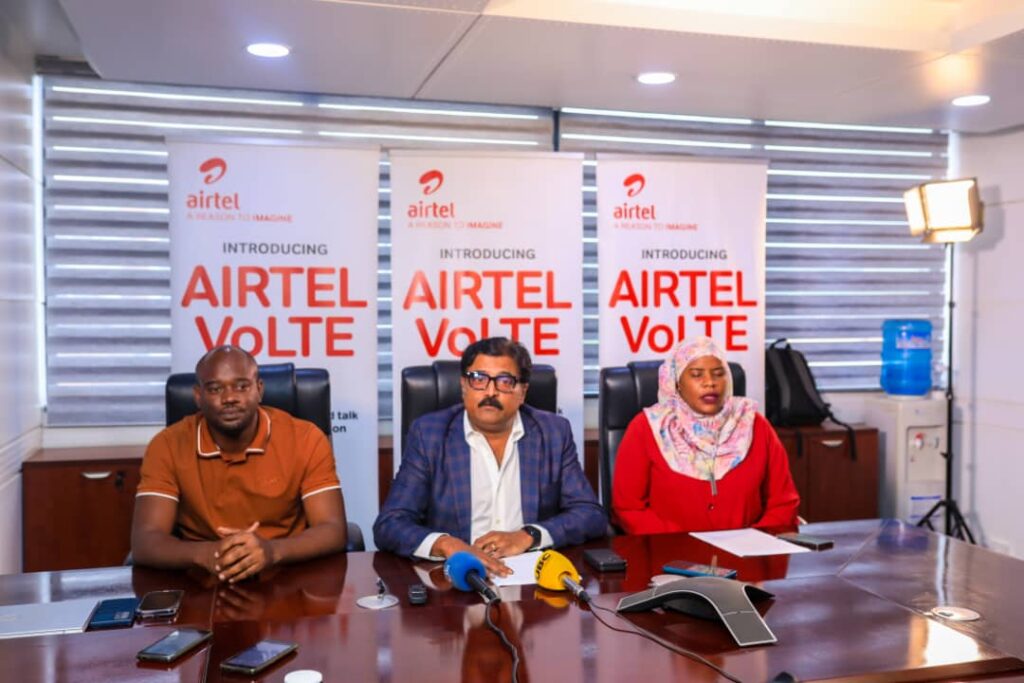 Enhancing Call Clarity and Customer Experience
During a recent statement on Friday, Manoj Murali, the Managing Director of Airtel Uganda, highlighted the advantages of the high-definition voice feature. Murali emphasized that this development will not only enhance call clarity but also prevent miscommunication, ultimately improving the overall customer experience on 4G, 5G, and other networks.
With the introduction of Airtel VoLTE, individuals possessing 4G-enabled smartphones will be able to experience high-definition voice calls over the 4G network. Murali described this as a major innovation within the 4G network, offering improved call quality and eliminating any noticeable gaps when dialing another person.
"We have introduced HD calls with Airtel VoLTE and if you have a 4G enabled phone, the calls will go through 4G network. Because of this you will have high definition voice calls with improved quality, you will not see any gap when you dial another person. It is a big innovation on the 4G network," he said.

"Previously, while browsing internet and a voice call comes in , the internet was disrupted.  This will no longer be the case. You will continue browsing internet even if you receive a voice call."
Simultaneous Talking and Browsing
Furthermore, Murali stressed that Airtel customers using VoLTE will also have the added advantage of conducting voice calls and browsing the internet simultaneously without any interruptions.
In the past, users would experience internet disruptions when receiving voice calls while browsing. However, this issue will now be resolved, allowing uninterrupted internet access during voice calls.
Transitioning to VoLTE and Future Compatibility
While VoLTE is automatically accessible for iPhone users, Murali noted that users of other devices will need to adjust their settings to take advantage of this technology.
He explained that users can easily navigate to their device settings and activate the VoLTE feature. Additionally, Airtel is actively collaborating with various handset manufacturers to ensure compatibility with VoLTE in the near future.
Expanding Coverage and Regulatory Approval
Murali also emphasized that VoLTE services are accessible throughout the country, thanks to Airtel's extensive 4G network coverage. Users only need to possess a 4G-enabled device to leverage this technology.
This announcement coincides with the recent approval from the Uganda Communication Commission, granting Airtel permission to commence the rollout of their 5G network in the country.
We have introduced #AirtelVoltE (Voice over LTE) on our #5GReady Network a service that delivers excellent call quality for customers. With this launch of, all customers with compatible devices can make clear calls on the 4G network. #AreasonToImagine.@AirtelUGMD @Amitkapur75 pic.twitter.com/lElUZbmcbu

— Airtel Uganda (@Airtel_Ug) July 7, 2023
"Under VoLTE, customers will now be able to make High Definition, excellent-quality voice calls without interruption to their browsing experiences. Today we begin with the iPhone 4G devices. " @AirtelUGMD says.#AirtelVoltE #AreasonToImagine pic.twitter.com/gby9qqVwwF

— Airtel Uganda (@Airtel_Ug) July 7, 2023
Airtel Uganda's introduction of VoLTE technology marks a significant milestone in the telecom industry. The incorporation of high-definition voice calls will undoubtedly enhance call quality and prevent miscommunication, leading to an improved customer experience. Furthermore, the ability to browse the internet seamlessly while engaging in voice calls is a valuable addition for Airtel customers. With this innovative step, Airtel Uganda solidifies its commitment to technological advancements and delivering exceptional services to its subscribers.
Editor's Note: Please contact press@nowthendigital.com if you find any of the content to be inaccurate or outdated.
You're reading nowthendigital.com — which breaks the news about Uganda, Kenya, Nigeria, South Africa and the rest of the world, day after day. Be sure to check out our homepage for all the latest news, and follow NOW THEN DIGITAL on YouTube, Google, Web Stories, Google News, Medium, LinkedIn, Twitter, Reddit, Pinterest, Linktr, Buy Me a Coffee, Truth Social, and Flipboard to stay in the loop.