There are nearly 9 million DSTV subscribers in South Africa alone. The company offers a range of packages for specific markets, and in this article, we explore the DSTV packages available in Uganda. 
KAMPALA | NOW THEN DIGITAL — With over 9 million subscribers in South Africa alone, DSTV is the leading television service in Africa, and they offer a range of packages tailored to different markets, such as Uganda, Kenya, and Nigeria.
There are more than 9 million DSTV subscribers in South Africa alone, and we examine DSTV's service packages in Uganda in this article.

MultiChoice's subscriber base increased by 5% to 21.8 million 90-day active users for its financial year ending 31 March 2022.

According to MultiChoice's latest quarterly results, it has over 9 million DStv subscribers in South Africa (41% of total subscribers) and 12 million subscribers in sub-Saharan Africa (59%). 

DStv Compact Plus and Premium subscribers – MultiChoice's most valuable clients – declined by another 4% as part of its overall subscriber mix over the past year, despite the overall subscriber base growing.
Below, we look at the packages and prices of DStv in Uganda. This article also gives a brief overview of some of the packages available in the country. 
These include DStv Premium, Compact, Compact Plus, Family, and Access.
DStv Access 
If you're looking to get started with DSTV, a budget-friendly package is probably the way to go.
For only UGX 37,000 per month, you can enjoy over 90 channels and 10 HD channels of local TV on DStv Access, bringing you a world filled with excitement. 
Local TV series, movies, telenovelas, news, music, and kids channels are all available with DStv Access.
While there are bigger DStv packages available, Access is the most affordable one.
However, if you're looking to catch up on movies, sports, and music, you may want to consider upgrading to a higher-end package.
DStv Family
Over 110+ channels and 10+ HD channels are available on DStv Family for only UGX 55,000 per month, making it ideal for the entire family.
The DStv Family package is designed with the whole family in mind, and features a wide selection of channels such as Universal channel, Sony Max, Africa Magic Movies, and more.
Additionally, Nickelodeon, Jimjam, Disney Junior, Cbeebies, Mindset, PBS Kids and Boomerang are available to customers with DSTV subscriptions.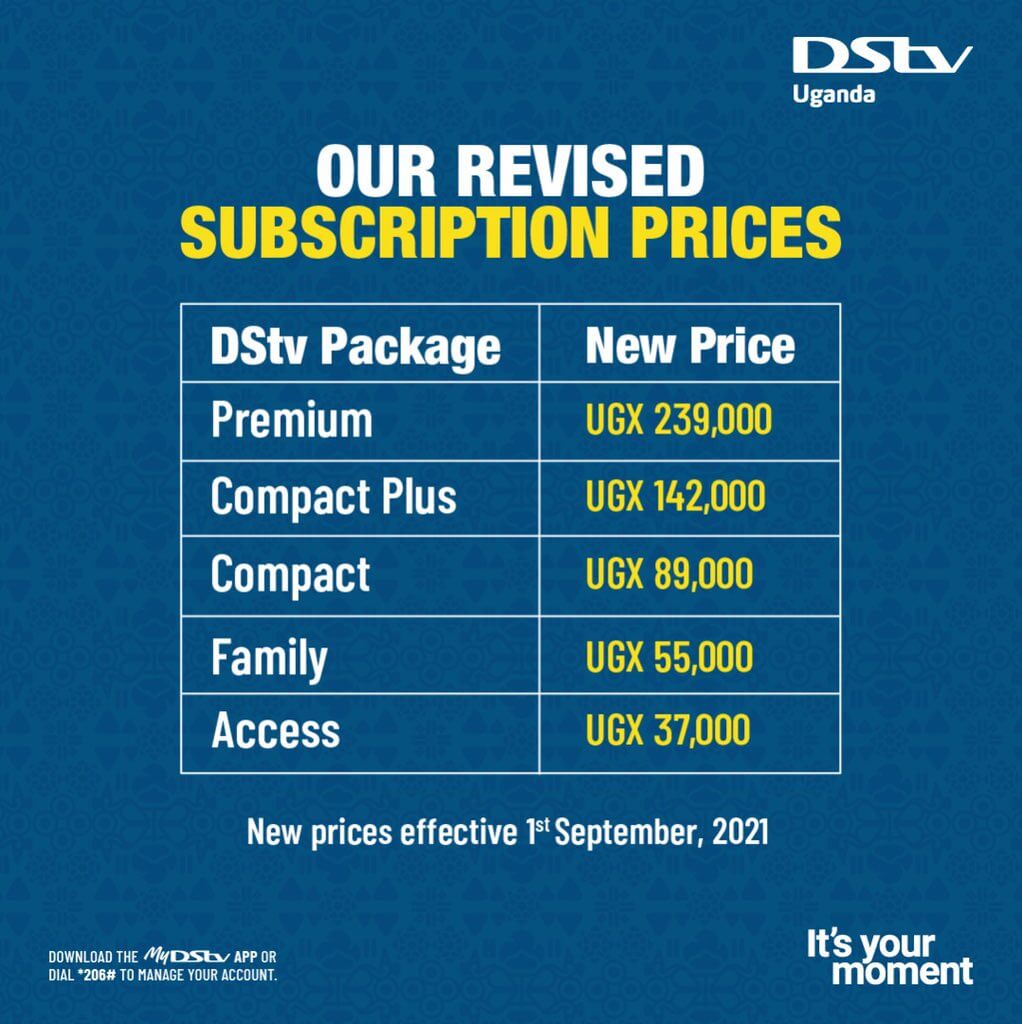 DStv Compact
The cost of DStv Compact in Uganda is UGX 89,000 per month, which includes 140+ channels and 25+ HD channels.
The DStv Compact package offers Premier League and WWE, blockbuster movies you love, along with local and international entertainment, reality, news, music and lifestyle channels. 
There are many channels available on DStv Compact, including SuperSport Premier League, Studio Universal, KIX, Africa Magic channels (selection), BBC Brit, ITV Choice, Vuzu, MTV, Discovery TLC, TDC, TLNovelas, CNN, and Sky News.
DStv Compact Plus
With DStv Compact Plus, you will enjoy a wide range of entertainment channels and value-added services on offer, including a wide array of family entertainment channels and great sporting content on SuperSport channels.
Compact Plus in Uganda offers more than 155 channels and 30 HD channels at a cost of only UGX 142,000. 
A DStv Compact package includes all the Africa Magic channels and award-winning documentary channels, as well as UEFA Champions League, top international football leagues, and MMA. 
You can enjoy SuperSport Football Plus, SuperSport Variety, 1SuperSport Action, Africa Magic Channels, 1Magic, History Channel, CBS Justice, Curiosity Stream, and M-Net Movies 3 on DStv Compact Plus.
DStv Premium
DStv Uganda packages and prices are increasing this year, so you might want to check them out before you subscribe. The company recently posted on social media about the new prices.
In Uganda, you can get over 170 channels and 40 HD channels on Premium at a cost of only UGX 239,000 per month.
With the Dstv Premium package, you connect to the world's greatest entertainment including the latest international movies, TV shows and reality shows.
On DStv Premium you can watch all SuperSport channels – so you won't miss a single game. Movies Premiere, HBO, and M-Net offers Hollywood blockbusters and the best series around.
You will also receive free access to Showmax, which enables you to watch boxsets of international and local series as well as movies on demand.
DSTV Uganda Prices Increase by April 2023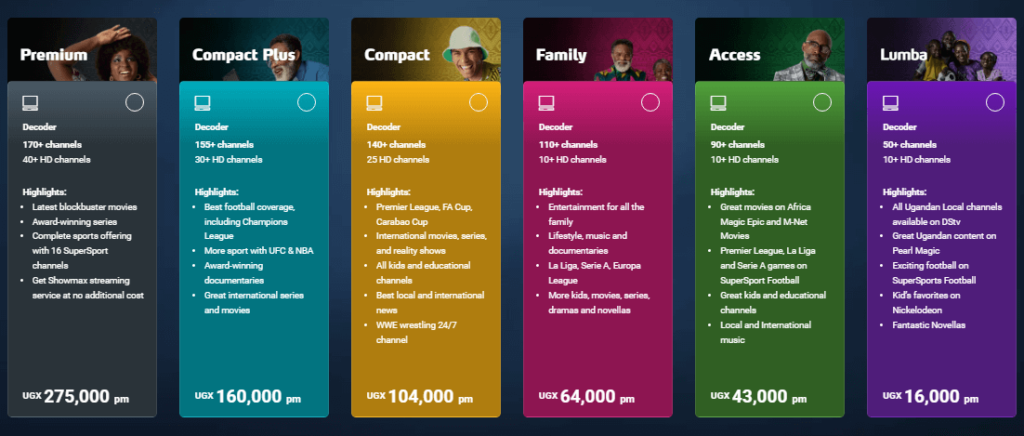 DStv Uganda has recently posted new prices effective April 01, 2023. If you're in the market for a new subscription, now is the time to upgrade.
Follow this link to learn more.
You're reading nowthendigital.com — which breaks the news about Uganda, Kenya, Nigeria, South Africa and the rest of the world, day after day. Be sure to check out our homepage for all the latest news, and follow NOW THEN DIGITAL on Twitter, Reddit, Pinterest and Flipboard to stay in the loop.