Dr. Mandeep Singh, HOD-Plastic Surgery at Paras Health in Gurugram, shared his insights on managing skin inflammation. He highlights the importance of identifying and avoiding triggers that can lead to skin inflammation.
KAMPALA, UGANDA | NOW THEN DIGITAL — Skin inflammation is a common issue that can be caused by a range of factors, such as injury, infection, or irritants. The immune system responds to these stimuli to protect the body, leading to symptoms like redness, swelling, warmth, and pain in the affected area.
While some inflammation is a temporary reaction, chronic conditions like eczema, psoriasis, or dermatitis can cause persistent issues. These conditions can be triggered by various factors, including immune reactions, allergic responses, microbial infections, or physical irritation.
Expert Advice on Managing Skin Inflammation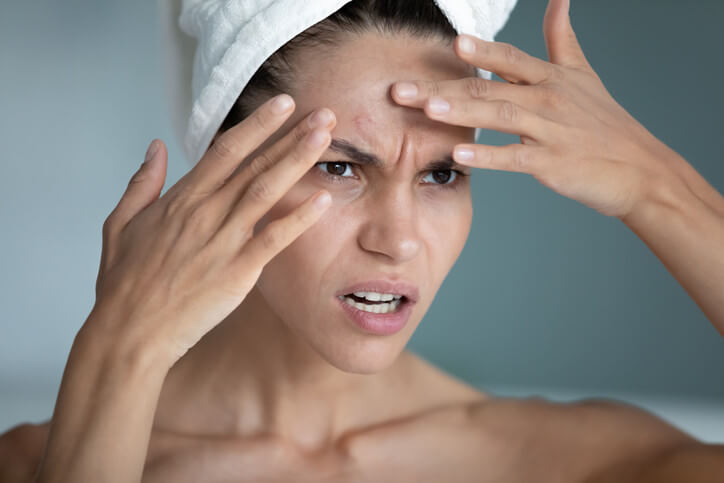 To understand how to deal with skin inflammation, Health Shots spoke with Dr. Mandeep Singh, HOD-Plastic Surgery at Paras Health in Gurugram. Dr. Singh provided valuable insights into managing skin inflammation, emphasizing the importance of early treatment.
He advised seeking medical attention if you notice any symptoms, especially if they persist or worsen.
Dr. Singh also suggested taking steps to prevent skin inflammation, such as using gentle cleansers and moisturizers, avoiding harsh chemicals and soaps, and protecting the skin from excessive sun exposure.
Additionally, he recommended a healthy lifestyle by incorporating anti-inflammatory foods like leafy greens, berries, and fatty fish into your diet, as well as staying hydrated and getting adequate rest.
By taking these steps and seeking early medical attention, individuals can effectively manage and prevent skin inflammation.
Avoiding Triggers
Dr. Singh recommends that individuals should identify the triggers of skin inflammation and try to minimize or avoid exposure to them. These triggers may include certain skincare products, allergens, harsh chemicals, and environmental factors like extreme temperatures.
By avoiding triggers, individuals may be able to prevent or reduce the severity of skin inflammation.
Practice Gentle Skincare
Dr. Mandeep Singh, HOD-Plastic Surgery at Paras Health in Gurugram, suggests that taking care of inflamed skin requires gentle skincare practices. This means using products specifically formulated for sensitive skin to reduce inflammation.
However, he warns against using harsh soaps, scrubs, or exfoliants that can further irritate the skin. It's best to choose hypoallergenic and fragrance-free products whenever possible.
To reduce inflammation, Dr. Singh recommends using skincare products that are gentle and specifically formulated for sensitive or inflamed skin. Instead, opt for fragrance-free and hypoallergenic products that are less likely to cause irritation.
Moisturize to Soothe and Protect
Dr. Singh emphasized that dry skin can worsen inflammation, which is why it's crucial to moisturize regularly.
He recommends using a gentle, hydrating moisturizer that's appropriate for your skin type to help soothe and protect the skin barrier. By keeping the skin hydrated, you can reduce the risk of further inflammation and discomfort.
Hands off: Avoid Scratching or Rubbing
According to Dr. Singh, any scratching or rubbing of the inflamed skin can exacerbate the problem, causing more inflammation.
To avoid making the situation worse, he recommends refraining from scratching or rubbing the affected area. Instead, try gently patting or tapping the skin if necessary. This will help to soothe the area without causing further irritation.
Try Applying a Cold Compress
If you're dealing with skin inflammation, a cold compress can provide some relief. To create a cold compress, you can use a clean cloth soaked in cold water or a chilled chamomile tea bag.
Gently apply the compress to the affected area for a few minutes to help reduce inflammation and soothe the skin. Whether it's a rash, bug bite, or sunburn, a cold compress can be a simple and effective way to alleviate skin irritation.
Avoiding Allergens
To prevent skin inflammation caused by allergies, it is crucial to avoid known allergens. Whether it's pollen, pet dander or certain foods, individuals who know they have allergic reactions to these substances should take necessary precautions to steer clear of them.
By doing so, they can minimize the risk of triggering an allergic reaction that may lead to skin inflammation.
Maintain Healthy Skin with a Balanced Lifestyle
Dr Singh suggests that a balanced diet, adequate hydration, sufficient sleep, and stress management are all crucial factors in maintaining healthy skin. Such a lifestyle can strengthen the immune system and reduce inflammation, contributing to glowing and healthy skin.
Consult a Medical Professional if Skin Inflammation Persists
If your skin inflammation does not improve or worsens despite your efforts, it's crucial to seek the advice of a medical professional, such as a dermatologist or healthcare provider.
They can diagnose the root cause of the inflammation and offer personalized treatment options based on your specific condition. Don't hesitate to seek help as soon as possible to prevent the condition from worsening.
Editor's Note: Our content may be inaccurate or out-of-date, so please contact us at press@nowthendigital.com if you see something that needs to be updated.