'Mass Country', the final album by late South African rapper Kiernan Jarryd Forbes known professionally as AKA, will be released on 24 February.
DURBAN, SOUTH AFRICA | NOW THEN DIGITAL — The 'Mass Country' album by late South African rapper Kirryd Jarryd Forbes, better known as AKA, will be released on 24 February as planned.
The late South African rapper AKA's fourth studio album Mass Country is the follow-up to Altar Ego (2011), Levels (2014), and Touch My Blood (2018).
On 24 February 2023, Mass Country will be released. It will feature the lead singles "Lemons (Lemonade)", "Prada", and "Paradise", as well as guest appearances from Nasty C, Khuli Chana, and Aymos.

It is the rapper's last album before his murder at the hands of gunmen in Durban, South Africa, in February 2023. It was promoted on his Instagram account prior to his death. Producers like Swizz Beatz and Diplo praised the first few singles.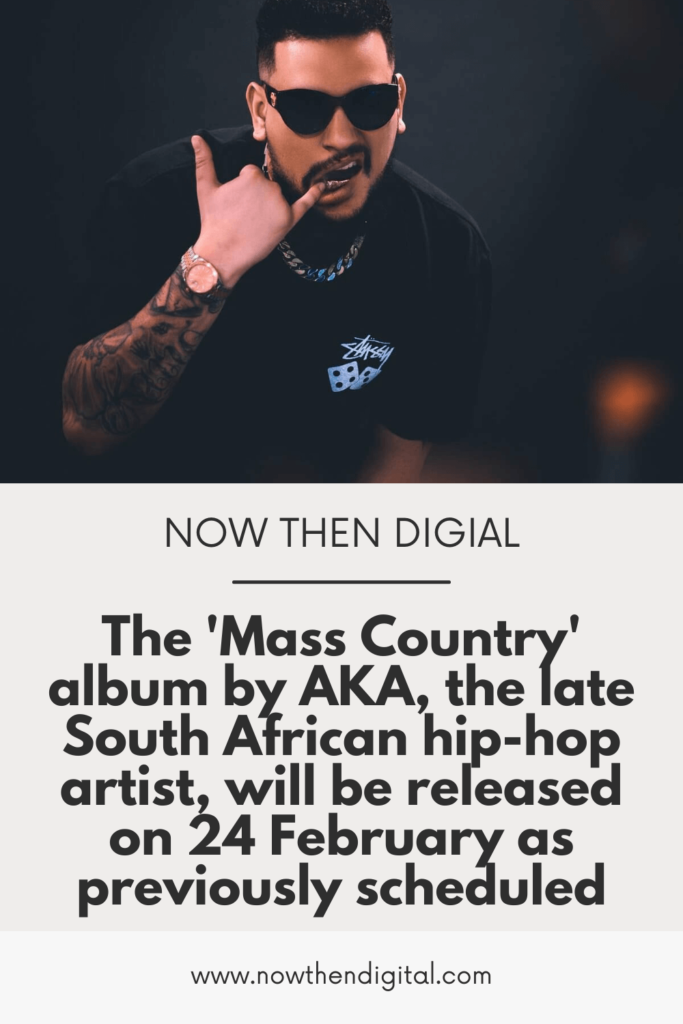 This will be AKA's fourth studio album and has been much anticipated by fans. It features collaborations with a number of prominent African artists such as Nasty C, Khuli Chana, Aymos, and Gyakie. 
This album has been in the works since early September 2022 and is set to include a broad range of sounds and styles.
AKA's family made the announcement in a statement following the death of the musician in Durban on 10 February. The family said they had decided to proceed with the release of the 14-track project as a way to honor AKA.
The release of the album is an emotional way to pay homage to AKA's legacy and keep his memory alive. The album will be preceded by the release of 'Company,' featuring Nigerian artist Kiddominant, as per the wishes of AKA.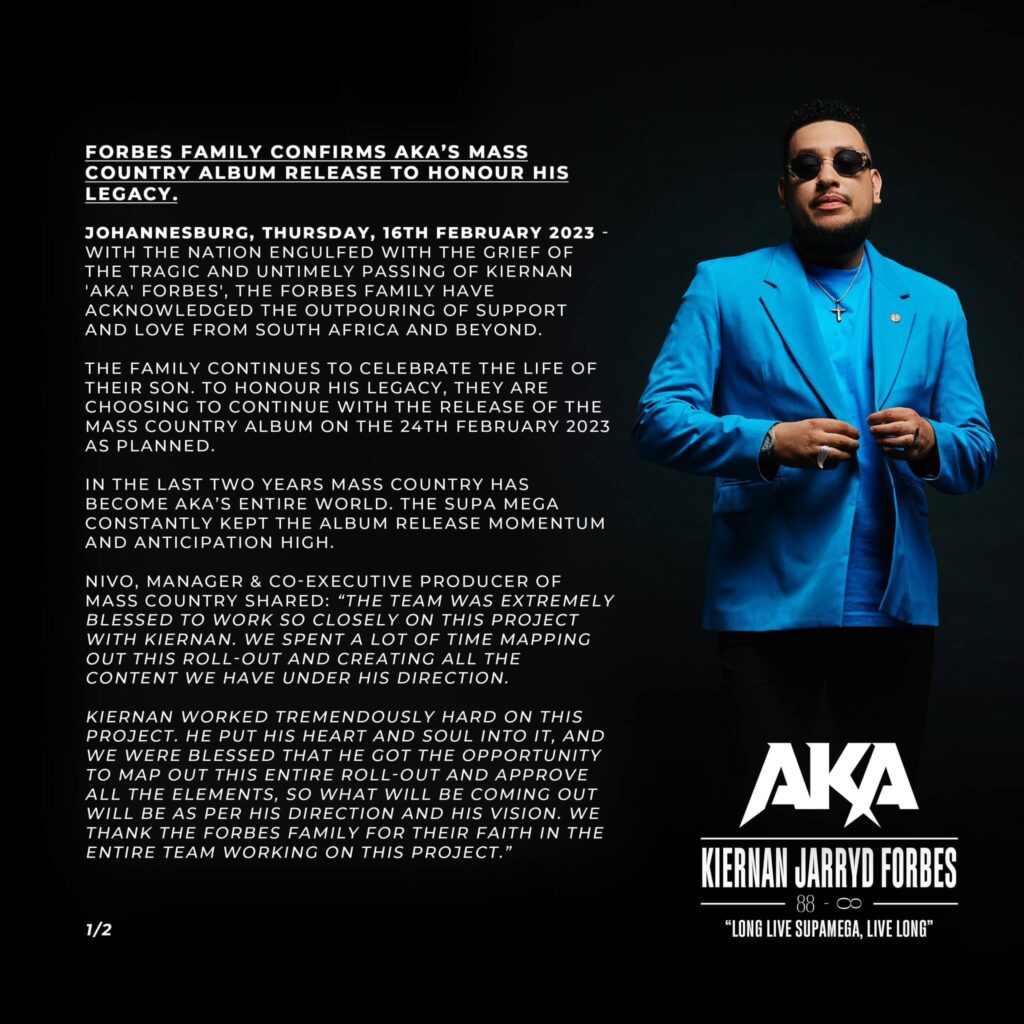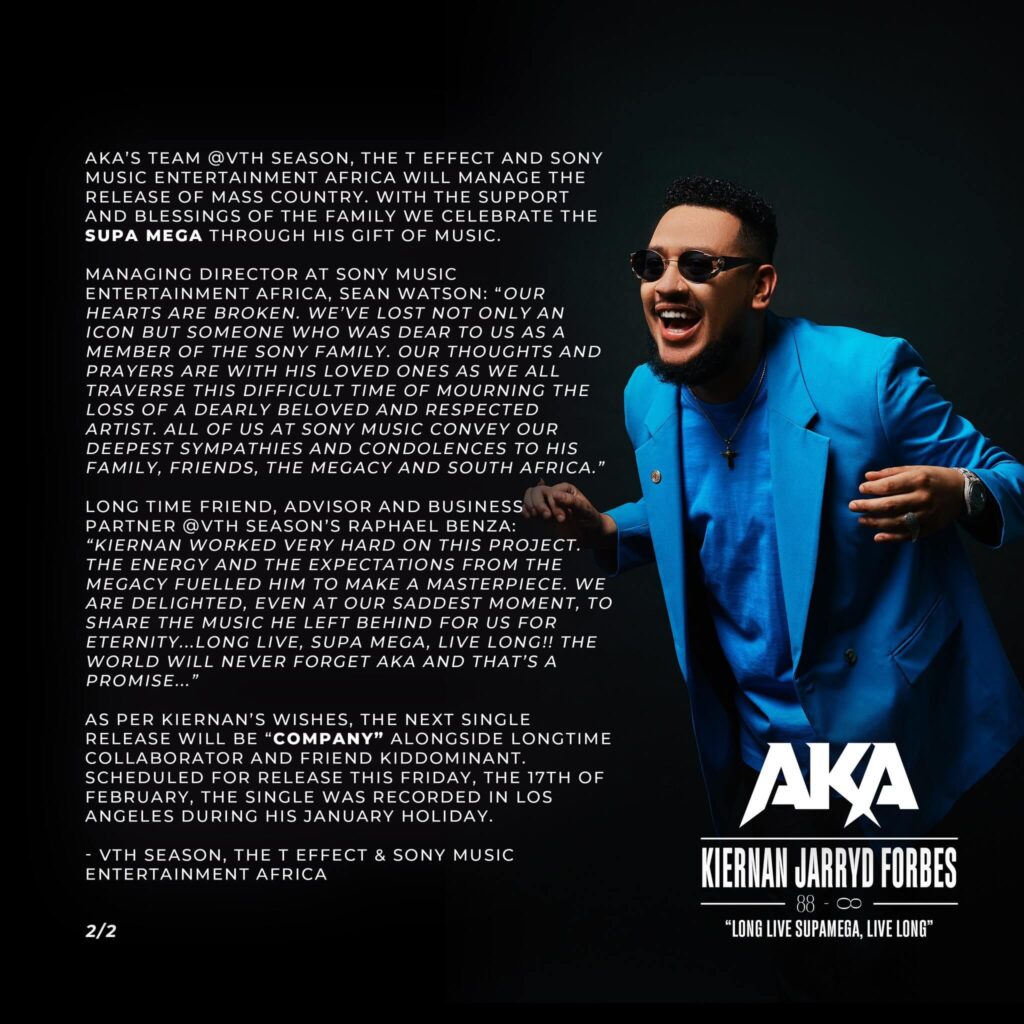 "The team was extremely blessed to work so closely on this project with AKA," Nivo, joint executive producer of Mass Country, said.
"We spent a lot of time mapping out this roll-out and creating all the content we have under his direction. AKA worked tremendously hard on this project.

"He put his heart and soul into it, and we were blessed that he got the opportunity to map out this entire roll-out and approve all the elements, so what will be coming out will be as per his direction and his vision. We thank his family for their faith in the entire team working on this project."
Taking the lead on the release of the album, AKA's team Vth Season, The T Effect, and Sony Music Entertainment Africa will work together with support from the family.
Sean Watson, managing director of Sony Music Entertainment Africa, said the following on late AKA.
"Our hearts are broken. We've lost not only an icon but someone who was dear to us as a member of the Sony family. Our thoughts and prayers are with his loved ones as we all traverse this difficult time of mourning the loss of a dearly beloved and respected artist. All of us at Sony Music convey our deepest sympathies and condolences to his family, friends, the Megacy and South Africa."
Raphael Benza, AKA's long-time business partner and advisor, said:
"Kiernan worked very hard on this project. The energy and the expectations from the Megacy fuelled him to make a masterpiece. We are delighted, even at our saddest moment, to share the music he left behind for us for eternity… long live, Supa Mega, live long. The world will never forget AKA and that's a promise."
Who was AKA?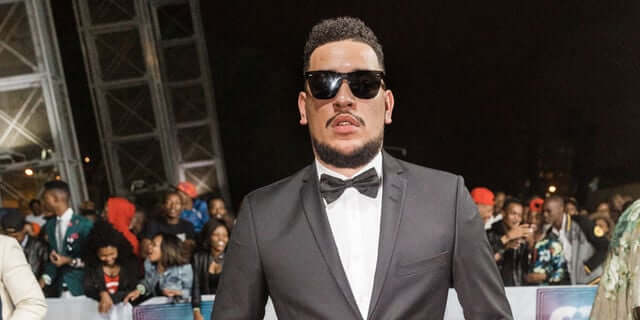 Born Kiernan Forbes in Cape Town in 1988, AKA was one of South Africa's most influential hip-hop artists, releasing three solo albums and collaborating with others.
AKA grew up in Mitchells Plain, a dangerous neighborhood famous for its gangsterism and drug abuse, with his grandparents.
However, he moved with his mother to Johannesburg, where he attended St John's College, an Anglican institution described as "one of the finest schools in South Africa".
During his high-school years, he formed a hip-hop band with two high-school friends, Sizwe Mpofu-Walsh and Nhlanhla Makena, which earned them KORA All Africa Music Award nominations.
Following the disbandment of the group, AKA went on to study sound engineering and produce hits for artists such as ProKid and Kuli Chana. He went on to work with Nigerian Afrobeat stars Burna Boy, Nasty C, Kwesta, and Diamond Platnumz of Tanzania.
AKA was assassinated
South African authorities believe a hitman took advantage of him outside a popular restaurant in Durban on Friday evening and killed him.
In surveillance footage, a man wearing a white sweater and hat is seen walking towards AKA before firing two shots to the rapper's head, killing him instantly. AKA and his longtime friend Tebello "Tibz" Motsoane were both killed in the incident.
"From what we know and have seen, it was a hit. AKA was assassinated in broad daylight," Transport Minister Fikile Mbalula said on Sunday, according to BBC.
"We need to get to the bottom of why this happened, because AKA was not a drug lord, he was a musician. Why does he deserve to be killed like that?" the minister asked.
UPDATE: Take a listen to Mass Country by AKA
On Friday, AKA's sixth studio album, 'Mass Country', made its debut. Mass Country was completed just before South African rapper Kiernan Forbes' untimely death.
Featuring Khuli Chana, Blxckie, his girlfriend Nadia Nakai, Emtee, Yanga Chief, Sjava and more, this album blends local sounds with features from South Africa's hottest hip hop talent.
In Times Square, Spotify will display the late AKA's Mass Country. This billboard marks the rapper's last album, released on Friday, and will celebrate the rapper's album international debut.
Among its 14 tracks are the previously released singles 'Lemons (Lemonade)' with Nasty C, 'Paradise' with Musa Keys and Gyakie, and 'Company' with KIDDO.
Editor's Note: Please contact press@nowthendigital.com if you find any content inaccurate or outdated. 
You're reading nowthendigital.com — which breaks the news about Uganda, Kenya, Nigeria, South Africa and the rest of the world, day after day. Be sure to check out our homepage for all the latest news, and follow NOW THEN DIGITAL on YouTube, Google, Web Stories, Google News, Medium, Twitter, Reddit, Pinterest, Linktr, Buy Me a Coffee, and Flipboard to stay in the loop.