Last year, MTN launched its Mpola-Mpola scheme which lets customers get a free smartphone, the Kabode. This smartphone is user-friendly and features a 5.5-inch screen, a 2MP front camera, and a 5MP rear camera.
KAMPALA | NOW THEN DIGITAL — The MTN Kabode smartphone is a user-friendly 5.5-inch phone with a 2MP front camera, and a 5MP back camera. It was introduced under MTN's Mpola-Mpola scheme last year.
As part of its pay mpola mpola device financing scheme, MTN Uganda introduced the Kabode Supa smartphone, which enables customers to purchase smartphones but pay for them in installments over time.

For as little as UGX 833 per month, a customer can acquire a Kabode Supa smartphone with an initial deposit of UGX 99,000.

In addition to the Kabode Supa, MTN is going to offer you 2GB of free data every month for the next seven months.

You might also like: How to send money to Africa using 

MTN Homeland

 Money Transfer App.
The phone is loaded with online services, and customers will have to pay in instalments and complete the balance in six months. 
To check if you qualify, simply dial *165*5*2# or visit the company's website.
Low price
MTN Uganda has recently launched the Kabode Supa smartphone, which joins its range of affordable phones. 
Featuring a 5-inch screen, 3GB RAM, 8GB memory space, 2MP front camera, and 8MP rear camera, this internet-enabled smartphone has a long battery life.
You can purchase this smartphone at any MTN shop in Uganda by paying a small initial deposit of UGX 99,000 and the rest of the amount in instalments.
To purchase the MTN Kabode, you must be a member of the Mpola scheme and make the necessary payments to own the phone. 
To find out if you qualify for the MTN Kabode, dial *165*5*2#. You will then be required to enter your MTN mobile money pin. 
You must be a valid MTN subscriber in order to purchase the Kabode.
Easy payment plan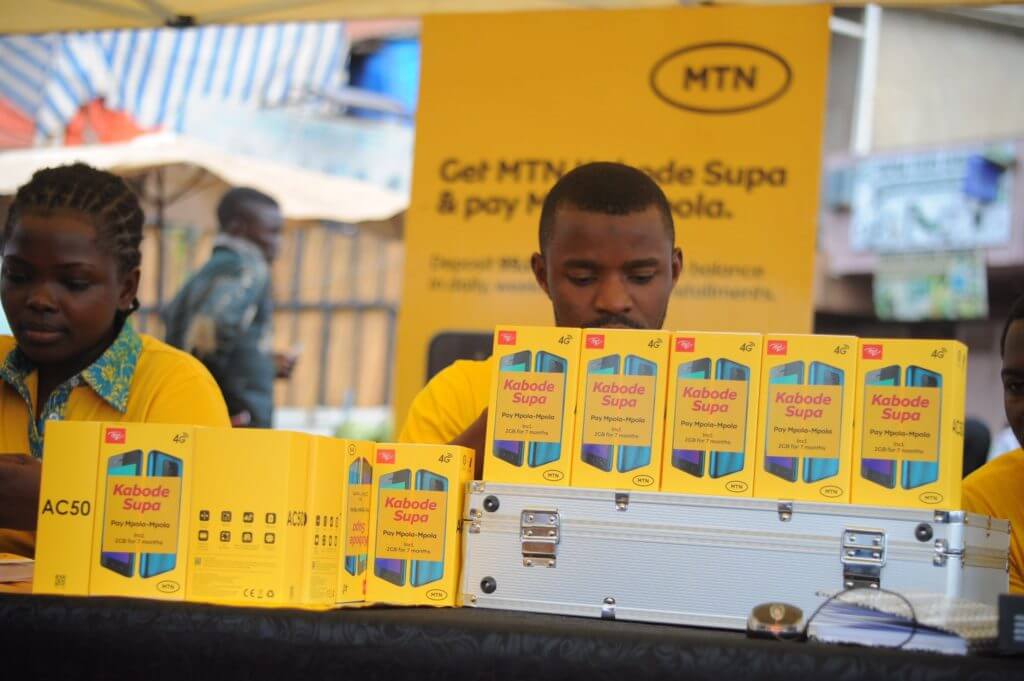 MTN has started an easy payment plan for their new 4G phone, the Kabode. The Kabode is a high speed internet smartphone that supports a number of popular applications. 
This plan includes WhatsApp, Tidal, and more. It has already started in certain areas of Uganda and will be expanded to the rest of the country shortly. 
Customers make installments to purchase their new smartphone and receive free internet data on their monthly bill.
The MTN Kabode is a user-friendly phone with a 5.5-inch screen, 2MP front camera, and 5MP back camera. It also comes with access to different online services, including Facebook, WhatsApp, and TIDAL. 
Customers are required to make payments over the course of six months in instalments, and the plan includes a 100% bonus if they complete their balance within six months.
Pre-installed apps
MTN Kabode smartphone has a 5.5-inch display, 2MP front and 5MP rear cameras, and good battery life. 
MTN Kabode comes with pre-installed apps such as MyMTN, WhatsApp, Facebook, Tidal, and Ayoba. Its features are perfect for those who want to stay connected on the go. 
The device also comes with MTN's 4G LTE network and is a good choice if you're on a budget.
MTN Kabode is an internet-enabled smartphone that requires a deposit of UGX 99,000, which can be paid in installments of UGX 833. 
It comes with 2GB of free MTN data every month for 7 months, as well as a 100% bonus on data bundle purchases made during the first three months. 
Other features include a 5-inch display, a rear camera with 8 MP, a long battery life, and a fingerprint scanner.
Battery life
Its battery life is long enough to allow you to use the phone for hours and still have plenty of juice left over for another day.
The MTN Kabode Supa is a newly launched smartphone from the company. It is part of their "mpola mpola" device financing scheme, which allows customers to pay in instalments. 
It features a 5000 mAh battery and a 2MP front camera. 
It is available at all MTN retail shops and service centers across the country. Battery life is good for a mid-range smartphone.
You're reading nowthendigital.com — which breaks the news about Uganda, Kenya, Nigeria, South Africa and the rest of the world, day after day. Be sure to check out our homepage for all the latest news, and follow NOW THEN DIGITAL on Twitter, Reddit, Pinterest and Flipboard to stay in the loop.