MTN Mokash Loan from MTN Uganda allows you to borrow money from your mobile phone if you're ever unsure what this is about. Read this article to learn more about this service.
KAMPALA | NOW THEN DIGITAL  — If you have ever wondered what is a MTN Mokash loan, read this article. This service allows you to take out loans from your mobile phone. 
You can take out loans from your mobile phone through MTN Mokash. If you have ever wondered what a Mokash loan is, read this article.

MoKash is a mobile money service in Uganda that makes it easier for users to access loans and savings. It was launched in August 2016 and already has over a million subscribers.

Read about the features and functions of the 

MTN MoMo app

 before you download it.
This loan is unsecured and paperless, making it a popular way to borrow money for a variety of needs. The application process is simple and you can easily get approved within minutes. 
You can borrow any amount you need up to the limit that you've set.
Mokash is a mobile money service
The MTN MoKash mobile money service is available for all users of the MTN mobile network. 
The service lets customers save any amount and earn interest, and allows users to take loans for up to 30 days. 
MoKash accounts are created automatically on the CBA platform using bio data provided by the customer. This process only takes a few seconds, and account holders can begin saving and loaning instantly.
Customers of the mobile money service can use their MoKash savings to make investments and pay school fees. 
With MoKash, customers can make instant credit to buy items, pay for bills, or respond to financial emergencies. This service is backed by NCBA Bank, which issued 4.7 million loans worth UShs 435 billion by 2020. 
So far, 2.5 million MoKash customers have saved up to UShs 16 billion on the platform. Beyond borders, its ease of use has even been lauded by the former National Bank of Rwanda's vice governor, Monique Nsanzabaganwa.
MTN MoKash has a low interest rate, no minimum balance, and no monthly fees. Customers can also borrow money from the service for a low monthly interest rate. 
It is possible to borrow up to Shs1 million using MoKash, without visiting a bank or filling out a form. All one has to do is dial *165*5# to activate MoKash services and enter their MTN Mobile Money PIN. 
The entire process is completely automated, so you can expect your money to arrive in your bank account within a few minutes.
MTN MoKash is a mobile money service that has revolutionized the financial world in Uganda. This service has enabled Ugandans to take advantage of the interest-bearing savings account, and also access microloans. 
Through MoKash, customers can apply for microloans directly from their mobile phones. It also provides the ability to save money, borrow, and even earn interest while waiting for their next pay cheque.
It allows individuals to take out loans
In Uganda, the mobile money service MoKash has made it easy for individuals to take out loans. The new product offers users a convenient way to take out loans without extensive collateral. 
More than a million people now subscribe to MoKash. The new service also offers an interest rate on loans, making it an attractive option for individuals. 
However, MoKash is not for everyone. There are many risks associated with borrowing money, so individuals should be aware of them before signing up for this service.
MoKash has an interest rate of 5%. While other banking products may not pay as high an interest rate, the benefits are significant. 
Individuals can save money in the MoKash deposit account to meet unexpected expenses, such as an unexpected bill. MoKash is also available for businesses and individuals with little or no cash on hand. 
In addition to the interest rate, customers can also earn interest on their money through MoKash.
In Uganda, MoKash was launched in August 2016. It lets customers save money in an interest-bearing savings account and take out loans. 
It also offers micro-loans, and MoKash customers can access them right from their mobile phones. However, the service is not limited to Uganda. There are plans to introduce the platform to Tanzania and Rwanda (later launched in 2017) through Tigo. 
As of March, MoKash has already attracted one million users, equivalent to approximately Shs25,000 per active user.
To avail of MoKash services, an individual must be a registered MTN Mobile money customer. Once registered, an individual can access the service by dialing *165* from a mobile phone. 
MoKash also offers short-term loans of thirty days. In order to qualify, individuals must have a minimum balance in their MoKash account. 
The limit of MoKash is determined based on the usage of MTN mobile money.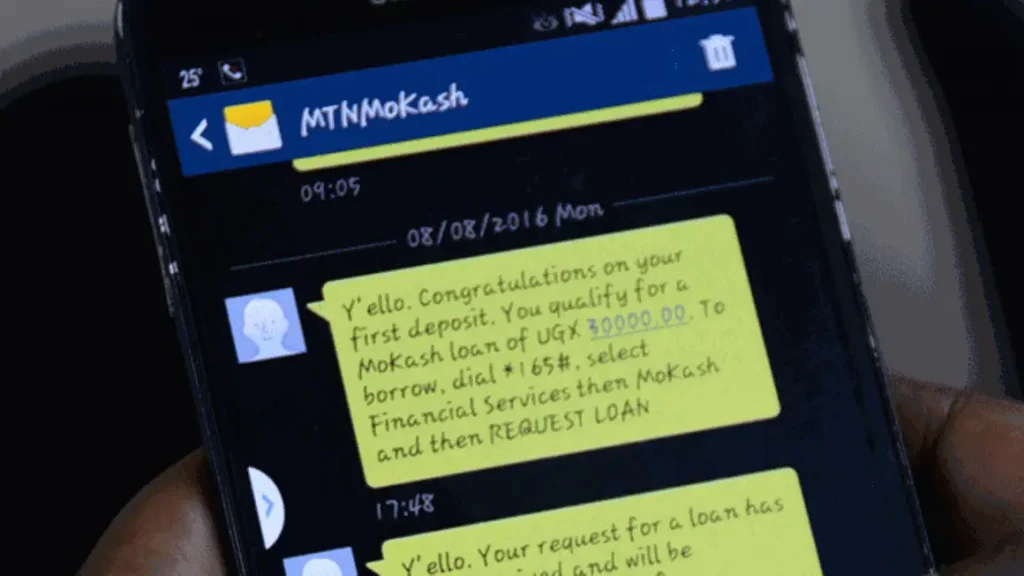 It is unsecured
The MTN MoKash loan is unsecured, with a maximum borrowing limit of Shs1 million. It requires six months of active use of the mobile money platform. 
Once approved, the loan is paid back automatically. The interest rate depends on the amount borrowed, but it ranges between 2% and 5%. 
Customers also receive quarterly interest. This loan is a good option for those who are facing unexpected expenses.
The process of applying for an MTN MoKash loan is simple. First, customers must be an MTN Mobile Money customer. The service then checks whether the customer uses the mobile phone and has enough savings to cover the loan. 
Once approved, they can borrow as little as sh3,000 and repay it with interest. Amounts lent vary from sh3,000 to Sh600,000 and can be paid back with 9% interest.
The maximum loan amount is UGX. 1,000,000 and fees are 9% of the value borrowed. 
The amount a customer can borrow is determined by their credit limit, which is based on their length of service with MTN. This is another reason to save MoKash before taking out a loan. 
This will affect the loan limit, as will the customer's average MoKash balance and the length of time they've been on the MTN network.
In Uganda, MTN Mobile Money has more than nine million subscribers, representing 80% of the total subscriber base. 
Because MoKash is available to all MTN Uganda customers, its potential reach is enormous. By offering low interest rates and no credit check requirements, the service is a boon for Ugandans. 
The service is free from the traditional red tape of traditional loans and saves money in a user's mobile phone.
It is paperless
MTN MoKash is a paperless loan service. Customers can receive up to Shs1 million as a loan without having to visit a bank. 
Besides, it eliminates the hassle of paperwork that comes with traditional bank transactions. The customer can receive the loan amount without any documents, and can withdraw the money whenever he wants. 
The best part about MoKash is that it is available to both individuals and companies.
With MoKash, MTN Uganda customers can save money and borrow it at a later date, depending on their needs. 
Customers earn interest for money saved in their accounts. Those who need cash urgently can avail of short-term loans using the MTN Mobile Money service. 
The mobile service is paperless. The process is quick and easy, and customers can also use MoKash to get credit. 
MoKash has helped the company build its brand image as a leader in financial inclusion in Uganda.
MoKash is a mobile money service in Uganda that has made it easier for users to access loans and save. It launched in August 2016 and now has more than a million subscribers. 
MoKash is going viral with its paperless features and convenience. A mobile loan is a great way to build your savings. The MTN MoKash loan is paperless, and its popularity is increasing. 
The loan amount will be subject to the credit limit of the customer, which is determined by the customer's MTN data, service usage, and MoKash activity. 
The length of time a customer has been on the MTN network will also affect the credit limit.
It has high interest rates
If you are an MTN customer in Uganda, you might be wondering why the interest rates on an MTN MoKash loan are so high. The answer is that the service is a real banking service that is regulated by the Bank of Uganda. 
The company launched MoKash in Uganda to reach the country's unbanked population. But how does it work? Are there risks involved? Is MoKash really a good option for you?
The interest rate on a MoKash loan is 9% per month. The maximum amount you can borrow is Shs1 million. 
MoKash loans are unsecured and you must use your mobile money regularly for six months. You can also use the money to make purchases and pay your bills. 
Once your loan is repaid, it will be deducted from your Mobile Money account or MoKash savings account automatically. If you have any leftover principal, you will have to pay a 9% rollover fee.
However, this is a very convenient option for Ugandans. The interest rate on an MTN MoKash loan is higher than on a traditional bank loan. 
However, this loan is the only option that provides instant credit. You can get up to 1,000,000/- within a matter of minutes through the app. The application process is very simple, but you should make sure that you have all of your necessary documents.
The reason for the high interest rate is simple: Ugandans have a huge demand for instant credit. MoKash is now available for a wide variety of purposes. 
In the past, the mobile money service was used for utility bill payments, and it has now spread to include paying utility bills and other expenses. 
By offering this service to Ugandans, MTN Uganda will continue to increase its earnings from mobile money. It is estimated that MoKash is worth Shs2.5 trillion in Uganda each month, and the mobile money service is a good place to start.
Did we miss anything, if yes, hit our comments for feedback/corrections?