MoMo Advance is a service offered by MTN Mobile Money Uganda and NCBA Bank Uganda to MTN customers. This service is not a loan, but rather a cash overdraft, which enables customers to perform transactions above the balance in their MoMo wallet. 
KAMPALA | NOW THEN DIGITAL  — MTN Uganda has introduced a new service called MoMo Advance, a mobile overdraft service, following the success of Safaricom MPESA Fuliza. 
This service is offered by MTN Mobile Money Uganda and NCBA Bank Uganda to MTN customers. The service is not a loan, but rather a cash overdraft. This service enables customers to perform transactions above the balance in their MoMo wallet.

Another great aspect of MTN Momo Advance is that it functions similarly to an ATM. You'll only be charged 2.75% of the advance amount each time you use it.

Read also: We recommend that you read this review before downloading the 

MTN MoMo app

.
MoMo Advance is a collaboration between MTN Mobile Money Uganda and NCBA Bank Uganda, which runs the Fuliza overdraft service in partnership with Safaricom. 
The service allows MTN mobile money subscribers to access advance MoMo funds. The new service follows a successful pilot program that reached 135,000 subscribers.
MoMoAdvance
MoMo Advance is a new service from MTN Uganda, the country's largest telco. The service allows customers to pre-authorise transactions and pay later. 
The service launched in January 2022, and has since helped more than 1 million subscribers access loans. Besides, it helps consumers build savings. 
Here are some of the advantages of using the service.
MoMoAdvance is an overdraft facility offered by MTN and NCBA Bank Uganda. The service is not a loan, but a cash overdraft for eligible MTN mobile money customers. 
With it, users can complete everyday transactions. The good thing about this service is that you don't have to re-apply to use it. 
It is always available, so you can use it whenever you need it. Just make sure you don't leave your other loans unpaid.
Another great feature of MTN Momo Advance is that it works in a similar way to an ATM. Activation of the service is free, and you'll only pay 2.75% of the advance amount each time you use it. 
After that, you'll receive an SMS confirming your limit and receiving a compensation SMS. 
MoMoAdvance is available for both consumers and business customers. The service offers flexible repayment options, too.
MoMoAdvance is available for all MTN customers with 6 months of Mobile Money usage. It's also open to MTN MoMo Agents, SMEs, corporate clients, and merchants. 
It allows customers to make purchases without a worry of being unable to pay later. 
Customers with MoMo can use MoMoAdvance for bills and to pay for unexpected expenses. However, this service requires an approved credit limit and a credit history.
Activating MoMo Advance is free
The new MTN Uganda Momo Advance service allows mobile money users to access overdraft facilities. 
This facility extends the amount of money in your MoMo wallet for everyday transactions. In order to activate this feature, simply dial *165*5*3# and follow the prompts. 
To use Momo Advance, you must increase your mobile money wallet activities. Besides, it is recommended that you do not leave any unpaid loans on your account.
Customers can use this service to transact beyond their MoMo wallet balance, but still pay off the outstanding amount later. 
The new service borrows heavily from the successful Fuliza service operated by Safaricom, which allows subscribers to complete transactions even when they do not have enough money in their M-Pesa mobile wallets. 
The service has a 45-day maturity. Customers can avail of it without delay. For more information, visit the official website of MTN Uganda.
Activating MoMo Advance is free. Then, you need to satisfy the credit scoring requirements for the new service. 
If you meet the requirements, you will receive a limit message from MTN, along with a compensation SMS. You can also use the MoMoAdvance for bill payments and other mobile money transactions. 
In addition to personal usage, MoMoAdvance is also available to merchants, SMEs, and corporate users.
MTN MoMo cards are now available in Uganda, and customers can use the virtual cards to shop online or at global outlets. 
This service has boosted the number of people connected to mobile money in Uganda. 
The MoMo card is linked to an account on MTN Uganda. Users can access the service using a mobile phone by dialling *165#. The service is available for both MTN MoMo and MTN Money.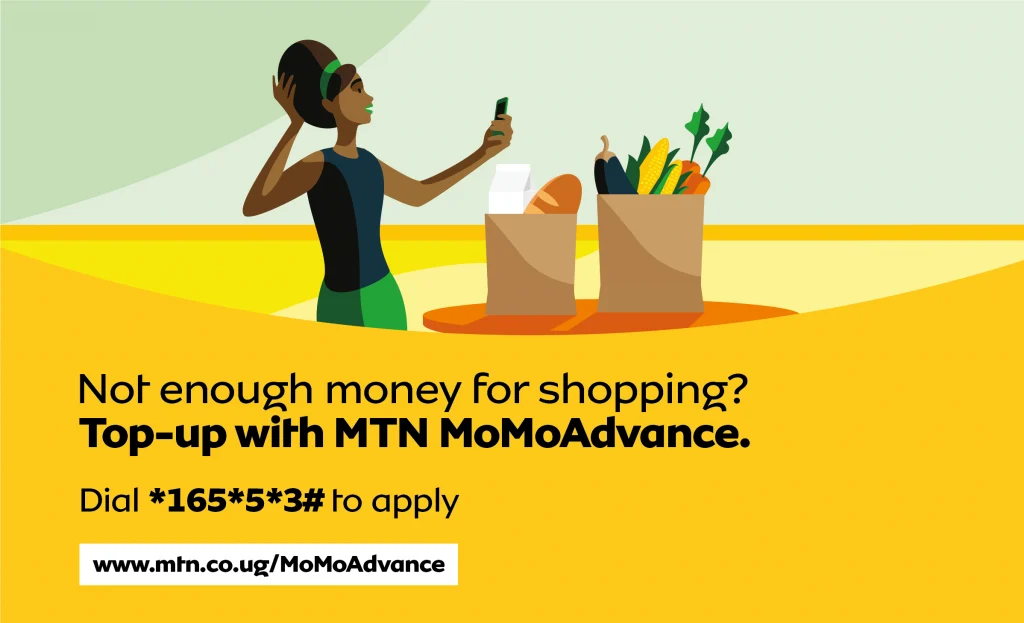 Terms and conditions
The Terms and Conditions of MTN Uganda Momo Advance apply to all participants of this promotion. The promotion is governed by Ugandan law. 
All disputes arising from the promotion will be subject to the exclusive jurisdiction of the Ugandan courts. Any person who participates in the promotion automatically becomes an eligible participant in the draw. 
Participants cannot win the promotion if they are MTN employees, MTN agents, or their relatives. MTN reserves the right to reject any entry, and prize cannot be transferred or extended.
MTN Uganda MoMo Advance is a mobile overdraft facility that MTN Mobile Money customers can access to complete their everyday transactions. 
In order to qualify for this facility, an MTN MoMo user must be a current MoMo customer and have at least six months of service. 
Once the customer passes the credit check, he or she will be approved for the advance. Once approved, the user will receive a limit message and a compensation SMS.
To avail of this promotion, participants should first opt-in. Once the opt-in period is over, the MTN MoMo Advance will continue to be active until terminated. 
MTN reserves the right to cancel or modify the promotion without prior notice. They also reserve the right to disqualify participants who manipulate the promotion. 
In such cases, participants are advised to consult with a credit counselor before opting in.
In addition, MTN has partnered with Flutterwave, which has previously worked with the mobile money giant, to provide an open API for developers to use in their products. 
This new initiative will allow third parties to innovate and create innovative solutions based on the Mobile Money platform. 
By collaborating with Flutterwave, MTN is increasing the adoption of mobile payments in Africa and paving the way for businesses and individuals to benefit from it.
How to fund
If you have an MTN mobile money account, you can now fund your Momo Advance with mobile money. 
This service will extend your existing MoMo balance, allowing you to complete everyday transactions without the need to apply again. 
All you need to do is activate the service by dialing *165*5*3# and following the prompts to register. Then, start increasing the number of transactions you make with your MTN mobile money wallet and avoid leaving any other loans unsettled.
The process of applying for an MTN Uganda MoMo advance is very simple and free. If you have at least six months of MoMo service, you'll be able to apply for the service.
The first step is to make sure that you meet the minimum age requirement. 
MoMoAdvance works by allowing you to send and receive money from friends and family. You can also use it to pay bills or other expenses through MoMoPay. You can only use the money up to the limit of your advance.
MTN's partnership with Flutterwave is a win-win situation for both companies. The technology company is a fintech company that offers a secure mobile wallet and enables electronic transfers and payments. 
By 2022, the African e-commerce market is expected to reach $29 billion. In addition, MTN is granting third-party developers and programmers access to its MoMo API platform. 
This opens the door to a wider range of digital financial services for MTN customers.
Once approved, customers should be regular MTN Mobile Money users. They must also meet the credit scoring requirements. Once approved, a limit message will appear in their account with a compensation SMS. 
MTN Uganda and NCBA are expected to establish partnerships in Rwanda and Tanzania to offer MoMoAdvance credit. If you're looking to get started on MoMoAdvance, you've come to the right place.
Editor's Note: We would appreciate it if you could reach out to press@nowthendigital.com if you find any outdated or inaccurate content.