At the launch of the "Museveni Awooma" music album in Kampala's Kololo Independence Grounds, President Museveni commended singer Munamasaka Emma Nsereko for promoting NRM and development through music.
KAMPALA, UGANDA | NOW THEN DIGITAL — President Yoweri Kaguta Museveni, also the National Chairman of the National Resistance Movement (NRM), has affirmed his commitment to supporting musicians by providing funds and equipment to nurture their talents.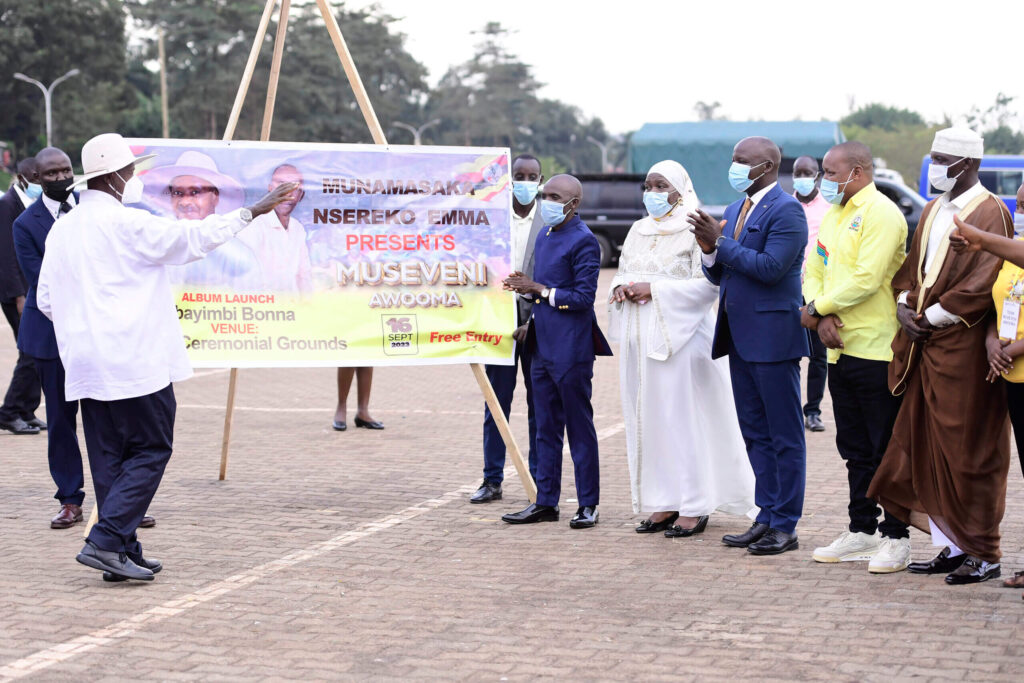 Accompanied by the First Lady and Minister of Education and Sports, Maama Janet Museveni, the President made this announcement while officiating at the colorful launch of the "Museveni Awooma" music album at Kololo Independence Grounds in Kampala.
The event, organized by singer Munamasaka Emma Nsereko, celebrated the album's release.
"I want to congratulate Munamasaka for utilizing his musical talent to promote NRM and development. I first saw Munamasaka in the Mukono area, singing indigenous songs that I liked very much. He was blending indigenous tunes with new messages, reminiscent of our mobilization strategies in the bush; using the Bakisimba and Nankasa tunes," he remarked.

"I want to congratulate Munamasaka, and I couldn't miss this event. I had a visitor, the President of Sudan, but I had to come and support Munamasaka. I want to thank him and the other musicians for their excellent performances, and we will support them by providing funds and equipment," President Museveni promised.
The President also revealed plans to convene a meeting with musicians to establish a shared facility that would benefit all of them.
"We have started to support some but what I don't know is why they cannot work together because a studio can be owned by all of you, not necessarily by one person. Like the Muzukulu here, she was saying that she wants to record her very good songs. That is not a problem, we should have a studio where you go and pay a little fee and they record a song for you." he elaborated.
President Museveni emphasized the necessity for artists to ensure the realization of copyright laws, enabling them to protect and benefit from their musical creations. "It will help you safeguard your music and benefit from it because when you compose a song, it should be registered so that nobody can steal it," he stressed.
Expressing his contentment with the singing talent exhibited by Uganda's youth, including Munamasaka and others, President Museveni offered encouragement: "I'm very happy with the talent of singing by our youth including Munamasaka and others; go ahead we shall support you," he reiterated.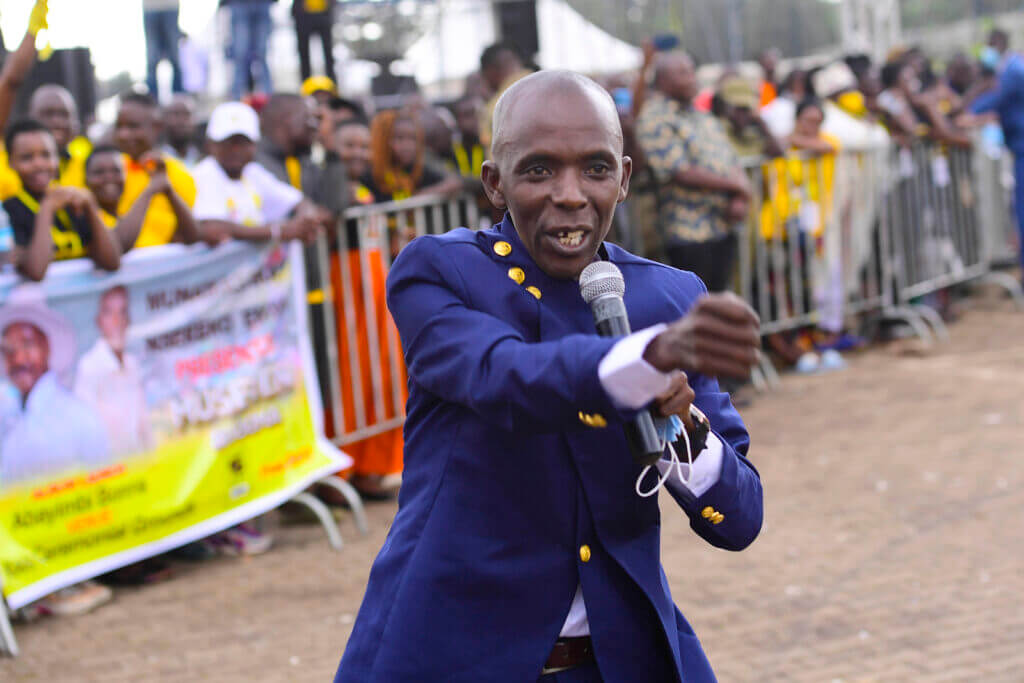 However, he advised musicians not to rely solely on singing for wealth creation. He underscored the importance of diversifying into other sectors of the economy, including agriculture, livestock, fisheries, industries, and ICT, to ensure sustainable livelihoods.
"Munamasaka has set a very good example. He was a teacher, that is already part of the service, but he added singing to the service, so we know his address now in the wealth creation effort. The question now is where are you, where is your address?" he inquired.
On another note, Mr. Nsereko expressed gratitude to the President and the First Lady for accepting his invitation to launch his music album. He commended the President for his transformative leadership in Uganda and for supporting talents like his.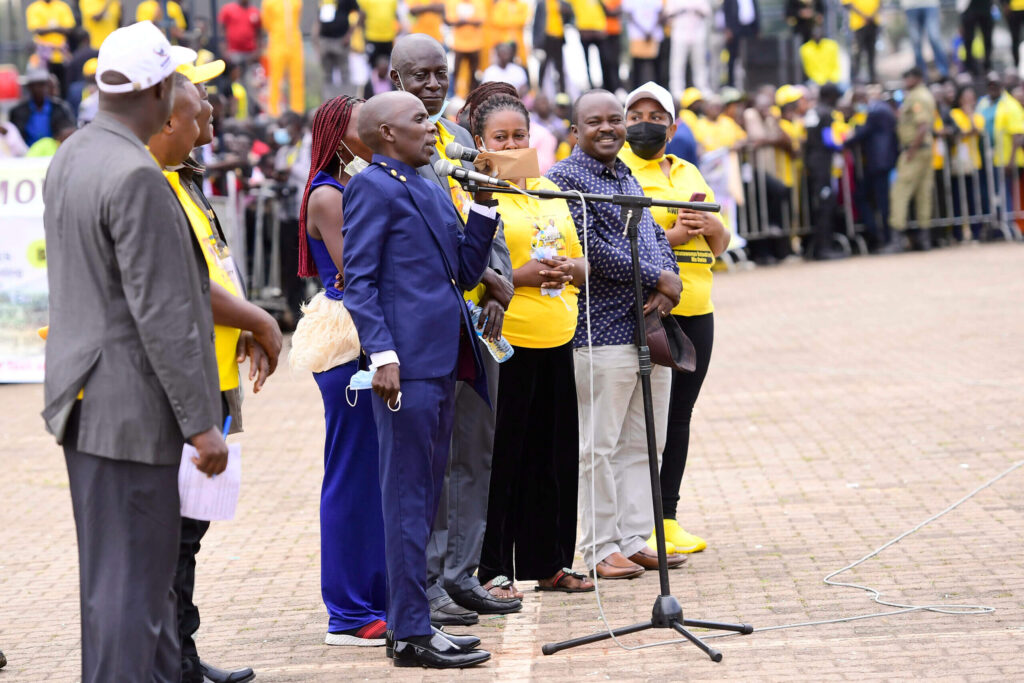 He explained that his music aimed to project a positive image of the NRM government and counter negative songs that mislead Ugandans.
"Mzee, we thank you for your visionary leadership that has transformed Uganda, socially and economically since you came to power in 1986. As the Bazukulu, we are so happy and proud of you," the musician expressed.

"Mzee, I have been a singer for some good years and I have managed to achieve this milestone because of you. In 2010, I was introduced to you by Maj. Matovu in Mukono. You gave me financial support and that is how I have been enjoying your great leadership."
He also conveyed gratitude for the President's donation of a music recording studio, which he has utilized to counter opposition musicians attempting to disparage the government's achievements through their music.
During the music launch, various artists performed, captivating the thousands of revelers in attendance.
The event also saw the presence of the Minister for Kampala Capital City and Metropolitan Affairs, Hajjat Minsa Kabanda, KCCA Executive Director, Ms. Dorothy Kisaka, Uganda National Women's Council Chairperson, Hajjat Faridah Kibowa, Moses Karangwa, NRM Chairperson Kayunga, and other distinguished guests.
Editor's Note: If you find any of our content to be inaccurate or outdated, please contact us at press@nowthendigital.com