DStv Uganda has recently posted new prices effective September 1, 2022. If you're in the market for a new subscription, now is the time to upgrade. 
KAMPALA | NOW THEN DIGITAL — Multichoice Uganda has announced a change in its prices for DStv and GOtv, effective September 1, 2022. This is a result of the current tough business climate. 
MultiChoice Uganda, the parent company of DStv and GOtv, has justified the increase. The increase in subscription fees is a result of a rigorous process, balancing content value, cost of delivery, and technology. 

For now, MultiChoice has said that the price increase is necessary to keep 

DStv and GOtv subscriptions affordable

 for the Ugandan population.

According to the July Consumer Price Index released on July 29 by the 

Uganda Bureau of Statistics (UBOS), headline inflation in July increased to 7.9%

 from 6.8% in June 2022.

Read also: MultiChoice Uganda announced the 

appointment of Lois Aber Kwikiriza

 as the new Head of Marketing, replacing Colin Asiimwe.
As global growth slows down, entertainment budgets are stretched. The price hikes are an unwelcome surprise. 
In the comments section below, you can let us know your thoughts. 
Are you disappointed by the increase in the cost of bouquets and packages? Also, do you plan to switch to other digital television services?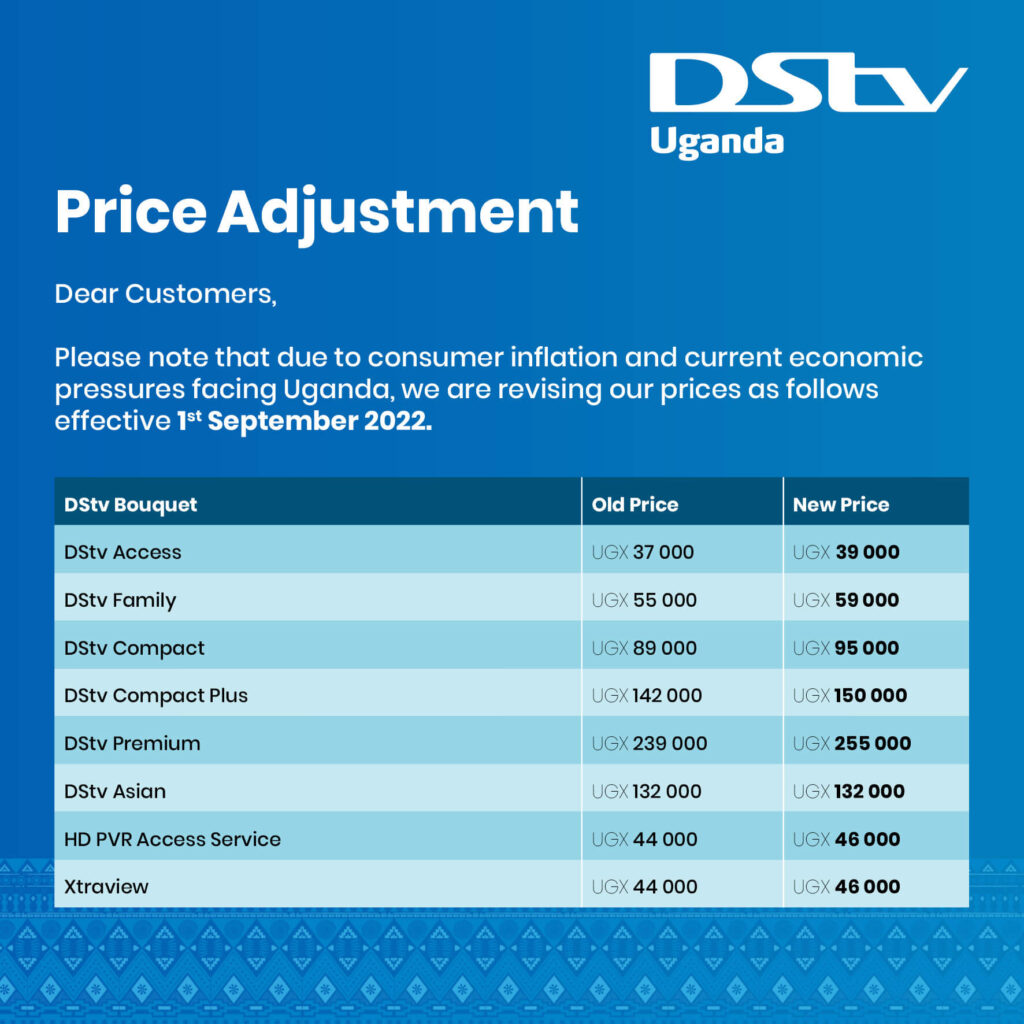 DStv premium offers the best entertainment in the world, featuring 170 channels, including 40 HD channels, live sports coverage, and the latest news. You can also watch movies and documentaries. 
For children, there are special programs on DStv Family for parents, such as DStv Kids and Africa Magic Movies. 
Premium subscriptions are the most expensive and come with a wealth of extras, including a number of movies, documentaries, and kids' programming.
Now that MultiChoice Uganda has sanctioned the increase, and other local companies may follow suit. In their statement, they said: 
"Please note that due to consumer inflation and current economic pressures facing Uganda, we are revising our prices effective September 1, 2022," MultiChoice said in a notice.
Be in the know. We continue to offer value to our customers with a variety of packages to choose from, and to keep you entertained.

Here's our new package 𝗽𝗿𝗶𝗰𝗲 𝗹𝗶𝘀𝘁. Get connected, #ItsYourMoment. 📺 pic.twitter.com/mdP5Lj1ohp

— DStv Uganda (@DStvUganda) August 1, 2022
New DStv Uganda prices
DStv Uganda has recently released new prices for TV packages and you can expect the price adjustment by September 1 2022. Premium subscribers will have to pay UGX 255,000 per month more (6.6%), while those on Compact Plus will spend UGX 150,000 more. 
Meanwhile, the cost of DStv Compact package has also increased to UGX 95,000 per month, but only by a few percent. 
DStv Family and Access packages have only gone up by 7% and 5.4%, and you can enjoy over 140 channels in both HD and standard formats.
DStv Uganda's parent company, MultiChoice Africa, serves in Sub-Saharan Africa in key markets like South Africa and Nigeria, Kenya, Ghana, Angola, Namibia, Zimbabwe, Zambia, Uganda, Mauritius, Mozambique, Malawi, Tanzania, Lesotho, Ethiopia, the Republic of the Congo, the Democratic Republic of Congo, Gabon, Eswatini and Botswana. 
In Uganda, the Consumer Price Index for June 2022 showed annual headline inflation of 6.8%, but rose to 7.9% in July. 
However, the company has not revealed whether the price increase will be extended to other parts of Africa.
DStv boasts more than nine million subscribers across Sub-Saharan Africa. Its subscription prices depend on the region in which you live. 
For instance, if you live in South Africa, you'll be able to access more than 200 channels with the right package. If you live in Zimbabwe or Angola, you can access a variety of sports and children's programming.
New GOtv Uganda prices
Subscribers to GOtv Lite will have to pay UGX 14,000 per month for a subscription in September. Those paying for GOtv Max will see an increase from UGX 42,000 to UGX 45,000. 
New DSTV Kenya Prices 2022
MultiChoice Kenya has also increased its DStv subscription prices, with all bouquets increasing in price by between five and nine per cent. 
For example, a Premium bouquet subscriber will now have to pay Ksh 8,900 per month instead of the previous Ksh 8,400. Similarly, a Compact tariff plan will cost Ksh 3,000, instead of Ksh 2,800. 
Then Compact Plus will cost Ksh 5,500, instead of Ksh 5,100. For the cheapest packages, DStv Access has an additional price tag of Ksh 1,150 (9.5 increase) instead of Ksh 1050 per month. 
Then DStv Family customers in Kenya will have to pay Ksh 1,600 (6.6% increase) instead of Ksh 1,500 per month. The updated fee schedule is expected to take effect from September 1 2022.
UPDATE: Effective April 01, 2023
Multichoice Uganda has announced new adjustments to the monthly subscription fees for its popular DStv and GOtv packages, effective from 1st April 2023. This follows similar increments that have been announced in different markets where the parent company, Multichoice Group, operates.
The adjustments, which range from 6% to 12%, have been attributed to the rising inflation and cost of doing business. Despite the changes, Multichoice Uganda reassures customers that they will continue to offer the same great entertainment that they have always provided.
As part of the new pricing structure, the DSTV Lumba package, which currently costs Ush 15,000 per month, will now cost Ush 16,000. The DStv compact package, which includes the popular English Premier League, will increase to Ush 104,000 per month from the current rate of Ush 95,000.
The DSTV Lumba package offers a wide range of channels, including local channels, Telemundo, BBC, Aljazeera, Supersport Football and Blitz, NatGeo, MTV Base, Trace Mziki, and Soundcity, among others.
Similarly, the GOtv starter pack, which currently costs Ush 14,000, will be adjusted to Ush 15,000, while the GOtv Supa package will increase from Ush 58,000 to Ush 65,000.
For the full pricing details, please refer to the attached tables. Multichoice Uganda hopes that these adjustments will enable them to maintain their commitment to providing their customers with high-quality entertainment.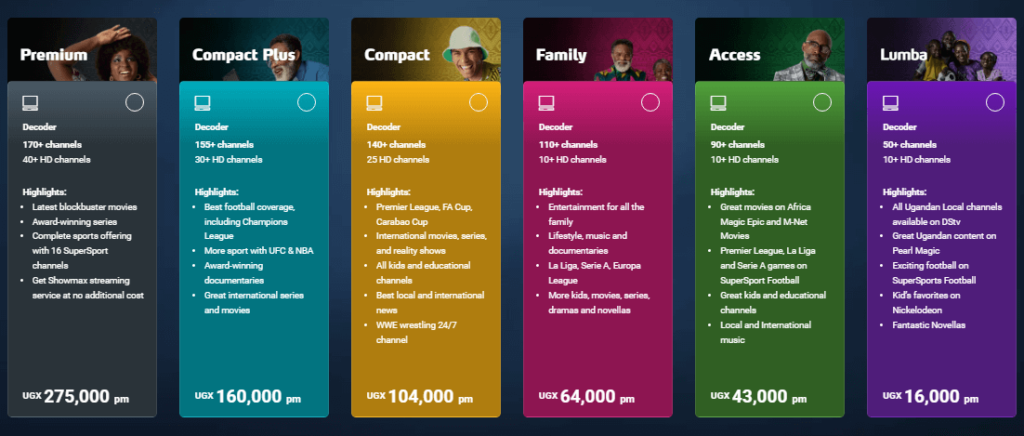 You're reading nowthendigital.com — which breaks the news about Uganda, Kenya, Nigeria, South Africa and the rest of the world, day after day. Be sure to check out our homepage for all the latest news, and follow NOW THEN DIGITAL on YouTube, Google News, Medium, Twitter, Reddit, Pinterest and Flipboard to stay in the loop.