In a thrilling grand finale held in Lagos on Sunday, Victory Gbakara has emerged as the winner of Nigerian Idol Season 8.
ABUJA, NIGERIA | NOW THEN DIGITAL — Nigerian Idol Season 8 reached its thrilling climax in Lagos on Sunday, with Victory Gbakara emerging as the triumphant winner.
Hosted by Ikponmwosa Osakioduwa, popularly known as IK, the grand finale showcased Gbakara's exceptional talent, securing him the coveted N100 million grand prize.
Let's delve into the details of this remarkable victory and the wealth of prizes that accompany it.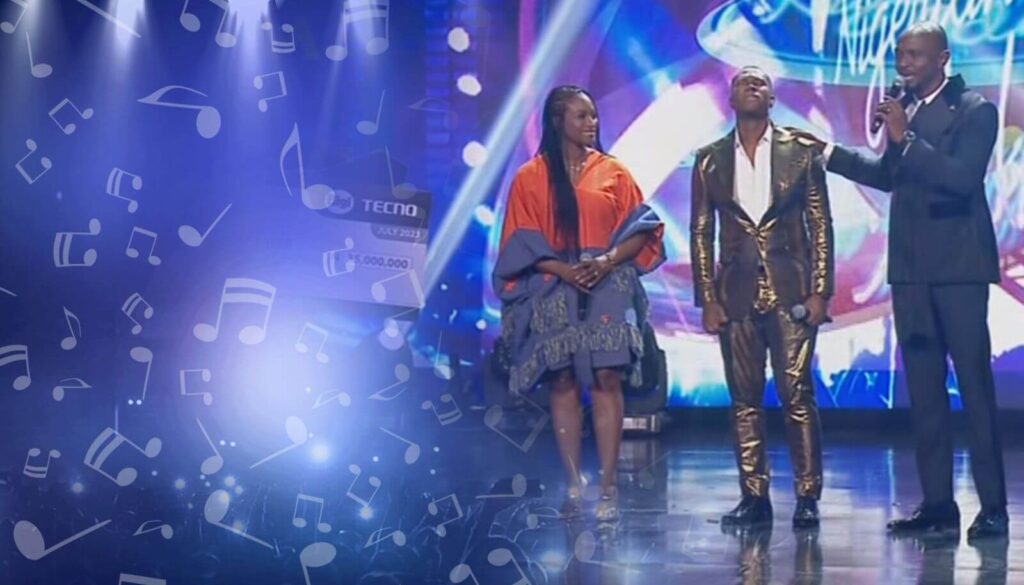 The Success of Victory Gbakara
Victory Gbakara, a 25-year-old Nigerian lawyer, singer, and songwriter hailing from Delta State, has captivated audiences throughout Nigerian Idol Season 8.
His extraordinary performances, showcasing his vocal prowess and musical artistry, have propelled him to victory as the season's champion, deserving the prestigious grand prize of N100 million.
A Bounty of Prizes
Gbakara's remarkable achievement comes with a generous array of prizes. In addition to the grand prize of N100 million, he will receive a brand new SUV, a one-year supply of Bigi drinks, a week-long getaway holiday to Cape Town, and a one-year supply of WAW detergent.
These rewards serve as a testament to Gbakara's exceptional talent and the mark he has made on the Nigerian Idol stage.
Viewer Votes Shaping the Outcome
Throughout the season, Nigerian Idol fans played a pivotal role in determining the contestants' fate. Viewers exercised their power through voting, making critical decisions to retain or evict participants.
The outcome of the competition hinged on the support and preferences of the audience, emphasizing the vital role viewers played in Gbakara's journey to victory.
A Journey of Talent and Determination
Nigerian Idol Season 8 showcased an impressive lineup of contestants who captivated audiences with their immense talent. After enduring rigorous auditions and theatre performances, the top 10 contestants emerged as the best performers, as determined by esteemed judges Obi Asika, D'banj, and Simi.
Among the remarkable finalists were Savvy Henry, Constance, Goodness, Abraham, Quest, Precious Mac, Victory, Reigny, Ose Daniel, and Chisom. However, it was the standout performances of Precious Mac and the eventual triumph of Victory Gbakara that shone brightest, leading to an unforgettable finale.
The Journey of a Rising Star
Gbakara's journey on Nigerian Idol Season 8 reflects his passion for music, which blossomed at the tender age of nine when he joined a choir group. Since then, he has nurtured his singing skills and honed his craft.
Throughout the competition, Gbakara's remarkable talent and captivating stage presence captivated audiences across Nigeria, propelling him to the well-deserved victory.
Conclusion
Victory Gbakara's resounding triumph in Nigerian Idol Season 8 marks a significant milestone in his promising career. With the N100 million grand prize and an array of exciting rewards, his extraordinary talent has received the recognition it deserves.
As he embarks on his musical journey, Gbakara's victory will undoubtedly serve as a springboard for his future success in Nigeria's vibrant music industry. Audiences can eagerly anticipate more remarkable performances and captivating music from this rising star.
Editor's Note: Please contact press@nowthendigital.com if you find any of the content to be inaccurate or outdated. 
You're reading nowthendigital.com — which breaks the news about Uganda, Kenya, Nigeria, South Africa and the rest of the world, day after day. Be sure to check out our homepage for all the latest news, and follow NOW THEN DIGITAL on YouTube, Google, Web Stories, Google News, Medium, LinkedIn, Twitter, Reddit, Pinterest, Linktr, Buy Me a Coffee, Truth Social, and Flipboard to stay in the loop.