Uganda's leading beer manufacturer, Nile Breweries Limited (NBL), has introduced a social entrepreneurship initiative called the "100+ Accelerator" Cohort 2023.
KAMPALA, UGANDA | NOW THEN DIGITAL — Nile Breweries Limited (NBL), the leading beer manufacturer in Uganda, has unveiled its "100+ Accelerator" program, a social entrepreneurship initiative aimed at promoting business start-ups committed to sustainability.
The program, aligned with AB InBev, the parent company of NBL, will provide successful applicants with funding opportunities of up to US$100,000 (UGX 370 million) to develop innovative solutions in various challenge areas.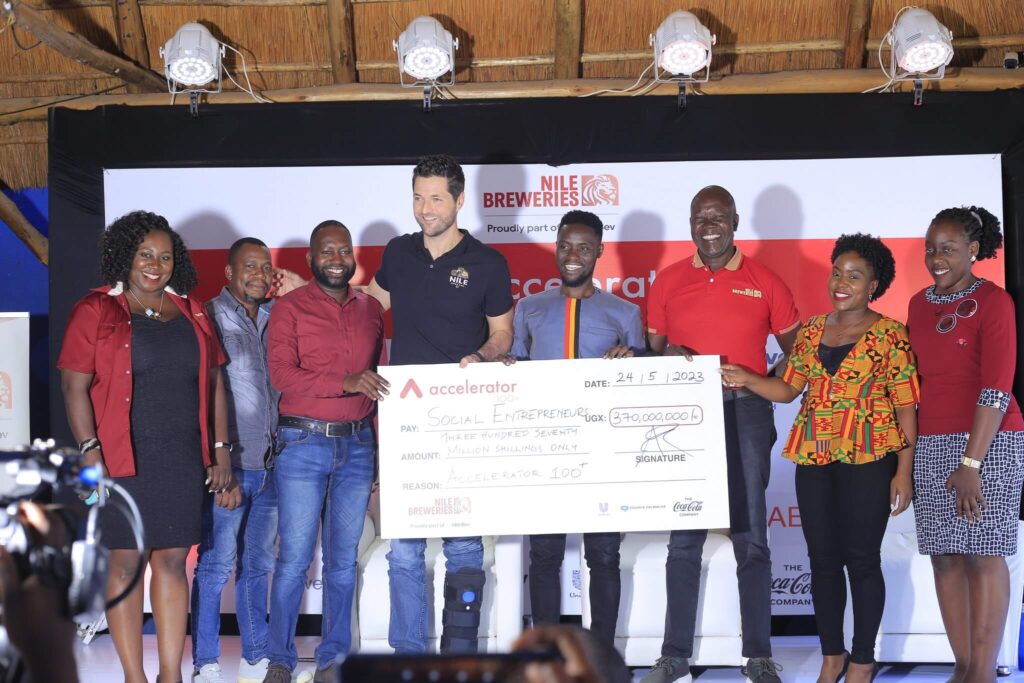 Promoting Sustainability Start-ups
The 100+ Accelerator, first launched in 2018, focuses on supporting social entrepreneurs with cutting-edge solutions that address global challenges and supply chain issues.
By offering mentoring, funding, and opportunities for pilot projects and scalability within the AB InBev business network, the program aims to drive transformational social impact and achieve shared prosperity for communities, the planet, and the company itself.
Eight Challenge Areas
Applicants to the program are expected to present business ideas that provide innovative solutions in eight challenge areas: climate action, inclusive growth, smart agriculture, biodiversity, the circular economy, water stewardship, health, and wellness.
The aim is to find sustainable approaches that can contribute to the achievement of AB InBev's sustainability goals for 2025.
Fifth Cohort and Impact in Uganda
Now in its fifth cohort, the 100+ Accelerator has seen over 80 companies implementing their solutions in 20 countries worldwide. Last year, 35 Ugandan entrepreneurs had the opportunity to apply for the program.
Previous winners in Uganda, such as Oko Finance, BanQu, and Agri Friend, have been successfully implementing sustainable agriculture solutions.
Supporting Start-ups and Collaboration
The program not only offers funding opportunities but also provides valuable feedback and resources to help start-ups grow their social ventures.
By partnering with companies such as Coca-Cola Beverages, Colgate-Palmolive, and Unilever, who face similar sustainability challenges, AB InBev aims to share knowledge and resources to accelerate the development of cost-effective solutions.
The company is committed to contributing to the UN Sustainable Development Goals through its collaborations.
Application Process and Criteria
Start-ups with market-ready products or ideas that have the potential to thrive in the market are encouraged to apply. It is important for applicants to demonstrate transactional information, such as intellectual property, clients, revenue, pilots, or contracts, to showcase the viability of their solutions.
Flora Aduk, Communication Manager at NBL, emphasized the program's openness to collaboration and the sharing of knowledge and resources to accelerate the development of cost-effective solutions.
Conclusion
NBL's "100+ Accelerator" program represents a significant commitment to supporting sustainable start-ups in Uganda. By providing funding, mentoring, and networking opportunities, the program aims to foster innovation and drive positive social and environmental impact.
Through collaborations with like-minded companies, AB InBev seeks to create a collective force for change and contribute to a more sustainable future.
We have launched the 5th Cohort of the @100_accelerator, an entrepreneurship programme aligned towards the promotion of business start-ups committed to sustainability.#100Accelerator #NBLSustainability pic.twitter.com/fMbuikshtH

— Nile Breweries Ltd (@NBLUganda) May 24, 2023
The programme, an initiative of our parent company @abinbev, will offer a funding opportunity of up to US $100,000 (UGX 370M) to successful applicants whose business ideas provide innovative solutions to seven challenge areas.#100Accelerator #NBLSustainability pic.twitter.com/RrSZiKJKW5

— Nile Breweries Ltd (@NBLUganda) May 24, 2023
Editor's Note: If you find any of our content to be inaccurate or outdated, please contact us at press@nowthendigital.com