Eng. Dr.
Silver Mugisha has been re-appointed as the Managing Director of the National Water and Sewerage Corporation (NWSC) for a five-year term.
KAMPALA, UGANDA | NOW THEN DIGITAL — The National Water and Sewerage Corporation (NWSC) Board has made the decision to reappoint Eng. Dr Silver Mugisha as the Managing Director for a five-year term.
This announcement was made by NWSC Board Chairperson, Eng. Dr Badru M. Kiggundu, during a press conference where he praised Dr Mugisha's performance and presented him with a new contract until 2028.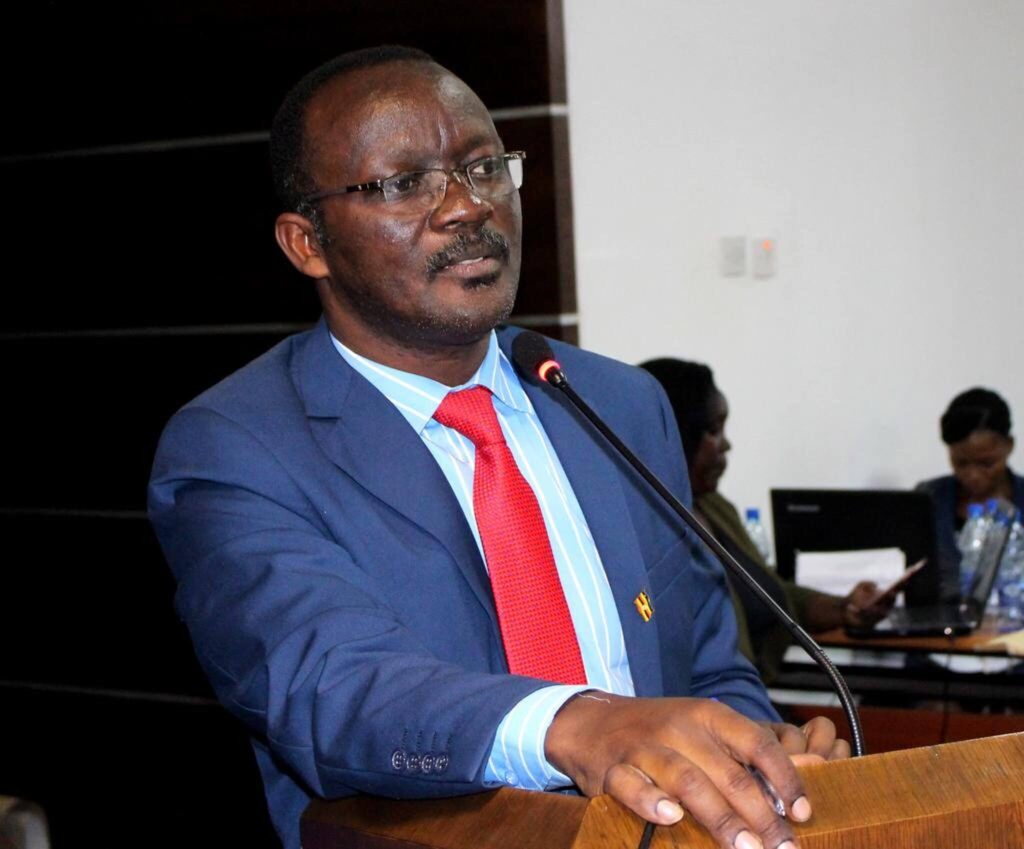 During a press conference, Dr. Kiggundu commended Dr. Mugisha's leadership and the Board's efforts, highlighting the significant performance strides achieved by NWSC over the past decade. Under Dr. Mugisha's guidance, the number of towns under NWSC jurisdiction has increased from 23 to 268, with a projected increase to 350 by 2028.
Significant Performance Strides
Speaking highly of Dr Mugisha's leadership, Dr Kiggundu acknowledged the notable progress achieved by NWSC during the past decade. "Under the leadership of the Board and Managing Director, the NWSC has made significant performance strides during the last ten years," he stated.
It is in recognition of this remarkable performance that the Board of Directors has reappointed Eng. Dr. Silver Mugisha as the Managing Director for the period 2023-2028, in compliance with Section 16 of the NWSC Act.
Impressive Achievements under Dr Mugisha's Leadership
During Dr Mugisha's tenure, the number of towns under NWSC's jurisdiction has risen from 23 to 268, with further expansion expected to reach 350 by 2028.
The piped water coverage has also shown substantial growth, serving an increased population from 4.5 million to 18 million people in NWSC areas, with projections to reach 28 million by 2028.
Eng. Kiggundu highlighted the rise in customer connections from 296,000 to 874,000, with an expected increase to 1,250,000 by 2028. The length of the pipe network has expanded from 5,073 km to 22,000 km, and plans are in place to further extend it to 32,000 km by 2028.
Notably, annual turnover has risen from UGX 155 billion to UGX 519 billion, with a projected increase to UGX 700 billion by 2028.
Impressive Growth in Assets under Management
Under Dr Mugisha's stewardship, NWSC's assets under management have experienced remarkable growth, expanding from UGX 650 billion to UGX 4,100 billion. The Board envisions further growth to reach UGX 6,600 billion by 2028.
Confidence in the Management Team
Dr Kiggundu expressed the Board's satisfaction with Dr Mugisha and his team's performance. In a congratulatory message on behalf of the Board, he stated, "The Board would like to congratulate Eng. Dr. Silver Mugisha upon his reappointment and wish him well during the new tenure of his service."
He also took the opportunity to request continued support from customers.
JUST IN:
Dr. Eng Silver Mugisha reappointed NWSC MD

The NWSC Board has re-appointed Eng. Dr. Silver Mugisha @NWSCMD as Managing Director on a five-year- term. pic.twitter.com/JNMJj7eMK5

— NWSC 😷🇺🇬 (@nwscug) May 16, 2023
A Commitment to Service Acceleration
In response to his reappointment, Eng. Dr Silver Mugisha expressed gratitude and assured customers and all Ugandans of his commitment to accelerating service delivery across Uganda. "I assure our esteemed customers and all Ugandans at large that the next five years will be anchored on service acceleration in all corners of Uganda, under our jurisdiction," he affirmed.
Eng. Dr Silver Mugisha's reappointment as Managing Director of NWSC reflects the recognition of his exceptional leadership and the achievements made under his guidance. With his continued commitment, the corporation is poised to further enhance water and sewerage services for the benefit of all Ugandans.
Editor's Note: If you find any of our content to be inaccurate or outdated, please contact us at press@nowthendigital.com
You're reading nowthendigital.com — which breaks the news about Uganda, Kenya, Nigeria, South Africa and the rest of the world, day after day. Be sure to check out our homepage for all the latest news, and follow NOW THEN DIGITAL on YouTube, Google, Web Stories, Google News, Medium, LinkedIn, Twitter, Reddit, Pinterest, Linktr, Buy Me a Coffee, and Flipboard to stay in the loop.