Brigadier General Felix Kulayigye stated several insecurity concerns in the Wakiso municipality in a program broadcast on NTV on the night of 14/04/2022, to which the police responded by calling the claims false.
KAMPALA | NOW THEN DIGITAL — Police have responded to claims of insecurity made by Brigadier General Felix Kulayigye in a video clip that was circulated on social media regarding the night of 14/04/2022 NTV program, in which he cited several insecurity concerns in Wakiso municipality.
The police have denied Brigadier General Felix Kulayigye's allegations regarding the insecurity in Wakiso municipality, following an online video clip posted by NTV circulating on social media. 

The video clip originates from a show that aired on the night of 14/04/2022 that featured Felix Kulaigye.

A mother, her house help, and their daughters are alleged to have been attacked and raped at their home in Wakiso, according to Gen. Felix Kulaigye.

Read also: 

Yemi Osinbajo

 has announced he will run for 

President of Nigeria

, ending months of speculation and tepid denials.
In Wakiso, Gen. Felix Kulayigye alluded to a particular case in which a mother, house help, and daughter were allegedly attacked and raped.
However, Luke Owoyesigire, the Kampala Metropolitan Police Deputy Spokesperson stated in a statement dated April 15 that the security team in the Wakiso district has never registered a robbery incident in which all victims were raped.
"We would like to categorically say that the team at Wakiso has never registered any incident where all victims of the robbery were raped. If there is any incident of rape that happened during a robbery and the victims did not report, they should reach out to our Gender-Based Violence desk at Wakiso or CID headquarters."
Owoyesigire also noted another incident cited by the Brigadier indicating that a suspect was brought to Police and the Officer-in-charge refused to book him and released him.
But said these allegations are also baseless. He said although it is true that the local community working with a UPDF officer brought in a suspect on 12/04/2022 who had been injured by an angry mob, a decision was taken to have the suspect first be treated before being detained in police custody as he had been severely beaten.
"The suspect was later identified as Seviri Rogers 27 years, a resident of Ssala Village, Wakiso town council. It is alleged that on the 27th of March, Seviri broke into the house of Ndooli Christopher and stole money amounting to 700,000 Ugandan shillings."
"When he was brought to the station, the DPC decided that the suspect be given first aid before being put in Police custody as he had been severely beaten," Owoyesigire revealed.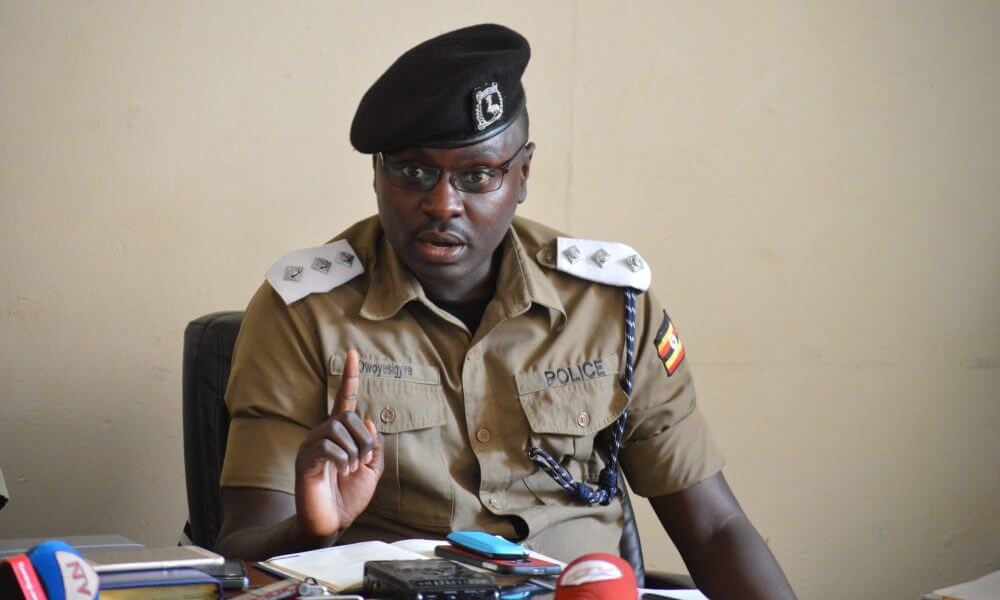 He added that the local community, however, protested the decision but the DPC later ordered the officers to take the suspect to Bulamu Health Care (Wakiso health centre IV) where he received treatment and was later brought back into police custody.
Our attention has been drawn to a video clip from NTV circulating on social media emanating from a program that aired on the night of 14/04/2022 hosting Brig Gen. Felix Kulaigye where he noted several concerns of insecurity in Wakiso municipality.https://t.co/oJDPOib7Rn

— Uganda Police Force (@PoliceUg) April 15, 2022
"It should be noted that all our territorial Police stations are advised against detaining suspects who are in worrying medical conditions. The file will be forwarded to the Resident State Attorney on Tuesday for Perusal and advice while the suspect remains in our custody," he said.
"We do encourage criticism of our officers but this should be backed up with facts. We appeal to residents of Wakiso Municipality to always liaise with the local Police in order to report any officer that neglects duty and if that fails the Regional Police is always available to intervene at Kampala Metropolitan North," Owoyesigire added.