Police in Uganda have confirmed the arrest of Police Constable Ivan Wabwire, who is facing
murder charges for shooting and killing Uttam Bhandari, an Indian money lender, on May 12.
KAMPALA, UGANDA | NOW THEN DIGITAL — Police have confirmed the arrest of Police Constable Ivan Wabwire, who shot and killed Indian money lender Uttam Bhandari at Rajja Chambers near Parliament in Kampala on May 12, 2023.
Wabwire is currently being held at Busia police station in eastern Uganda, but has since been transferred to Central Police Station Kampala to face the charges against him.
The incident was captured on camera, showing other people fleeing the scene.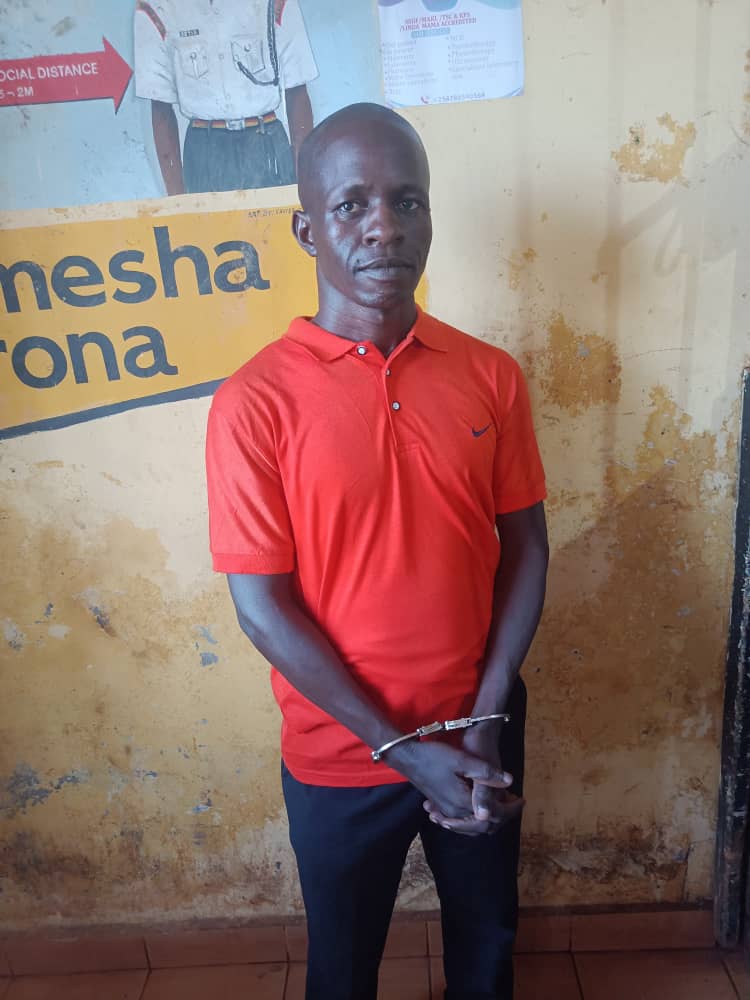 PC Wabwire has a history of mental instability, according to police, and was banned from possessing a firearm for six years in 2018 after being admitted to Butabika Hospital twice due to a mental breakdown.
Arrest and Investigation
A joint security team traced Wabwire to Busia District, where he was arrested on May 14, 2023, at around 7 am, by a joint team commanded by the DPC Busia SP Didas Byaruhanga.
The Flying Squad Unit joined the territorial police of Busia in the operation. Kampala Metropolitan Police spokesperson, SSP Patrick Onyango confirmed the arrest.
. @Patrickonyango1 "The Police Officer who shot and killed an Indian at Rajja Chambers has been arrested.
On 12 May 23 at around 1230 hours at Raja Chambers along Parliamentary Avenue , one UTTAM BHANDARI an Indian by Nationality and the director of TFS financial services was… pic.twitter.com/VUUTsq5T2e

— Uganda Police Force (@PoliceUg) May 14, 2023
Motive and Background
According to police, Wabwire, who was attached to Kampala Central Police Station, had been servicing a loan of Shs2,130,000 he acquired from TFS Financial Services in 2020. Bhandari was the director of TFS Financial Services. Wabwire allegedly went berserk after failing to agree on a repayment plan for the loan he had acquired.
Wabwire had a history of mental instability, which police had noted earlier. He had been admitted to Butabika Hospital twice over a mental breakdown, which led to a six-year ban on possessing a firearm in 2018. His relatives say he started showing signs of mental instability in 2016 before he joined the Force.
When police learned about his mental health issues, he was admitted to hospital for treatment, discharged, and deployed to areas where he did not need to carry a gun.
He allegedly stole the gun he used in the shooting from his roommate, fellow policeman Steven Mulambo, who is also currently in police custody.
Conclusion
The arrest of PC Wabwire brings to light the issue of mental health and gun control in the police force.
The incident serves as a reminder that proper background checks and mental health assessments should be conducted on police officers before they are issued firearms.
The incident has shocked the country, with many calling for better mental health support for police officers. The police department has promised to investigate the matter thoroughly and ensure that justice is served for the victim's family.
Editor's Note: We would appreciate it if you could let us know if any of our content is inaccurate or outdated at press@nowthendigital.com.
You're reading nowthendigital.com — which breaks the news about Uganda, Kenya, Nigeria, South Africa and the rest of the world, day after day. Be sure to check out our homepage for all the latest news, and follow NOW THEN DIGITAL on YouTube, Google, Web Stories, Google News, Medium, LinkedIn, Twitter, Reddit, Pinterest, Linktr, Buy Me a Coffee, and Flipboard to stay in the loop.