Agnes Nandutu, the State Minister for Karamoja Affairs, has handed herself over to the police after reportedly going missing last week.
KAMPALA, UGANDA | NOW THEN DIGITAL — Agnes Nandutu, the State Minister for Karamoja Affairs, has reportedly handed herself in to the Police, according to security sources. Nandutu had been summoned to report to the Criminal Investigations Directorate at Kibuli last week, but she failed to appear.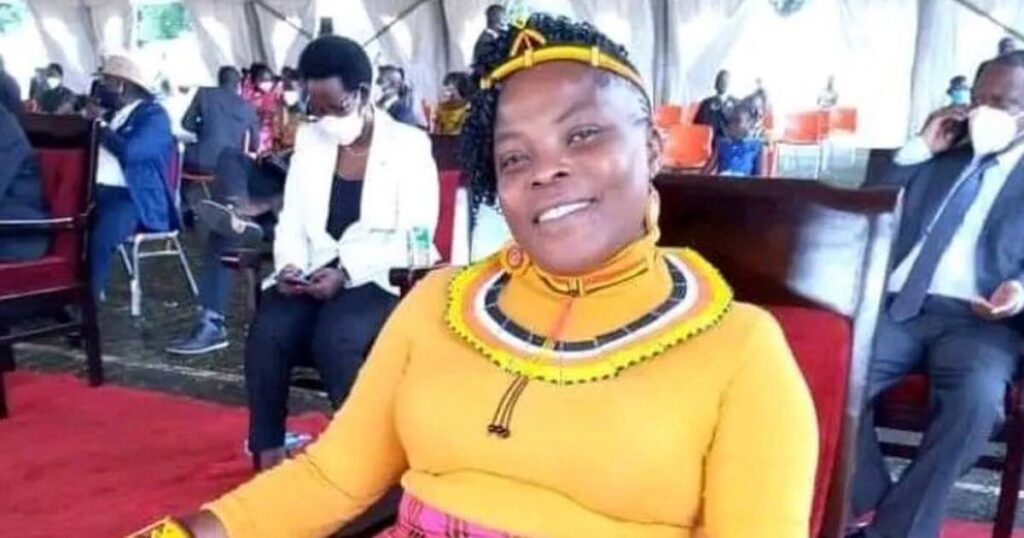 She was implicated in the iron sheets scandal that has seen two fellow ministers arrested and charged in relation to the saga.
Failure to Appear at CID
Last week, Nandutu was summoned to report to the CID at Kibuli, but failed to show up. She reportedly went missing on Friday, with her whereabouts not known.
During a weekly press conference at Naguru on Monday, Police spokesperson Fred Enanga confirmed that Nandutu did not appear at the CID as expected.
Enanga appealed to all witnesses to cooperate with the Police by giving information to clear lines of inquiry.
"She did not show up as expected. We appeal to all our witnesses to co-operate with the Police by giving information to clear lines of inquiry."
Ministers Implicated in Iron Sheets Scandal
Nandutu's senior colleague, Mary Goretti Kitutu, who is also the Karamoja Affairs Minister, was accused of diverting iron sheets meant for Karamoja, and appeared in court twice last week.
On Friday, Kitutu was granted bail after presenting a fresh set of sureties.
Meanwhile, Amos Lugoloobi, the Finance State Minister for Planning, was arrested and detained over the iron sheets scandal, spending three nights in Police detention.
On Monday, Lugoloobi pled not guilty to two counts of dealing with suspect property, and was remanded to Luzira Prison until Thursday when he will learn the verdict of his bail application.
The scandal involves the mismanagement of iron sheets meant for vulnerable people in Karamoja. Nandutu's senior colleague, Karamoja affairs minister Mary Goretti Kitutu, and the finance state minister for planning, Amos Lugoloobi, have both been charged in relation to the saga.
Police Confirm the Arrest of Ugandan Minister Agnes Nandutu
Uganda's police have confirmed the arrest of Hon. Agnes Nandutu, the State Minister for Fisheries. She is currently being held at Kira Division Police Station.
According to CP Polly Namaye, Deputy Spokesperson of the Uganda Police Force, the file on Nandutu's case has been submitted to the office of the Director of Public Prosecutions for further guidance and possible sanctioning.
"We thank Hon. Agnes Nandutu for handing herself over to the Police, upon learning of the allegations under investigation," Namaye said.
She added that this action by Nandutu has saved police time and resources, and is worth emulating in similar circumstances.
MPs prepare report on Karamoja iron sheets scandal
The parliamentary committee on Presidential Affairs is wrapping up its investigation into the mismanagement of iron sheets and other relief items meant for the impoverished and restive Karamoja Sub-region.
According to committee deputy chair Naome Kabasharira, the final report is being drafted after weeks of hearings into the alleged misuse of a Shs39 billion supplementary budget allocated to the relief and economic empowerment program.
"We are in the final stages of finalising the report and hope it is placed on the Order Paper this week for debate,"
The report is expected to shed light on the scandal that has implicated Vice President Jessica Alupo, Speaker of Parliament Anita Among, Prime Minister Robinah Nabbanja, 22 other ministers, 30-plus MPs, and several officials.
The committee interviewed ministers, officials, and local leaders during the inquiry which was conducted alongside parallel police investigations to establish any suspected criminal liability.
The report is expected to be debated this week after it is placed on the Order Paper.
Editor's Note: We would appreciate it if you could reach out to press@nowthendigital.com if you find any outdated or inaccurate content.
You're reading nowthendigital.com — which breaks the news about Uganda, Kenya, Nigeria, South Africa and the rest of the world, day after day. Be sure to check out our homepage for all the latest news, and follow NOW THEN DIGITAL on YouTube, Google, Web Stories, Google News, Medium, LinkedIn, Twitter, Reddit, Pinterest, Linktr, Buy Me a Coffee, and Flipboard to stay in the loop.