Ghanaian Afropop star Livingstone Etse Satekla, popularly known by his stage name Stonebwoy, has revealed plans to embark on a North American tour with his latest album, "5th Dimension.
ACCRA, GHANA | NOW THEN DIGITAL — Livingstone Etse Satekla, popularly known by his stage name Stonebwoy, a prominent Ghanaian Afropop star, is all set to take his latest album '5th Dimension' on a tour across North America, starting from 15 July.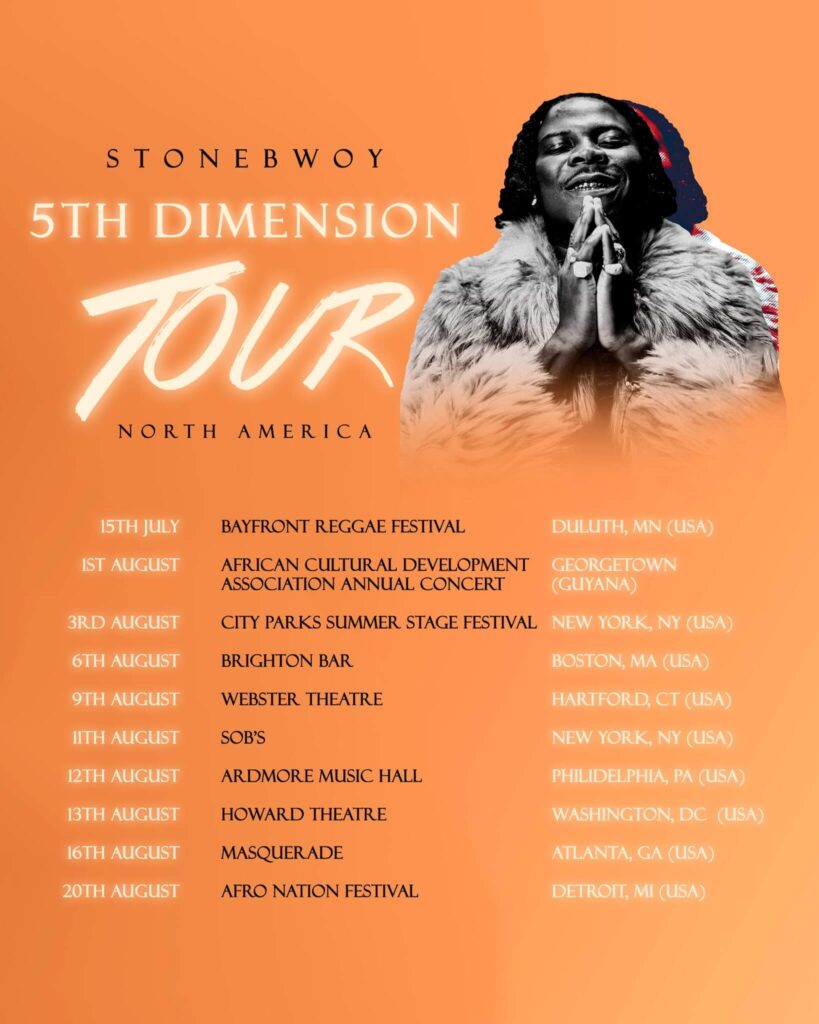 The '5th Dimension' Album
The highly anticipated album '5th Dimension' by Stonebwoy features an impressive lineup of chart-topping artists. Collaborators on this 17-track album include Stormzy, Jaz Karis, Shaggy, Davido, Angelique Kidjo, Mereba, Dexta Daps, Oxlade, and Tiwa Savage.
With this new release, Stonebwoy showcases not only his exceptional vocal abilities but also his remarkable songwriting skills, making it a must-listen for fans of the artist and lovers of good music.
North America Tour Dates
The eight-city tour is scheduled to kick off in Duluth, Minnesota, at the Bayfront Reggae and World Music Festival on 15 July.
The tour will cover several major cities in the United States, including New York, Boston, Hartford, Philadelphia, Washington, DC, and Atlanta. The final stop of the tour will be at the Afro Nation festival in Detroit, Michigan, on 20 August.
During the tour, Stonebwoy will be performing a diverse selection of songs from his extensive catalogue, with a significant focus on tracks from the new album '5th Dimension.'
Stonebwoy's Enthusiasm for the Tour
Expressing his excitement about the upcoming tour, Stonebwoy said, "I'm thrilled to bring my music and the energy of the 5th Dimension album to my fans in North America. This tour is a chance to connect with them on a deeper level and share the incredible experience we've created with this new album."
Doing a very intimate North American run this summer of the new album & a few festivals. I'll be bringing a few friends also! Tickets go live 10AM EST on Friday 🇺🇸 #FifthDimension pic.twitter.com/FBVQzjpwu7

— 1GAD (@stonebwoy) June 28, 2023
Recognition and Dominance in Ghana's Pop Scene
Having risen to prominence in Ghana's pop music scene since 2012, Stonebwoy has solidified his position as a dominant force. His unique fusion of Afropop, dancehall, and reggae has earned him a dedicated following and critical acclaim.
Notably, at the recent 2023 edition of the Vodafone Ghana Music Awards, the artist secured the Best Reggae and Dancehall Artist award for a remarkable seventh time, further highlighting his enduring talent and influence.
Previous European Tour Success
Before embarking on the North America tour, Stonebwoy completed a successful tour across Europe from March to May. The 12-city European tour included captivating performances in major cities like London, Manchester, Hamburg, Cologne, Berlin, and Amsterdam, among others.
The upcoming '5th Dimension' North America tour is expected to captivate audiences and further cement Stonebwoy's status as an international musical sensation.
Stonebwoy 5th Dimension North America Tour Dates
– July 15: Duluth, MN (USA)
– August 1: Georgetown, Guyana
– August 3: New York, NY (USA)
– August 6: Boston, MA (USA)
– August 9: Hartford, CT (USA)
– August 11: New York, NY (USA)
– August 12: Philadelphia, PA (USA)
– August 13: Washington, DC (USA)
– August 16: Atlanta, GA (USA)
– August 20: Detroit, MI (USA)
Editor's Note: Please contact press@nowthendigital.com if you find any of the content to be inaccurate or outdated. 
You're reading nowthendigital.com — which breaks the news about Uganda, Kenya, Nigeria, South Africa and the rest of the world, day after day. Be sure to check out our homepage for all the latest news, and follow NOW THEN DIGITAL on YouTube, Google, Web Stories, Google News, Medium, LinkedIn, Twitter, Reddit, Pinterest, Linktr, Buy Me a Coffee, and Flipboard to stay in the loop.