Universal Music Group Kenya (UMG Kenya) recently announced the signing of talented up-and-coming artist, Savinnah, marking a significant milestone for both the artist and the label.
KAMPALA, UGANDA | NOW THEN DIGITAL — Universal Music Group (UMG) Kenya has made an exciting announcement, unveiling the signing of a rising star, Savinnah.
The 21-year-old musician, according to Universal Music Kenya's general manager John Andrews, possesses remarkable potential to become one of East Africa's most prominent artists.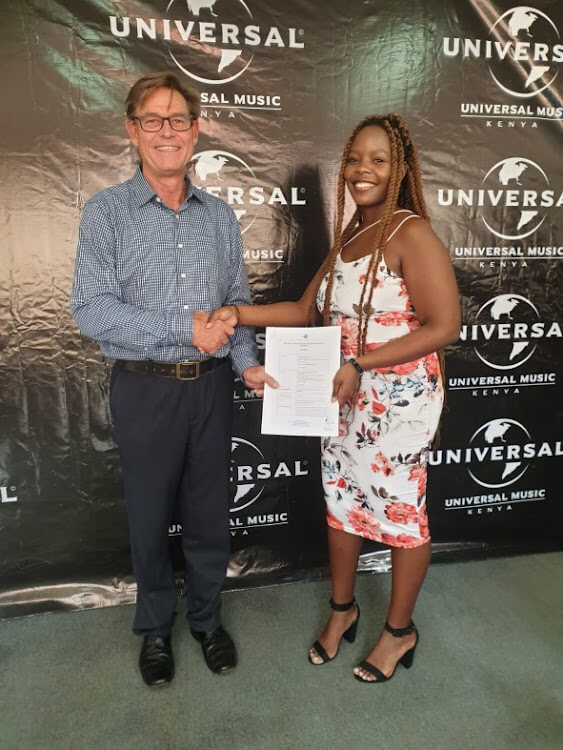 The recent signing of Savinnah by Universal Music Group Kenya marks a significant milestone in her promising career. With the support of Universal Music Kenya and its esteemed team, Savinnah's musical journey is set to soar to new heights. As the artist embraces this opportunity, her distinct voice and exceptional talent are sure to captivate audiences and leave an indelible mark on the East African music industry.
A Talent Worth Noticing
Reflecting on his initial encounter with Savinnah's music, Andrews shared his immediate impulse to reach out and comprehend her aspirations and ambitions within the industry. Andrews describes the artist as not only impressive in her musical abilities but also as a remarkable individual.
He expresses his conviction in the decision to welcome Savinnah into the UMG family, asserting that her remarkable qualities make her an unparalleled addition.
With an unwavering commitment to delivering excellence and offering the finest in music, Universal Music Kenya affirms that Savinnah effortlessly fulfills all the necessary criteria.
"I recall calling her immediately when I first heard her just to understand what her aspirations and goals were in the music industry. the young lady that answered was a joy not only as an artist but as a person," Andrews said.

"If you're lucky enough to know Savinnah, then you will surely appreciate her, she is amazing. The decision to sign her to the UMG family was a no-brainer and this girl is one for the ages. In our quest to always be the best and give the best in regard to music, Savinnah ticks all the boxes."
The Journey of Savinnah: From Joy Ciru to a Budding Star
From an early age, Savinnah, born Joy Ciru, demonstrated an innate passion for music. Singing along to popular tunes on the radio kindled her interest, eventually leading her to master the guitar and piano.
Nonetheless, Savinnah's journey towards recognition has not been without its obstacles, as she confronted overwhelming self-doubt along the way.
Each lyric, every melody she crafted, became subjects of personal scepticism regarding their quality and her place within the industry. The artist expressed concern over the potential influence her music might have on young listeners.
However, amidst these doubts that frequently afflict even the most established artists, Savinnah finds solace in knowing that a group of individuals believed in her and recognized the unique essence of her music and craft. It is through this support and belief that she was signed to Universal Music Group, assuring her that she is on the right path.
"As much as these doubts will probably always linger in my head, as it happens with almost all artists even the most established ones, I do sleep well at night knowing that a group of individuals believed in me and saw something special about my music and craft, and through that Savinnah was signed to Universal Music Group."
A Welcome Addition to Universal Music Kenya
Savinnah now joins the esteemed roster of Universal Music Kenya alongside fellow artists Ethic Entertainment, Muthaka, and Nikita Kering.
With her distinctive talent and unwavering dedication, Savinnah is poised to make a significant impact on the East African music scene, bringing forth her unique style and contributing to the rich musical tapestry of the region.
Editor's Note: Please contact press@nowthendigital.com if you find any of the content to be inaccurate or outdated. 
You're reading nowthendigital.com — which breaks the news about Uganda, Kenya, Nigeria, South Africa and the rest of the world, day after day. Be sure to check out our homepage for all the latest news, and follow NOW THEN DIGITAL on YouTube, Google, Web Stories, Google News, Medium, LinkedIn, Twitter, Reddit, Pinterest, Linktr, Buy Me a Coffee, Truth Social, and Flipboard to stay in the loop.