According to multiple news sources, South African rapper and songwriter Costa Tsobanoglou, better known as Costa Titch, collapsed and died while performing at the Ultra music festival in Johannesburg.
KAMPALA, UGANDA | NOW THEN DIGITAL — South African rapper and dancer Costa Tsobanoglou, popularly known as Costa Titch, died on stage while performing at the Ultra music festival in Johannesburg on March 12, 2023. 
The passing of Costa Titch has left the South African music industry and fans in mourning. Many have taken to social media to express their condolences and pay tribute to the late rapper. 

Fellow musicians have also expressed their shock and sadness at his sudden death. 

Costa Titch 

reportedly had

 a history of epilepsy, a condition that affects the brain and causes seizures. His death has raised concerns about photosensitive epilepsy and lighting in music performances.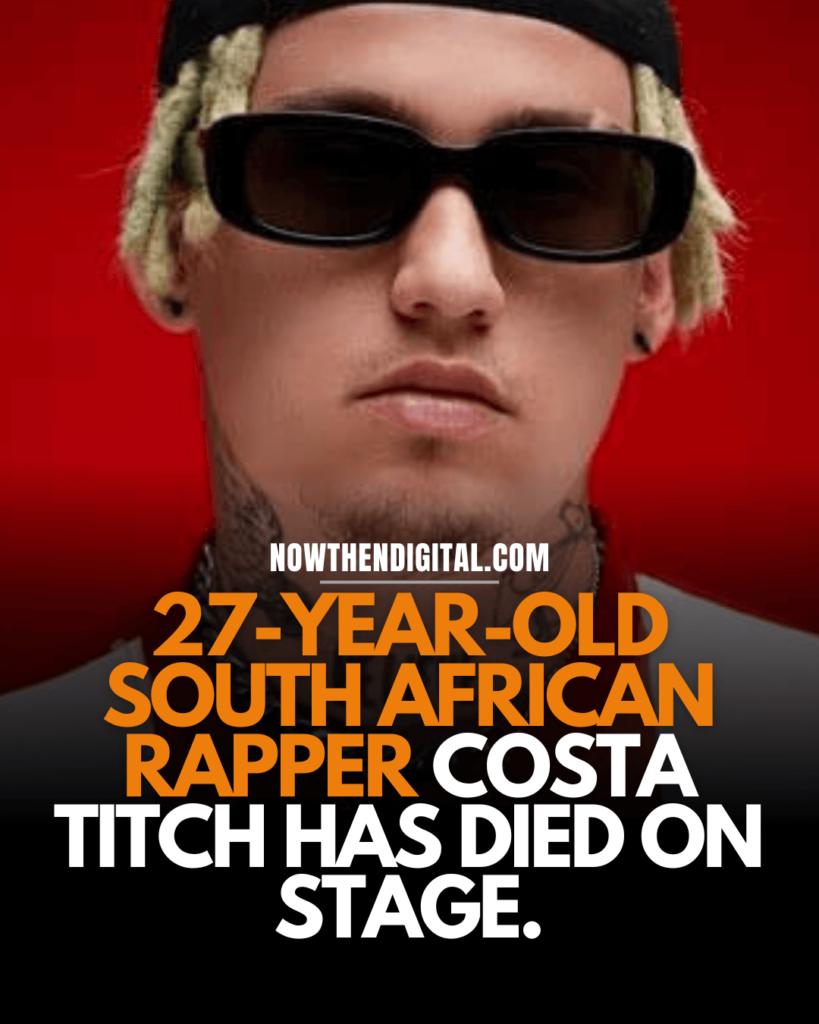 In videos that have gone viral on social media, the 27-year-old was seen performing energetically before collapsing on stage. He regained stamina and stood up to continue his performance but collapsed again and died.
Costa Titch was born in Nelspruit, Mpumalanga in 1995 and was known for several hits including Nkalakatha, Activate, and Big Flexa. His death comes exactly a month after another South African rapper Kiernan Forbes alias AKA was shot dead in Durban. 
Tributes have poured in on social media from industry colleagues and fans alike. Economic Freedom Fighters (EFF) leader Julius Malema tweeted the late rapper's name followed by broken heart emojis.
As of this writing, no official confirmation has been made regarding the cause or manner of his death. No statement has been made by the singer's family at the time of filing this report.
How Are Fans and Fellow Musicians Reacting to His Death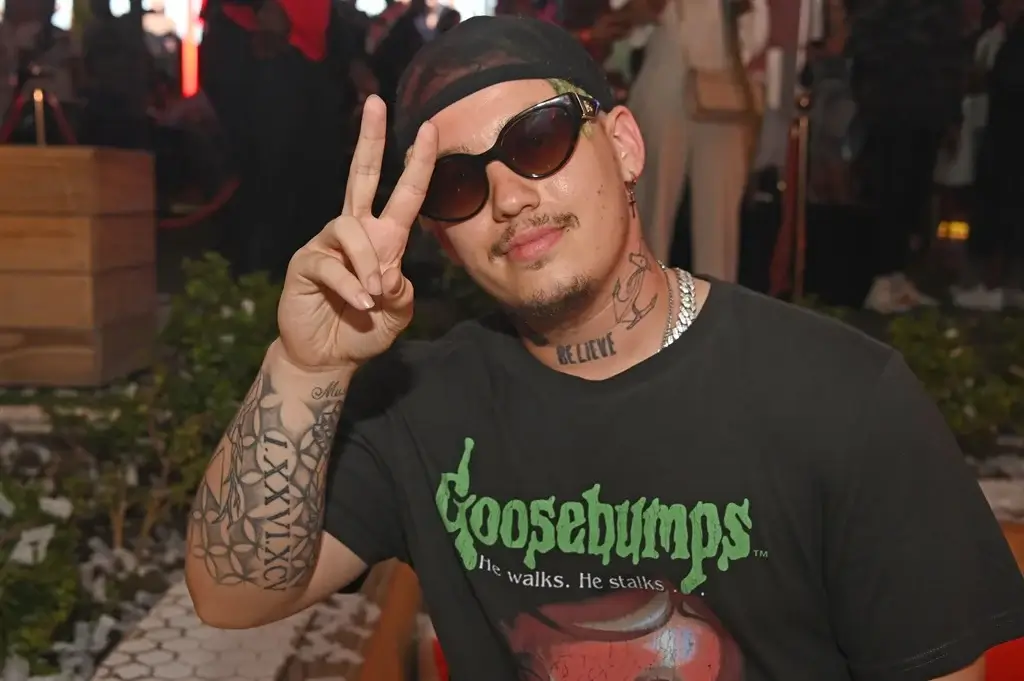 The passing of South African rapper Costa Titch has left fans and fellow musicians mourning his death. Fellow musician Junior Da Rocka and Economic Freedom Fighters (EFF) leader Julius Malema are among those who have referenced the rapper's passing. 
The family of Costa Titch also issued a statement confirming his death. Fans who attended his performance shared videos on social media showing the singer collapsing on stage before he was eventually pronounced dead.
Costa Titch's death comes as music fans are still mourning the loss of fellow rapper AKA, who was fatally shot outside a restaurant in Durban by unknown hitmen. 
The South African Police Service (SAPS) is still investigating AKA's case. Riky Rick, born Rikhado Makhado, died of an apparent suicide in February 2022.
The South African music industry has been thrown into mourning following the sudden deaths of these artists. Costa Titch was very close to AKA and Riky Rick before their deaths, even recording several songs with them like the Nkalakatha Remix.
#RipCostaTich Now Trending on Twitter
RIP: Costa Titch

Nelspruit-born artist and dancer, real name Costa Tsobanoglou, has passed away.

He was 27. #RIPCostaTitch pic.twitter.com/u6VP3p7x88

— Kgopolo (@PhilMphela) March 11, 2023
RIP Costa Titch pic.twitter.com/zQN4pvl6hD

— 𝐍𝐰𝐚𝐧𝐲𝐞 (@nwanyebinladen) March 11, 2023
He gave us this jam. Rip Costa Titch. 💔💔 pic.twitter.com/RrnqKuoKG1

— Andile. 🇦🇷 (@AndileLawson) March 11, 2023
I didn't know my first time meeting you will be my last time meeting you 😩 😩 😩

I'm very pained and broken, over the loss of a great soul.

You were down to earth and very HUMBLE. 🙏 😢

Rest in peace my good friend COSTA TITCH 😭 😭#Ripcostatich ✌️😫 pic.twitter.com/obkF8XP6u9

— DKB GHANA (@dkbghana) March 12, 2023
REST IN POWER @costatitchworld #costatitch #ripcostatich #boity #RIP #NOTA pic.twitter.com/DiKV8e3ySx

— _theeProblem🌍 (@Lethabo_ww) March 11, 2023
We are all on borrowed time! All of us. God has the final say #ripCostaTich💔💔

— Tbo Touch (@iamtbotouch) March 11, 2023
Costa Tich dies exactly a month after AKA died. They were close friends and colleagues.They have a joint album together called You're Welcome, released in 2021.AKA died on the 10th of February and COSTA TICH died on the 11th of March 2023 💔#RIPCostaTich #RIPAKA #KiernanForbes pic.twitter.com/0oELfapPje

— Overview Podcast With Joey (@JoeyBadubiJr) March 11, 2023
UPDATE: The Family Statement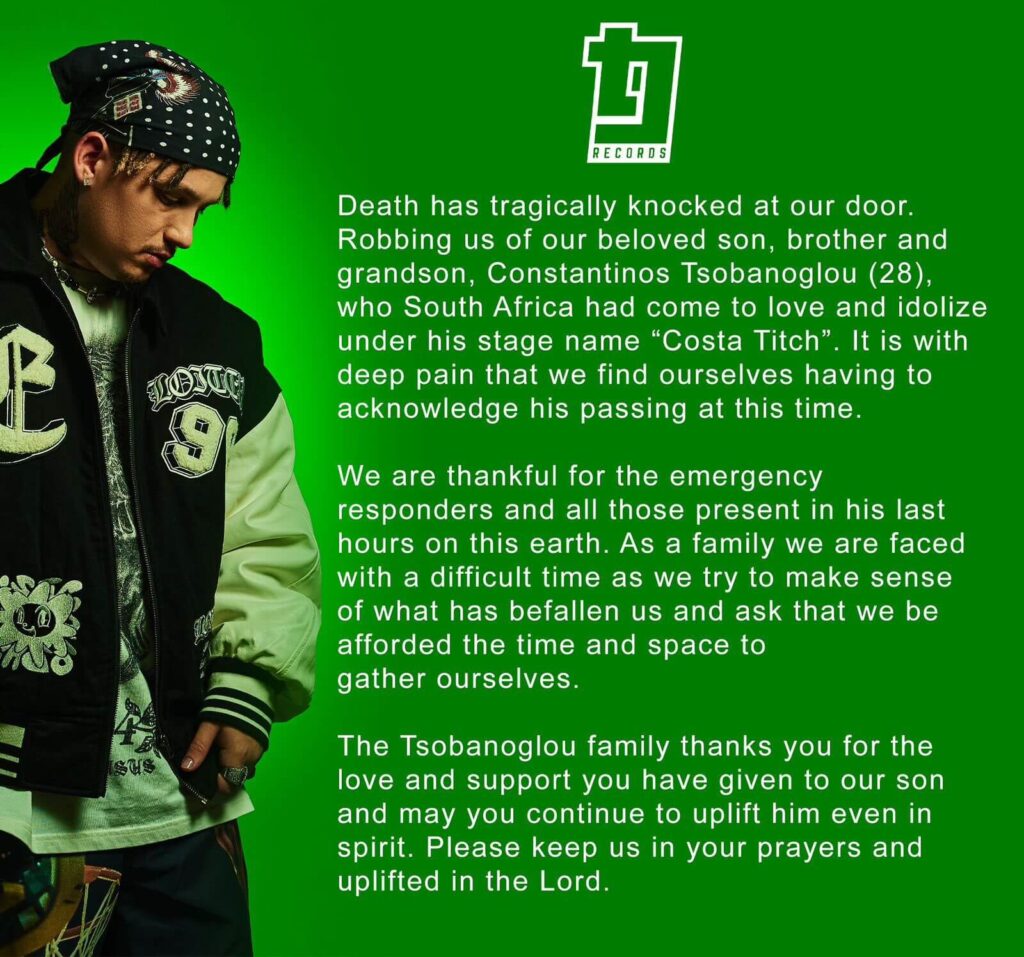 "Death has tragically knocked at our door. Robbing us of our beloved son, brother and grandson, Constantinos Tsobanoglou (28), who South Africa had come to love and idolise under his stge name Costa Titch."

"It is with deep pain that we find ourselves having to acknowledge his passing at this time."

"As a family we are faced with a difficult time as we try to make sense of what has befallen us and ask that we be afforded the time and the space to gather ourselves." "Please keep us in your prayers,"
Did Costa Titch Have Any Known Health Conditions
South African rapper Costa Titch, whose real name was Costa Tsobanoglou, reportedly had a history of epilepsy. The condition of epilepsy is a neurological disorder that causes seizures in the brain. 
It is not clear if he had any other known health conditions before his death. Costa Titch died on stage while performing at the Ultra Music Festival in Johannesburg on March 11, 2023. 
The cause of his collapse and subsequent death has not been officially confirmed by authorities. However, it is reported that he had a seizure possibly triggered by flashing lights. 
His death has raised concerns about photosensitive epilepsy, which is caused by flashing or flickering lights and certain patterns like stripes.
Editor's Note: If you find any of our content to be inaccurate or outdated, please contact us at press@nowthendigital.com
You're reading nowthendigital.com — which breaks the news about Uganda, Kenya, Nigeria, South Africa and the rest of the world, day after day. Be sure to check out our homepage for all the latest news, and follow NOW THEN DIGITAL on YouTube, Google, Web Stories, Google News, Medium, Twitter, Reddit, Pinterest, Linktr, Buy Me a Coffee, and Flipboard to stay in the loop.