Jenifer Bamuturaki has been appointed as the new official and substantive Chief Executive Officer (CEO) of Uganda Airlines by President Yoweri Museveni.
KAMPALA | NOW THEN DIGITAL — The President of Uganda, Yoweri Museveni, has appointed Jenifer Bamuturaki as the new executive director of Uganda Airlines, becoming the company's new Chief Executive Officer (CEO) with immediate effect.
Gen. Katumba Wamala, the Transport Minister, announced Jenifer Bamuturaki's appointment saying she has decades of marketing experience.

Back in March 2020, Bamuturaki was fired over several noteworthy allegations, including hiring a media and PR company, Abbavator Ltd, where she had direct interests to handle PR and communications for the airline and then over-invoicing the airline by over $232,000.

The Observer newspaper reported that Bamuturaki approved payments of over $404,000 when the actual cost amounted to $172,000.

Currently, the airline operates flights to ten regional destinations, including Johannesburg, Juba, Nairobi and Kinshasa, as well as one international route; Dubai. London and Guangzhou will be added to the network before the end of the year.

Read also: Safaricom Plc's chief consumer business officer 

Sylvia Wairimu

 has been appointed as 

MTN Uganda's new CEO

.
The Transport Minister, Gen Katumba Wamala, stated in a statement that Jenifer Bamuturaki is an experienced marketing professional with more than 20 years of experience.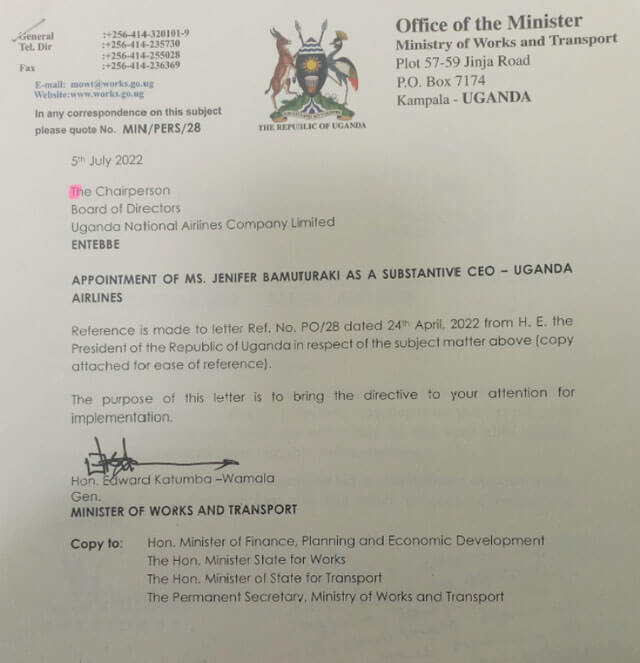 "Reference is made to a letter Ref. No. PO/28 dated April, 24, 2022 from H.E the President of the Republic of Uganda in respect of subject matter above ()copy attached for ease of reference). The purpose of this letter is to bring the directive to your attention for implication," Gen Katumba confirmed the appointment in a letter dated July 5, 2022.
Since Uganda Airlines officially started operating commercial flights in 2019, three acting CEOs have been responsible for managing the company, including Ephraim Bagenda, Cornwell Muleya, and Jenifer Bamuturaki.
Bamuturaki was fired in March 2020 at the end of her six-month probation over a number of allegations, including hiring a media and PR firm, Abbavator Ltd, where she had a direct interest, to manage the airline's PR and communications, and subsequently over-invoicing the airline by over $232,000.
According to a newspaper article by The Observer, Bamuturaki was also accused of authorizing payments of over $400,000. However, the actual cost was $172,000.
Furthermore, The Observer said Abbavator failed to pay several media houses and eventually engaged in negative publicity against Uganda Airlines, whose image it had been hired to protect.
A complaint was also filed against Jenifer Bamuturaki alleging she used her position to establish external air stations on Nairobi, Mombasa, Mogadishu, Dar es Salaam, and Kilimanjaro routes.
Bamuturaki somehow escaped the allegations, returning to the airline in May 2021 as acting CEO and replacing Cornwell Muleya, who is currently facing charges of disobedience.
When Muleya was the national carrier's CEO, he declined to answer questions from the IGG regarding investigations into the carrier's mismanagement.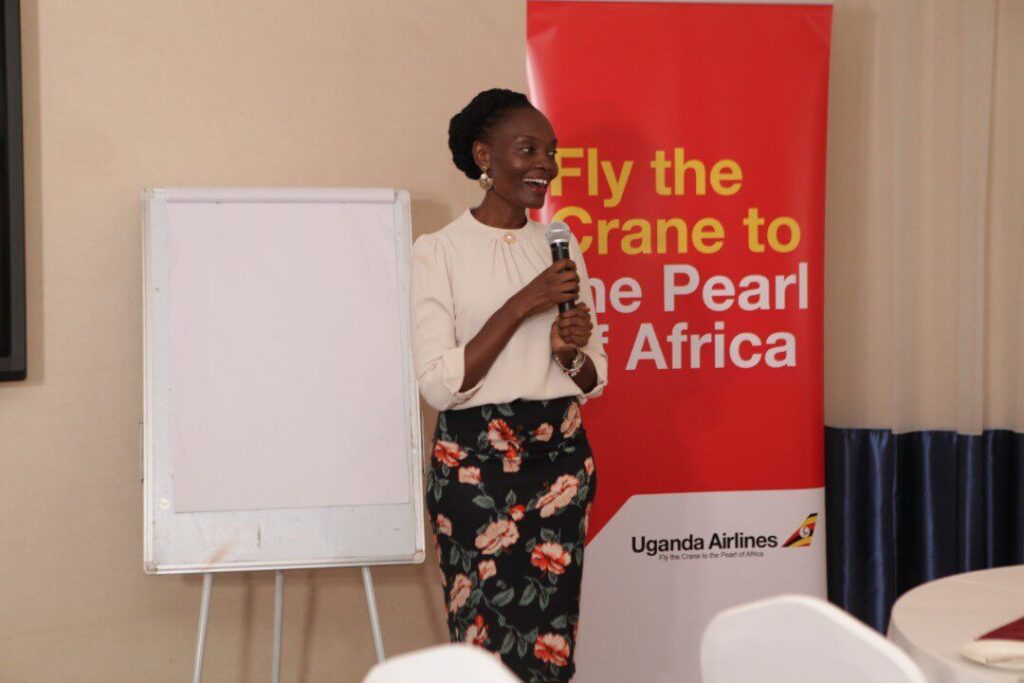 The Uganda Airlines
Known as Uganda's flagship national carrier, the airline aims to improve Uganda's competitiveness by reducing the cost of air transport.
It also aims to ease connectivity between Uganda and the wider world and stimulate investment opportunities in tourism, agriculture, oil and gas, and minerals.
As of now, Uganda Airlines flies to ten regional destinations such as Johannesburg, Juba, Nairobi and Kinshasa, and to one international destination, Dubai.
The airline is expected to expand its network to include London and Guangzhou by the end of this year.