KAMPALA | NOW THEN DIGITAL  — Unlike PayPal, Zelle is a completely free service since there are no fees for sending or receiving money. PayPal, on the other hand, has a complicated fee structure with many variables.
There is a major difference between Zelle and PayPal.

In comparison to PayPal, Zelle is a completely free service and does not charge any fees for sending or receiving money, while PayPal has a very complicated fee structure.

PayPal does charge a fee to send money to an account in another country, but Zelle requires users to use a debit card tied to a bank in the United States. 

Read also: Our review of Zelle, a peer-to-peer money transfer app, its safety, and how it works?
But if you're looking for an alternative to PayPal, you should consider WISE or VENMO. These two companies offer similar features and are both secure and supported by banks. 
But which is the best? What are the advantages and disadvantages of each? And what is the fee structure? 
This article by nowthendigital.com will answer those questions and more.
Cost – Zelle vs PayPal
If you're looking to transfer money from one country to another, you might wonder how much it costs to use Zelle or PayPal. 
PayPal is the leading domestic money transfer service and Zelle is relatively new compared to PayPal. However, both companies offer a wide range of payment services to users worldwide. 
Both companies offer security, ease of use, and reliability, but there are several differences between the two services.
The cost of Zelle varies widely depending on where you live. PayPal offers a wallet option to store your money, but this feature isn't free. 
In addition, international transactions are subject to fees. Zelle doesn't charge a fee, but you may have to pay fees from your bank if you use PayPal internationally. 
PayPal does offer competitive exchange rates, and you may be better off using it for international payments because Zelle is available only in the US.
One of the major differences between PayPal and Zelle is their fees. 
PayPal charges a fee of 5% when sending funds directly to another PayPal account, with a minimum fee of $0.99 and a maximum fee of $4.99. 
This assumes the funds are sourced from a PayPal balance.
A funding fee of 2.9% plus a fixed fee (based on the currency of the transfer) applies if the transfer is funded by credit card, debit card, or PayPal credit.
In addition, Zelle does not accept debit cards tied to international deposit accounts or credit cards, and they require users to use a debit card tied to a bank in the United States.
While both services support debit cards and credit cards, Zelle requires that you verify your phone number in order to receive money (U.S only). 
Regardless of which way you choose to pay for transactions, you'll find that Zelle has many benefits to U.S clients, and it's worth looking into to see which option best suits your financial needs.
If you're thinking of switching to a new payment service for your business, Zelle might be a good choice if your a U.S citizen. 
This lightning-fast service is perfect for small businesses and does not require a separate account number. 
It's also accessible to most financial institutions in the United States. 
PayPal is only compatible with certain international banks. Zelle doesn't have complicated terms of service or hidden fees. 
These differences may be important to you, so be sure to read through the terms and conditions to find out if this service is right for your needs.
Although Zelle is free, there's another option called Venmo. But Venmo does charge a fee. Venmo and PayPal allow you to use your credit cards to send and receive money, but these services only work with a select number of merchants. 
While Venmo and PayPal are mainly aimed at millennials, Zelle is geared toward older users and Gen Xers. It is possible to download an app that integrates with your bank. 
It allows you to send money to people with a click. The service is widely available, and it has reached 27.4 million users.
Security
The Zelle vs PayPal security debate can be deceiving. Both money transfer services appear to be safe, but there are a few key differences between them. 
First of all, Zelle offers a secure method for domestic payments, while PayPal is known worldwide as one of the most secure and reliable payment methods. 
PayPal's customer base exceeds 400 million and has a variety of offerings for both consumers and businesses. Zelle also lacks many features that make PayPal more secure, making it an obvious choice for international payments.
However, Zelle's lack of fraud protection has allowed some criminals to use this weakness to steal money. Because Zelle is backed by a bank, many users will feel comfortable using it. 
However, the website is not clear about its differences from PayPal, and its FAQ is not featured on the homepage. 
As a result, users should be aware of the differences and be wary of revealing their payment information to strangers.
The security of Zelle is a major issue. Users should avoid using this service for international payments because it lacks security. 
Many banks use PayPal as a means of international money transfers, but Zelle allows users to connect their bank account directly to the payment service. 
This makes it easier for people to transfer money to other accounts, while the PayPal account is always faster. But this doesn't mean that Zelle is a better choice.
Although Zelle is not as secure as PayPal, it uses bank-level encryption to keep user information secure. It also offers more privacy than other apps, because its sole purpose is money transfers. 
However, because Zelle is not designed to be a social network, it cannot protect users against fraudulent activities. Because it is not designed for purchases and personal cash exchanges, Zelle is not recommended for those prone to fraud.
Zelle is an extremely secure payment service, but it lacks the protection of PayPal when it comes to fraud. 
PayPal reimburses buyers and sellers if their products do not arrive. Zelle's only downside is a lack of protection against fraud.
Although PayPal has excellent security measures, it is still possible to be scammed by a fake seller. While Zelle is safe, it is still a better choice for domestic payments, especially when combined with PayPal's vast global network.
Supported banks
When comparing Zelle to PayPal, it's important to know that both services work through a bank. 
If you're sending money through Zelle, you'll need a debit card tied to a US bank account. 
While you can use PayPal to make payments with a credit card or a debit card, you can't send money between Zelle accounts. The main differences between Zelle and PayPal are in the fees.
While both services provide easy and reliable domestic money transfers, there are some drawbacks to each. PayPal's extensive international offerings make it far more convenient, but Zelle focuses on domestic money transfers. 
Its biggest drawbacks include the lack of international options, lack of consumer protection, and inability to cancel or refund payments. 
However, it's hard to argue with the convenience and security of PayPal, which boasts a customer base of over 400 million users worldwide.
Although PayPal is a huge player in the online payment industry, Zelle is becoming increasingly popular as a peer-to-peer payment service. 
While PayPal offers more features than Zelle, the former is more convenient for many users. Zelle's supported banks include, see the list.
While both services are convenient for personal transactions, both services can also be used by small businesses with bank accounts. 
To use Zelle, you need a bank account with a participating bank, and most major banks are already on the Zelle network. 
For business purposes, however, you'll need to set up a business account with a different email address than your personal one. If you have a business account with a bank, you may want to consider the fees.
Supported banks for Zelle and PayPal: Both services have some limitations. PayPal supports most U.S. banks and credit unions, but it is not available to all. 
You can only send money to people you know in the U.S. so check with your bank first. 
If you don't have an account yet, Zelle is an excellent choice for transferring funds. The fees are minimal, so it's worth a try.
Fees – Zelle or PayPal?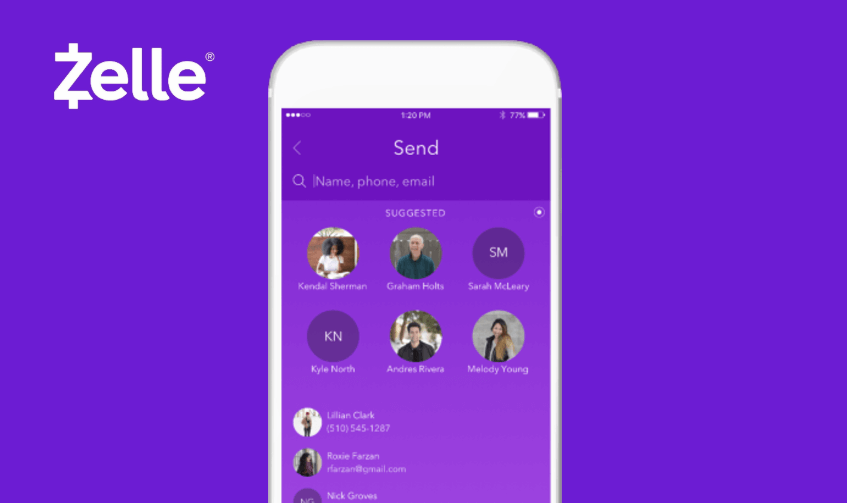 The Zelle and PayPal fees debate focuses on two major differences between these two payment systems: the fees associated with the service, and the convenience factor. 
Zelle has a user-friendly interface and is widely accessible. PayPal, on the other hand, is internationally recognized, with over 400 million users and multiple languages. 
However, Zelle has a better reputation in the domestic money transfer market. This is particularly true when it comes to international transactions.
PayPal charges 2.9% of the transaction amount for funds funded through your PayPal account. While Zelle charges a flat fee for domestic money transfers, PayPal charges a variable fee based on currency. 
If the payment is made in US dollars, PayPal charges 3.5%. For other currencies, the fee is 4%. PayPal also charges a service fee for currency conversion. 
In addition, users will be charged an additional 1% if they're sending money from their US account to an account in a foreign country.
When using Zelle, users can transfer money directly from their bank accounts. Alternatively, they can use their bank's app to make payments. 
This is a useful option for people who don't have PayPal accounts. 
PayPal charges fees for international transactions, but they're still far less expensive than Zelle. 
However, if you're looking for a free bank-to-bank transfer service, Zelle could be the right choice for you.
Zelle is a popular peer-to-peer payment service that facilitates instant ACH transfers between U.S. bank accounts. 
It is integrated into the apps of over 50 partner banks and credit unions. The service is available to virtually anyone with a U.S. bank account and a MasterCard or Visa debit card. 
It's available on both iOS and Android devices. 
To use Zelle, all you need is a bank that offers the Zelle service. Then, enter the recipient's email address and phone number to complete the transfer.
The popular alternative
Venmo is another popular alternative to PayPal. Zelle operates within partner bank apps, while PayPal does not. 
Both services are convenient and easy to use, although the latter requires a fee for business accounts. Venmo is a faster alternative but also charges a fee. 
In addition, Zelle charges fees for business accounts. With PayPal and Venmo, both services offer an alternative to traditional methods of transfer.