Manchester City takes the top spot in Premier League with a 2-1 victory against Fulham on Sunday.
Erling Haaland, who scored a penalty in the third minute, equalled the record for
the single-season goal in the competition, previously set by Alan Shearer and Andy Cole.
CUPERTINO, CALIFORNIA | NOW THEN DIGITAL — Manchester City moved to the top of the Premier League after a thrilling 2-1 victory over Fulham at Craven Cottage. Erling Haaland scored his 34th Premier League goal of the season in just his 30th appearance, equaling the record set by Alan Shearer and Andy Cole.
Haaland also scored his 50th goal for City since joining from Borussia Dortmund last year. Julian Alvarez secured the victory for City with a stunning long-range goal.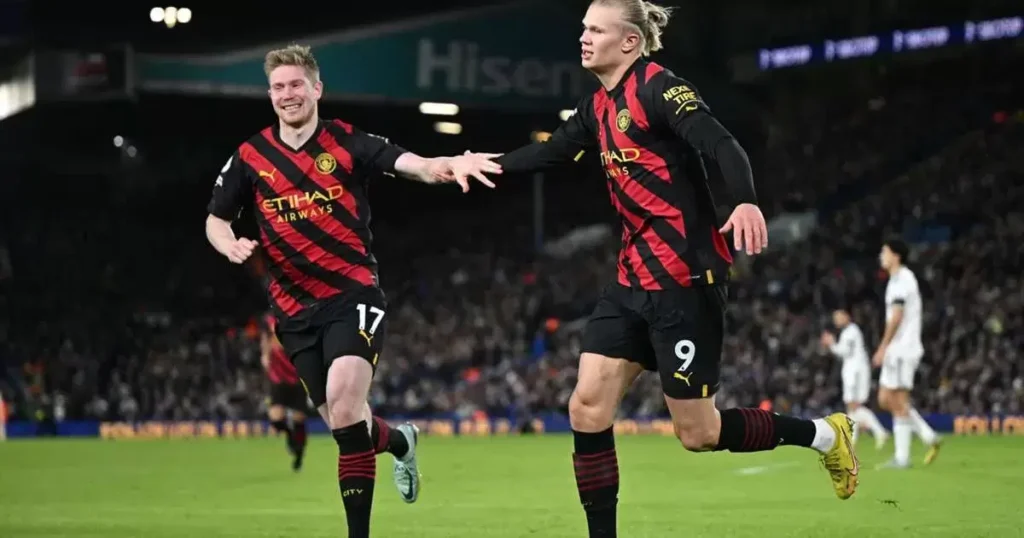 The 34 goals in just 30 appearances marks an impressive milestone for Haaland, surpassing the total goals scored by more than 21 top-flight teams in their first 30 games of the season.
City continue their winning streak
City have now won their last eight league games and are unbeaten in their last 18 matches in all competitions. They are now one point clear of second-placed Arsenal, who have collapsed in their last four games.
With Haaland's goal-scoring form showing no signs of slowing down, City look set to take advantage of Arsenal's collapse.
Guardiola's team is still not overconfident
Pep Guardiola's team, however, is not overconfident about winning the league just yet. They have a game in hand on Arsenal and need to win five of their last six games to be certain of a fifth title in six seasons.
After their crucial 4-1 win against Arsenal, Guardiola reminded his players of their surprise draw at Nottingham Forest in their next match after beating Arsenal in February.
Haaland's goal and Vinicius' equaliser
City started the game with a bang, scoring in the third minute with Haaland's penalty kick. Fulham equalized in the 15th minute with Carlos Vinicius' powerful finish past Ederson from 10 yards.
Guardiola urged his team to focus and they responded when Julian Alvarez scored a brilliant long-range goal in the 36th minute. Despite several chances in the second half, City held on for the win.
Next games for City and Arsenal
City will face West Ham at home on Wednesday, while Arsenal will host Chelsea on Tuesday.
Editor's Note: We would appreciate it if you could reach out to press@nowthendigital.com if you find any outdated or inaccurate content.
You're reading nowthendigital.com — which breaks the news about Uganda, Kenya, Nigeria, South Africa and the rest of the world, day after day. Be sure to check out our homepage for all the latest news, and follow NOW THEN DIGITAL on YouTube, Google, Web Stories, Google News, Medium, LinkedIn, Twitter, Reddit, Pinterest, Linktr, Buy Me a Coffee, and Flipboard to stay in the loop.