MultiChoice has recently announced an increase in the prices of its DStv and GOtv packages, despite having implemented a price hike only six months ago in September of last year.
KAMPALA, UGANDA | NOW THEN DIGITAL — Multichoice Uganda has unveiled new adjustments to the monthly subscription fees for DStv and GOtv, which will take effect from 1st April 2023. Multichoice Group, the parent company, has also announced similar increments in various markets where it operates.
The company, which provides a range of digital satellite and pay television services, has faced criticism from some customers over the timing and frequency of these adjustments.
The new increases are expected to take effect immediately, affecting GOtv subscribers across the board.
The increments, which range from 6% to 12%, have been attributed to rising inflation and the cost of doing business. However, the company has assured its customers that the increments will enable them to continue providing the same excellent entertainment that they have always offered.
According to Mr Rinaldi Jamugisa, Multichoice's public relations and communications manager, the decision to increase prices was made after careful review and evaluation. He noted that the company aims to keep prices as low as possible while providing customers with unparalleled access to entertainment, but rising costs in doing business necessitated the adjustment.
Mr Jamugisa further explained that the cost of delivering content, both locally and internationally, is high. This includes the cost of maintaining satellites, acquiring content, and using specialized equipment. Therefore, the company needs to remain consistent in its services, ensuring that customers have access to a variety of high-quality content while maintaining the value of the service.
"Due to the rise of costs in doing business, we need to adjust the prices of our packages. We endeavour to keep prices as low as possible while ensuring that our customers continue to enjoy unparalleled access to entertainment," he said.

"Take for instance, the cost of a satellites in terms of running and maintaining them, the equipment used [and] even content acquisition itself. We need to remain consistent with the services we offer from the point of variety to keep the quality and value," he added.
DSTV Lumba, the local channels package, which previously cost Ush 15,000 per month, will now cost Ush 16,000. Meanwhile, DStv Compact, which includes the English Premier League, will cost Ush 104,000 per month, up from the current rate of Ush 95,000.
DStv Lumba features a wide range of channels, including local channels, Telemundo, BBC, Aljazeera, Supersport Football and Blitz, NatGeo, MTV Base, Trace Mziki, and Soundcity, among others.
As for GOtv, the starter pack, which was previously Ush 14,000 per month, will now cost Ush 15,000. GOtv Supa will see an increase from Ush 58,000 to Ush 65,000.
For more detailed pricing information, please refer to the attached tables.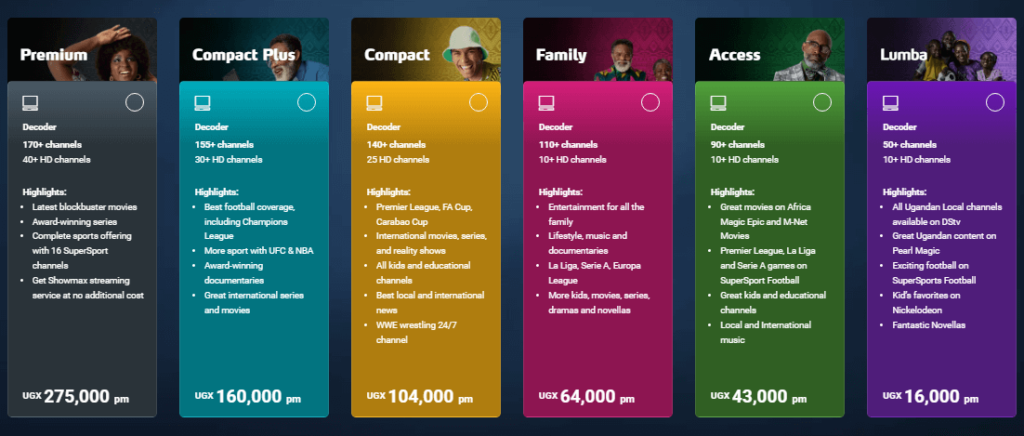 Editor's Note: If you find any of our content to be inaccurate or outdated, please contact us at press@nowthendigital.com
You're reading nowthendigital.com — which breaks the news about Uganda, Kenya, Nigeria, South Africa and the rest of the world, day after day. Be sure to check out our homepage for all the latest news, and follow NOW THEN DIGITAL on YouTube, Google, Web Stories, Google News, Medium, LinkedIn, Twitter, Reddit, Pinterest, Linktr, Buy Me a Coffee, and Flipboard to stay in the loop.