As part of its ongoing campaign, "Together We Are Unstoppable," MTN Uganda has introduced Freedom Voice Bundles.
KAMPALA, UGANDA | NOW THEN DIGITAL — The Freedom Voice Bundles are the newest offering from MTN Uganda as part of its ongoing campaign, "Together We Are Unstoppable".
With the launch of Freedom Voice Bundles, MTN Uganda is offering voice services that never expire.

Freedom Voice Bundles offer customers an upfront commitment without an expiration date, providing customers with the ultimate convenience and value for their money.

Customers of MTN can use the new Freedom Voice service by dialling *100*21#, selecting choice 3, and then following the on-screen instructions. Using the MyMTN App, they can also enable Freedom Voice bundles.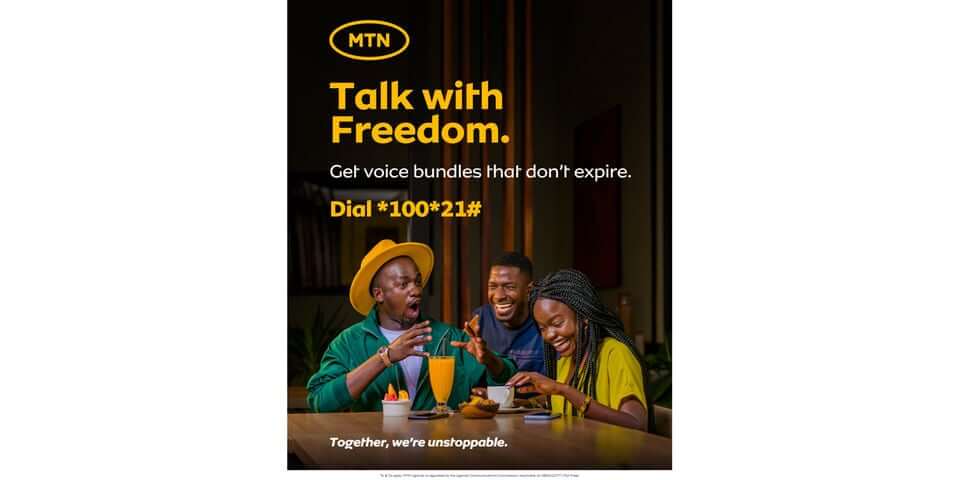 Being a brand that values its customers, MTN understands the importance of giving them the freedom to connect with their loved ones and business partners without the pressure of time constraints.
That's why MTN offers unlimited plans that give customers the opportunity to talk and text as much as they want, without worrying about running out of minutes.
Customers will have the option of signing up for a Freedom Voice Bundle with an upfront commitment and no expiration date, enabling them to maximize their convenience and value simultaneously.
This gives them the flexibility to use the bundle for as long as they want and to switch between services in the bundle, as their needs change.
In Uganda, MTN is the first telecommunications service provider to offer voice bundles that do not expire, thus giving customers greater choices, and convenience.
By offering these bundles, MTN has revolutionized the telecom industry in Uganda and made it more affordable for customers to stay connected.
What is the cost of Freedom Voice bundles?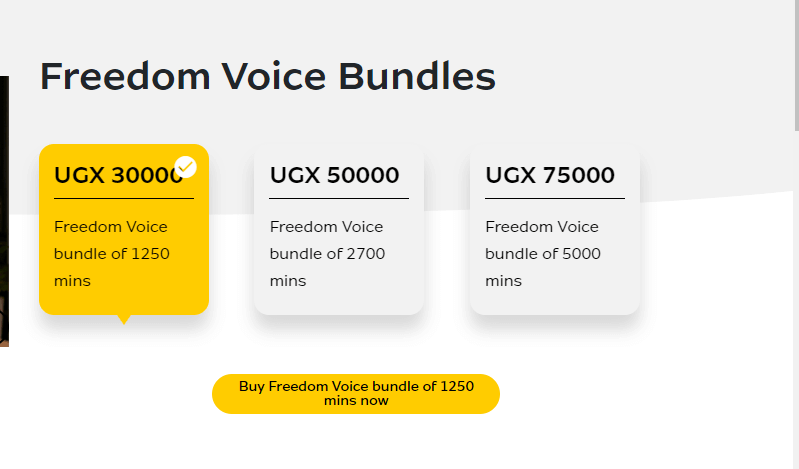 Various minute bundles are available for MTN Freedom Voice Bundles, ensuring that customers get the best value for their money. Customers can buy 5000 minutes for UGX 75,000, 2700 minutes for UGX 50,000, and 1250 minutes for UGX 30,000.
For individuals who enjoy talking, Freedom Voice Bundles provide the freedom to manage their consumption without limitations.
As part of MTN Freedom Voice Bundles, customers can select from three different minute packages: 5000 minutes for 75,000/=, 2700 minutes for 50,000/=, or 1250 for 30,000/=.
In a statement, MTN's Sen Somdev said:
"We understand that our customers need the freedom to do the things they love, without limitations. Just like we pioneered a similar solution with data bundles, MTN Uganda is proud to be the first telecommunications service provider in Uganda to launch a no expiry voice bundle, providing our customers with the ultimate freedom to talk without the concern of bundles expiring."

"We are committed to providing the best value, choice, and convenience through our products and services."
How to access MTN Freedom Voice

MTN customers only need to dial *100*21#, select option 3, and then follow the on-screen instructions to utilize the new Freedom Voice service. Using the MyMTN App, they can also enable Freedom Voice bundles.
Furthermore, customers have the option of purchasing Freedom Bundles for their relatives, friends, and other family members.
As a company, MTN stays committed to offering its customers a reliable network product and coverage across the country, ensuring that they remain always connected to family, friends, and business partners because "Together, We Are Unstoppable".
Editor's Note: We would appreciate it if you could let us know if any of our content is inaccurate or outdated at press@nowthendigital.com.
You're reading nowthendigital.com — which breaks the news about Uganda, Kenya, Nigeria, South Africa and the rest of the world, day after day. Be sure to check out our homepage for all the latest news, and follow NOW THEN DIGITAL on YouTube, Google, Web Stories, Google News, Medium, LinkedIn, Twitter, Reddit, Pinterest, Linktr, Buy Me a Coffee, and Flipboard to stay in the loop.