Kenya's Safaricom today launched a commercial 5G network that promises speeds 100 times faster than 4G for businesses and homes.
KAMPALA, UGANDA | NOW THEN DIGITAL — Today, Safaricom unveiled its 5G network commercial solution for businesses and homes in Kenya, which will allow one hundred times the speed of 4G.
The 

launch of a 5G commercial service by Safaricom is expected to increase the speed and reliability of internet access for Kenyans

. The company has chosen Nokia and Huawei as technology partners to develop its network. 

Safaricom plans to offer 5G service to consumers and businesses through selected 5G smartphones. The company expects the 5G service to boost internet speeds to more than 1,000 Mbps.

Safaricom currently has 35 5G sites in the country, and will establish 200 by March 2023. Users can access the 5G network through an area that is 5G-enabled through a 5G-enabled router.

At the moment, the 

Safaricom 5G network is available in Nairobi, Kisumu, Kisii and Kakamega

, with the service set to expand to 150 locations across nine towns in the next year.
By March 2023, Safaricom plans to establish 200 5G sites in the country. The network can be accessed through 5G routers that work in 5G-enabled areas.
A total of 150 sites across nine towns will be enabled over the next 12 months under Safaricom's 5G Service. Currently, Safaricom 5G Service is available to customers in Nairobi, Kisumu, Kisii and Kakamega.
The CEO of Safaricom, Peter Ndegwa, said during the launch ceremony:
"The 5G network will enable our customers to enjoy unprecedented levels of connectivity and low latency. It will also complement our fibre network."

"We… view 5G as being critical in delivering new solutions that will address economic development, healthcare, manufacturing, infrastructure and even delivery of government services,"

"Only one out of three Kenyans own a 4G device. The shift to creating a fixed 5G Wi-Fi product will see more people adopt the fast internet network for various work. Mobile packages for 5G will be available by December this year." the Company's CEO added.
Safaricom's 5G mobile network, launched last year, has been lagging due to a shortage of devices capable of connecting to it. According to Ndegwa, the company has approximately 200,000 5G smartphones available.
According to the Communications Authority of Kenya, Safaricom currently holds about a third of the fixed data market. Safaricom dominates the mobile data market with 65% but has only a third of the fixed data market.
Additionally, the company stated there are still relatively few 5G-compatible devices in Kenya, which led them to focus on 5G Wi-Fi over mobile.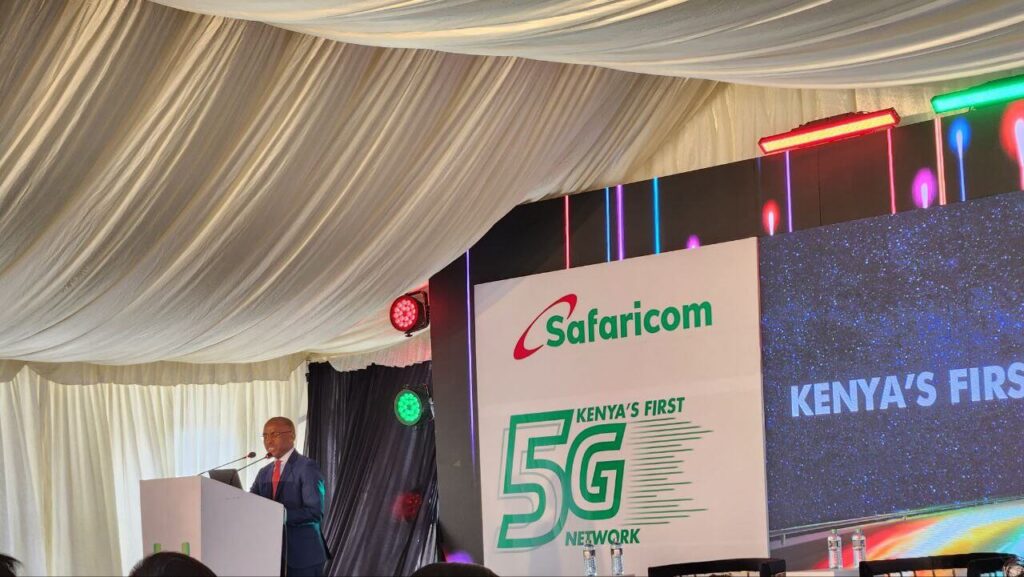 Kenya's 5G roadmap
As part of its efforts to promote and support the adoption of 5G in Nairobi, the Communications Authority of Kenya plans to introduce a roadmap for the country's adoption of the technology.
In a statement, Ezra Chiloba, Director General of the CA, said that a policy document will be released soon.
"One of our mandates is to look at the effective and efficient way of allocating spectrum resources," said Chiloba.

"In the last few years, we have been developing something we call the 5G roadmap… which is providing the national framework on how the sector is going to operate in as far as the roll-out of 5G is concerned."
Editor's Note: Our content may be inaccurate or out-of-date, so please contact us at press@nowthendigital.com if you see something that needs to be updated.
You're reading nowthendigital.com — which breaks the news about Uganda, Kenya, Nigeria, South Africa and the rest of the world, day after day. Be sure to check out our homepage for all the latest news, and follow NOW THEN DIGITAL on YouTube, Google, Web Stories, Google News, Medium, Twitter, Reddit, Pinterest, Linktr, Buy Me a Coffee, and Flipboard to stay in the loop.